Will Nikki Haley Be Our First Female President?
So far, nothing has stopped the political aspirations of the Republican governor of South Carolinanot racism, not sexism, not her youth. There's even talk of her making it to the nation's top office. MC asked the rising political star for her secret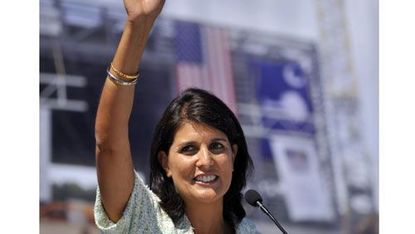 (Image credit: Archives)
Marie Claire Newsletter
Celebrity news, beauty, fashion advice, and fascinating features, delivered straight to your inbox!
Thank you for signing up to Marie Claire. You will receive a verification email shortly.
There was a problem. Please refresh the page and try again.
On the walls of the 19th-century governor's mansion in South Carolina hang large oil portraits of the old white men who've run the state, including Strom Thurmond, a stubborn segregationist. Yet pumped into every room is a playlist that includes Stevie Nicks, Lauryn Hill, and Norah Jones. And in the stately dining room, beyond the mahogany table bearing two silver candelabra, a slim, dark-haired young woman is laughing with her staff while getting her hair styled for a photoshoot.
Welcome to the world of Nikki Haley, who, at the age of 40, is currently the youngest-serving U.S. governor; South Carolina's first female chief executive; and one of a tiny sorority (six out of 50) of current U.S. women governors. Aside from Louisiana's Bobby Jindal, she is only the nation's second governor of Indian extraction--no small thing in a state where the Confederate flag still waves in the capital.
Yet Haley—born Nimrata Nikki Randhawa to Punjabi immigrants who settled in Bamberg, South Carolina (population: 3,300)—is emblematic of a new, diverse generation of Southern politicians. Though she endured discrimination as a child (she was even disqualified from a local beauty pageant on racial grounds), she overcame bigotry to get elected, at age 32, to the South Carolina state legislature. A Tea Party favorite, she's already being name-checked as a possible presidential contender come 2016. Marie Claire caught up with Haley as she gears up for the release of her autobiography, Can't Is Not an Option—which hits shelves April 3—to find out what lessons she learned on her way to the top.
GET THREE WAR STORIES UNDER YOUR BELT.
I tell women, "War stories are the ones that really define you." One for me was playing kickball in school. The white girls were on one side, the black girls on the other. I said, "Ready to play?" And they said, "We are, but you're not. You have to choose. Are you gonna be on the black team or the white team?" I remember thinking: I'm neither. I'm brown! So I grabbed the kickball and ran. And before we knew it, all of us were playing together. That was a defining moment of understanding, Yes, I was different, but there were ways around that.
A second war story was when I was the first female executive at a company. At a staff meeting, one of the executives looked at me and said, "Nikki, why don't you get Paul [another executive] a cup of coffee?" I called my assistant and asked her to bring him coffee. I wanted to let them know, Hey, I don't get coffee. Yet I didn't want to embarrass them. A third happened when I first decided to run for the statehouse against a 30-year incumbent. I walked into a boardroom [full of his supporters] and said: "I'm Nikki Haley, and I'm running for state senate." A man said, "We think you're a nice young lady. And if you get out of this race, we'll make sure you get a good appointment." And I said, "I'm running, and I'm going to win. So please tell your friend that if he decides to get out of the race, I'll be more than happy to consider him for a position." [Haley won.] It was not only a statement of how I felt in the moment, but also a way of making a point for the future. So I tell women: Find your strength through war stories. If you have three, you're on a great path. If you don't yet have three, you've got more living to do.
KNOW YOUR COMPETITION.
When I was running against Larry Koon for governor, we found a quote from him buried in a book called The Stupidest Things Ever Said by Politicians. It was: "Women are best suited for secretarial work, decorating cakes, and counter sales, like selling lingerie." So the National Association of Women Business Owners [of which Haley had been president] put it in a mailer. Women in the state were furious at him! He had been in public service for 30 years, but that quote said: It's time to move on.
CHOOSE YOUR WORDS CAREFULLY.
This [Charleston] Post and Courier reporter had written a very unfair story, and I was on Laura Ingraham's TV show, and I said, "God bless that little girl." I often use "little fella" or "little girl"; it's a Southern thing. It's part of my personality. I didn't mean it to demean the reporter, but it is something I should not have said.
FIND WHAT MOTIVATES YOU--ON A DAILY BASIS AND IN LARGER WAYS.
Music motivates me. When we have bill signings, we've got music playing. I have a great love for Joan Jett. When I am going through the toughest times, I'll blast her music. She was one of the first female rockers when female rockers weren't accepted. When no one would sign her, she created her own label. And when she accomplished everything ... she walked away! I mean, how cool is that?
FIND DIVERSE ROLE MODELS.
Mine are my mother, Margaret Thatcher, Hillary Clinton, Martina Navratilova, Gabby Giffords. And Joan Jett. I tell you, Joan Jett is my idol. I would just love to meet her!
LEARN FROM THE PAST.
Even though my family and I went through a lot of pain because of discrimination and faced some nasty slurs, the fact that I am governor says that South Carolina is moving in a great direction. It shows, Look how great this country is. It's been able to keep its traditions and history but also understands that in order to be successful it has to move on.
BE OPEN TO THE UNEXPECTED.
People are quick to ask, "What's your next move?" I've never been one to think far into the future. If you don't plan, God has surprises that are much more fun for you. We take it one day at a time. If you'd asked me three years ago, I'd never have said that I would run for governor. If you'd asked me 10 years ago, I never would have thought I'd run for the statehouse. I live my life every day saying, "I'm going to do the best that I can." And right now, I love being governor.
Celebrity news, beauty, fashion advice, and fascinating features, delivered straight to your inbox!