Naked Justice: The Growing Movement to Crack Down on Revenge Porn
Cracking down on revenge porn.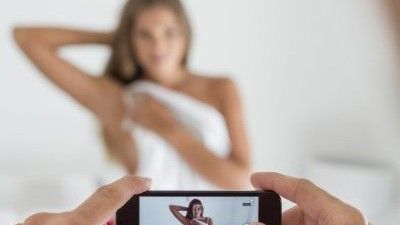 (Image credit: Getty)
As Erica Goode reported in the New York Times yesterday, creeps who exploit their exes' explicit photos online—a practice dubbed "revenge porn"—have faced few consequences for their behavior. "When victims call the police, they are invariably told there is little to be done," Goode writes."Lawsuits sometimes exact payments from men who post photographs or succeed in shutting down a site. But once the images are online they spread, picked up by dozens or even hundreds of other Web sites."
On these revenge porn sites, intimate images aren't all that's exposed: Perpetrators routinely attach the victim's name, address, workplace, and other identifying information to the photos, opening up the woman to stalking, violence, and shame every time a friend or employer searches her name on Google.
But scorned lovers should think twice before blasting lewd photos of their exes on the Internet. This month, California's Senate passed a law subjecting revenge porn posters to up to one year in county jail or a $1,000 fine. Florida, Georgia, Alabama, Texas and Wisconsin are working on similar bills.
Although the rise in government interest is promising, drafting legislation has sparked a dilemma fit for the digital age: Is revenge porn acceptable if it involves "selfies"? That's the distinction drawn by California's law, which criminalizes distributing sexual images "with the intent of causing serious emotional distress" unless the victim took the photos herself. Dr. Holly Jacobs, victim and founder of End Revenge Porn, said her organization found that "up to 80% of victims won't be covered by the bill" due to this clause. "Just think about it," Dr. Jacobs told Marie Claire. "The pictures are taken so that they can be shared with someone who is not physically right there with them, so of course there's going to be a lot of self shots."
Jacobs and other advocates, like University of Miami law professor Mary Anne Franks, peg theself-shot loophole to victim-blaming. According to Franks, when people say "She deserved it because she gave these pictures to her boyfriend," they are invoking the same backwards ideology used to slut-shame rape victims. "It's promoting a really terrible message about women's consent," Franks says.
As Goode notes in the New York Times, these roadblocks aren't slowing down activists, who have set their sights on both state and federal legislation. As Franks told MC, a federal law "would apply to everyone automatically and it could be the model for states to adopt." This way, victims in states that have yet to pass legislation—or comprehensive legislation, as is the critique of California's law—would still be protected.
Expect the dialogue around revenge porn to continue in coming months, as the issue continues to build momentum nationwide. "I never thought I'd start a movement, but it's looking like that, isn't it?" Jacobs said. Until then, protect your selfie.