WTF: Woman Wins Historical Tennis Match, Gets Asked Sexist Interview Question
Ugh, is this going to stop anytime soon?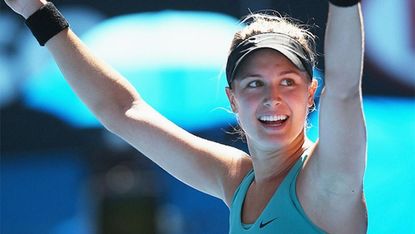 (Image credit: Mark Kolbe/Getty Images)
Is it ever going to stop? As in these underhanded, slappy sexist comments directed towards women? I doubt it, and here is a prime example: 19-year-old tennis player Eugenie Bouchard accomplished a great feat yesterday as she became the first Canadian woman to advance to Australia's Grand Slam semi-finals in almost 30 years, according to CBC Sports, via Jezebel.
After beating player Ana Ivanovic, Bouchard was interviewed by sports reporter Samantha Smith who noted that Bouchard had a lot of male fans. Smith proceeded to ask, "If you could date anyone in the world of sport, of movies – I'm sorry, they asked me to say this – who would you date?"
Bouchard replied with a giggle that she would date Justin Bieber.
Her fans via the Twitter universe responded with these comments:
Oh @CBC, why did you play that STUPID #Sexist question to Eugenie Bouchard. You could have stood above the rest. What a shame!January 22, 2014
See more
Will these sexist questions ever stop? They are obnoxious and automatically draw attention away from a woman's (or anyone's) accomplishments. Remember when Yahoo's female CEO, Melissa Mayer, was called attractive at a shareholder's meeting by a daft audience member? Yeah, that happened.
My question to you is: How do we get these questions to stop? Ignore them like Mayer, or reply in stride a la Bouchard? Tell us your thoughts, because we know (unlike that reporter) that you think of other things besides men (or Justin Bieber).
More from Marie Claire:
How Does The Texas Abortion Debate Affect Women In Texas? We Asked an Expert
Time Magazine's Yawwwn-Worthy Yet Questionable Magazine Cover
Help Up Use Social Media to Redefine Beauty
Celebrity news, beauty, fashion advice, and fascinating features, delivered straight to your inbox!