Senators to Reintroduce International Violence Against Women Act in Wake of Nigerian Kidnappings
Let's get this done.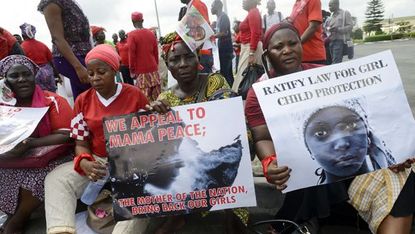 (Image credit: Getty)
After more than 200 Nigerian schoolgirls were abducted from the dormitory where they slept last month, a group of senators rallied together to reintroduce a piece of legislation that would prioritize the reduction of the global violence against women.
Senators Barbara Boxer (D-CA), Susan Collins (R-ME), Robert Menendez (D-NJ), Mark Kirk (R-IL), and Jean Shaheen (D-NH) will reintroduce the International Violence Against Women Act today, with the hopes that Congress will pass the bill during this session.
Among other things, the bill will make the Office of Global Women's Issues a permanent fixture in the U.S. State Department and require that USAID's international efforts include programs that focus on reducing violence against women.
"The recent kidnapping of more than 200 Nigerian school girls underscores the horrific violence that too many women and girls across the globe face every day," Senator Boxer said in a statement. "The International Violence Against Women Act will make clear that ending discrimination and violence against women and girls is a top priority for the United States and central to our national security interests."
Ritu Sharma, Co-Founder and President of Women Thrive Worldwide, echoed Boxer's comments on the subject. "It took roughly three weeks for the U.S. to announce some concrete action to help bring back the more than 270 Nigerian schoolgirls abducted by terrorist militants," she said in a statement. "The International Violence Against Women Act would compel a more immediate and effective response."
Earlier this week, President Obama announced that the U.S. will send a team of military officials and hostage negotiators to Nigeria to aid in recovery efforts. The decision came one day after the Boko Haram, a terrorist group in the area, claimed responsibility for the kidnappings and vowed to sell the girls.
Click here to find out more about the horrific kidnappings. #BringBackOurGirls
Celebrity news, beauty, fashion advice, and fascinating features, delivered straight to your inbox!