New Study Says Women Don't Really Care About Marriage or Baby Daddies
What even are men?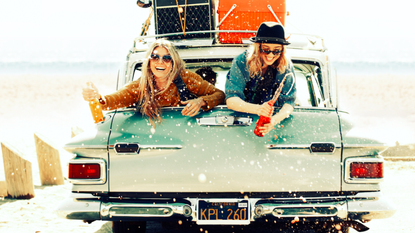 (Image credit: Getty Images)
Meredith Landry is a modern-day woman who has it all: a loving partner, an adorable baby, and a rewarding job as a journalist in Los Angeles. But even though Landry, 36, and her child's father, Andreas Larsson, have been together for more than 10 years, there's something they haven't felt the need to do: Get married.
Landry is not alone. According to a new national poll, first reported by MarieClaire.com, an increasing number of women feel marriage is optional—and even if they'd like a long-term partner, many say they don't feel the need to walk down the aisle.
More than half of women surveyed who are currently unmarried and without kids, say they either know they don't want to be married, don't think they want to be married, or would like a committed partner but don't feel the need to be legally married. Additionally, the poll, conducted by Lake Research Partners and Family Story, found that when it comes to raising kids, women by-and-large feel that two parents aren't required: A majority of all participants (whether single or married, mothers or childless) said that a single parent can do just as good of a job as two parents and agreed that there should be more ways to raise children with someone who is not a romantic partner. Instead, most women think that having multiple adults invested and helping—whether it's grandparents, friends, or siblings—is best for children.
"People are making decisions based on different sets of circumstances than a generation ago," says Nicole Rodgers, founder and co-director of Family Story. "Now, people have the option to have sex lives and children without being married. [Being a single mom] used to mean total social ostracism, which is not so much the case anymore."
RELATED STORY
Myriad reasons explain this shift: Female economic power has surged, birth control has given women the freedom to decide if and when to have kids, and access to lower-cost fertility treatments is increasing. At the same time, marriage is becoming something of a luxury, reserved for those who are highly educated with economic stability.
For Landry, a wedding wasn't something she dreamed of: "I never had the fantasy of the big white dress, walking down the aisle." The couple knew they wanted a baby, but both preferred to opt out of marriage. Her partner was raised in Sweden, where Landry said the notion of marriage doesn't loom as large. (Sweden, along with Britain, Iceland, France, Norway, and the Netherlands, have higher non-marital birth rates than the United States—and far lower rates of child poverty.)
"Having a partner, being with someone, feeling loved, having a child, financial stability, those were important. Having the piece of paper and having the party didn't matter too much," Landry adds.
The poll also illustrates evolving attitudes on raising children in nontraditional family structures; the majority of women surveyed would consider raising a child with a non-romantic partner. Rodgers says the data shows that women feel that "having more hands on deck is really helpful when it comes to raising kids, but two married parents aren't necessary."
Television writer Morgan Faust conceived her now-two-year-old son through a sperm donor, but knew she wanted a support structure for raising him. Faust lives with her brother, Max Isaacson, in a house they co-own in Los Angeles. Isaacson is actively involved in his nephew's life—from handling the bedtime routine to changing diapers to being available "in a pinch" if Faust needs someone.
"I chose to have a kid on my own and I don't think I could have done that if I didn't live with my brother," said Faust. "I am doing the oldest thing in the book: I'm raising a family with my family. A hundred years ago, multi-generational households were the norm. For me, that choice of having a kid on my own was a scary one, but I was able to embrace it since I knew I had support even if in a nontraditional way."
RELATED STORY
Rodgers hopes the poll's results on the changing attitudes surrounding marriage and child-rearing will help shift some of the country's family policies to include more nontraditional families. "If two adults are taking care of a child, why should they only receive shared benefits if they are married?" Rodgers asks, referring to benefits like shared health insurance, marriage tax credits, and social security.
Landry says people constantly assume Andreas is her husband. "People just assume that because I have a kid, I must have a husband." Landry is nonchalant when making the correction, and says she knows more people for whom having a kid supersedes getting married. She mentions other couples her family is close to, both of which are raising children together, though neither is married, nor indicates an eagerness to do so.
"I just don't know what it would change," Landry says of getting married. "I know he and I will be together forever. It's 2017 after all."
Follow Marie Claire on Facebook for the latest celeb news, beauty tips, fascinating reads, livestream video, and more.
Rebecca Gale is an award-winning journalist covering the nexus of politics and people in Washington, D.C. She is currently a writer with the Better Life Lab at New America. Her work has appeared in The Washington Post, Roll Call, Marie Claire, Cosmopolitan, and Health Affairs, among other outlets. Follow her on Twitter @beckgale