Do You Despise the Real Housewives as Much as I Do?
Why do we celebrate and reward these shallow, dumb, petty people?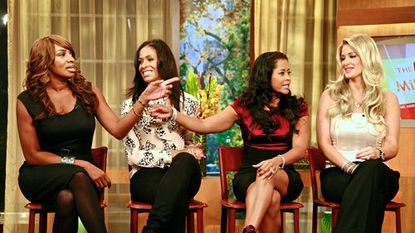 (Image credit: Charles Eshelman/FilmMagic)
Before I even get started today, let me say that I know very little about the Real Housewives franchise on Bravo. I did not watch the first episode of the new season — Real Housewives of Atlanta — which apparently aired last night. I've barely seen any of the show's iterations, beyond a brief glimpse here and there, on the closed-circuit TVs at my gym. Those short viewings were enough to leave me appalled. I felt as grumpy and moralistic as my doomsday-proclaiming father as I thought, What is this country coming to? I was especially disgusted when I noticed that the woman who crashed a party at the White House was essentially being rewarded for her absurd, irresponsible, idiotic, grandiose, appalling behavior by being cast on Real Housewives of D.C.
The prim part of my personality is dismayed that women as shallow, self-important, greedy, conventional, boring, and often downright dumb as so many of the Housewives seem to be are being, in some way, celebrated. Whatever happened to role models? Whatever happened to aging gracefully? Whatever happened to, quite simply, personal style?
As far as I can tell, the flibbertigibbets who are the Housewives are so busy taking themselves seriously that they don't understand that plenty of us think of the show as a satire in which the stars "perform" by showing us how ridiculous and petty they are.
So I had trouble understanding why a staff writer for Salon — a woman whom we plugged on MarieClaire.com — raves about the Housewives franchise. I've written for Salon, and I think they often run smart, interesting pieces. Not this time. The writer doesn't seem to have much perspective on how absurd the show is, and I found some of her justifications about why she likes it so much perplexing. She compares the stars of the different seasons to the comic actresses of yesteryear — soubrettes such as Goldie Hawn and Judy Holiday. But the big difference between Goldie, Judy, and their ilk is they knew they were in on the joke. They were acting. I'm not so sure the Housewives "get it," and I think that makes them substantially different than their professional predecessors.
The writer goes on to say: "It's easier to enjoy the 'Real Housewives if you think of it as the new Dynasty — just like Aaron Spelling's camp tour de force, these shows are ensemble soap operas that happen to also be comedies, starring real-life equivalents of characters ...." Hmm. Now, I'm not going to contest the comparison, but isn't that a little like saying, It's easier to take arsenic if you smoke it with your crack rather than just swallowing it raw? Do those of us who don't enjoy the show really need to be encouraged to watch it? (Does anyone, really?) And while I agree that Housewives is essentially a long-running soap with a rotating cast of characters, I can't agree that the women in it are "comic geniuses," as the writer asserts — not when they are simply being themselves, rather than actively playing a role. (Sorry, the role of Myself-as-Real-Housewife doesn't count.)
The writer adds, "They are shows centered around a cast of witty, strong, middle-aged women — who consistently make me LOL."
Middle-aged, I'll give her. But witty? Strong? For real? Am I missing something? There's a difference between sarcastic or sharp-tongued and witty. And between larger-than-life or over-the-top and strong.
Readers, what do you think? Are you as appalled by these shows as I am? Do you find them entertaining because you think the women are just as absurd as I do? Or do you think I'm not being fair?