Why Are You Straight? Or Gay?
In the wake of a horrific anti-gay hate crime in New York, I talked to the author of a new book about the biological forces that shape your sexual orientation.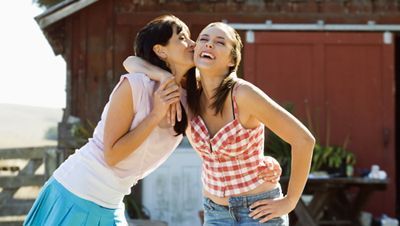 (Image credit: AE Pictures Inc./The Image Bank)
This post, readers, will be a little more serious than most are.
Although I can be a little on the prudish side, I try to be open about other people's sexuality, and I've tried in the past — and will continue to try — to keep an open mind about trying new things. Because, as I've realized, you never know what the hell you're going to like until you try it.
But some of the things I like, you might not like, and vice versa. I'm big on orange juice but the very thought of tomato juice makes me gag. Maybe you prefer root beer to ginger ale, or red wine to white, or coffee to tea. Similarly, we all have different tastes, sexually. And even if we can't imagine why other people do what they do or like what they like, sexually, we should refrain from passing judgement on other people's sexual lives.
I'm saying all this after a terrible homophobic hate crime occurred recently here in New York City, shocking and appalling so many of us here in a city that has a long history of accepting and celebrating people of all kinds. Nine men have been accused of torture and sodomy in the case.
For my post today (which happens to be the day after National Coming Out Day), in the hopes of encouraging more openness and understanding about homosexuality, I talked to Simon LeVay, the author of the new book, Gay, Straight, and the Reason Why: The Science of Sexual Orientation. As Simon points out: "In the past, most people thought Freud was right: that heterosexuality was the 'normal' outcome of sexual development, while homosexuality was a state of arrested development caused by defective parenting. Some people even thought that homosexuality was an outright choice — that there was nothing more to it than straight people saying to themselves, 'Oh, I think I'll become gay this weekend.'"
But now, as Simon shows in his book, there is an enormous body of scientific evidence that indicates biological factors play a decisive role in determining a person's ultimate sexual orientation. So I asked him to outline the different important areas of research that helped to provide scientific evidence that sexual orientation is biologically mandated.
Here's what he said:
DNA influences sexual orientation. Family and twin studies have shown this. For example, identical twins, who share 100 percent of their genes, are much more likely to have the same sexual orientation than fraternal twins, who share only about 50 percent of their genes. Genes are less important in women, but they still play a role.
Hormones influence sexual orientation. In utero, each fetus naturally produces a certain amount of testosterone, and the amount that it makes plays a big role in determining eventual sexual preferences. Males typically make a lot more than females, for instance. And in tests done on lab rats, artificially raising or lowering testosterone levels during development showed dramatic results: Females exposed to higher-than-usual testosterone levels became lesbians whereas males exposed to lower-than-usual levels became gay.
Brain organization influences sexual orientation. The brains of gay and straight men look different. One major difference: The hypothalamus — a part of the brain that controls physical desires such as hunger, thirst, and fatigue as well as sexual impulses — is usually larger in males than in females but is smaller in gay men than in straight men. (It appears that this difference results from variances in testosterone levels during fetal life, which we discussed above.)
Birth order influences men's sexual orientation. Numerous studies have shown that gay men are more likely than straight men to have older brothers. Since even gay men who were adopted out of their birth families are more likely to have older biological brothers, the social experience of having an older brother can't account for the effect. Researchers believe that it results from an immunological process within the mother. The idea, in brief, is that when a woman carries a male fetus, her immune system "remembers" that fact, which influences the development of later male fetuses such as to make them more likely to become gay.
Simon adds: "We can't exclude the possibility that social and situational factors also play some role in sexuality. However, those factors appear to influence people's actual sexual behavior more than their underlying sexual orientation. For example, a straight person confined to a same-sex environment, such as prison, may engage in sex with same-sex partners, but that doesn't make him gay. We may expect that future research will greatly increase our understanding of what's going on."