Why You Should Never Play Hard to Get
A psychiatrist and social psychologist explain why it's always a losing strategy.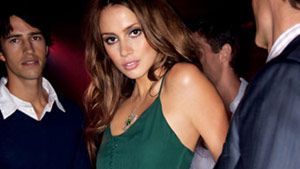 (Image credit: Archive)
Just in time for you to squeeze in a few last-minute resolutions that could save your dating life this year, a new book by psychiatrist Amir Levine and social psychologist Rachel Heller has been released. Attached: The New Science of Adult Attachment and How It Can Help You Find — and Keep — Love is about how (perhaps not surprisingly) the ways we interact with our romantic partners resemble the ways we interacted with our parents, and what we can do to diagnose our own bad patterns.
The co-writers identify three attachment categories:
I spent some time emailing with Levine and Heller, and they had so many interesting things to say that I'm going to fill you in on it all over the course of a few posts.
Let's start, today, with their take on playing hard to get.
In their book, they write: "Playing hard to get is the easiest way to land Mr. Wrong (i.e., Mr. Avoidant.)"
Ah ha! So, I asked them, why is playing hard to get a bad idea in the long run, even though it might seem like a good strategy in the short-term (because it might help you win over a very successful or attractive guy)?
They wrote:
"Playing hard to get is bad news, period — both in the short run and in the long run. People need to understand that when they go out on a date, they're not looking to win anyone over. They're out to find out whether this person is right for them, whether he has the capacity to make them happy.
If you play hard to get, or in fact, if you play games at all, it will be very hard to tell if this person is a good match for you and if he is able to meet your needs. If you're not putting your personality and needs out there, how will you know how the other person reacts to them, and whether he can show up and be there for you?
The danger when you're playing hard to get is that you will 'win over' someone who actually doesn't feel comfortable being close and prefers to play hot and cold. You've led him to believe that you're comfortable with this kind of arrangement and when you decide it's time to let up the 'act,' you discover that you and your partner aren't in sync, and that he isn't capable of giving you what you need."
Next time, we'll talk about what kinds of needs you should discuss as early as the first date — and why you should never put up with behavior that makes you uncomfortable.