Maria Shriver and Arnold Schwarzenegger Split
Was the former governor a womanizer?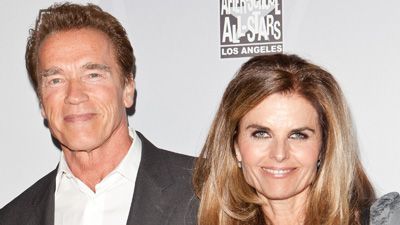 (Image credit: Chelsea Lauren/FilmMagic)
Former Governor Arnold Schwarzenegger and his wife, Maria Shriver, have separated, after 25 years of marriage. Shriver, who's been living elsewhere for a while, is officially moving out of their Brentwood mansion. In a statement, they said they would be continuing to parent their four children together.
Shriver, 55, met the former governor and bodybuilder in 1977, when NBC's Tom Brokaw introduced the two of them at a charity tennis tournament. They married nearly a decade later in 1986. Shriver is part of the Kennedy clan — once the most powerful families of Democrats in the country. (Shriver's mother, the late Eunice Kennedy Shriver, was the sister of JFK, Teddy Kennedy, and Bobby Kennedy.) And Shriver herself was an ardent Democrat, even while her governor-husband was a Republican. In 2008, in fact, Shriver publicly endorsed Barack Obama on the eve of the California primary — a big news event — while Schwarzenegger supported Arizona Sen. John McCain, the GOP candidate.
But Shriver stood by Schwarzenegger when, as he was campaigning for office in 2003, "Gropegate" erupted. The Los Angeles Times reported that six women who'd came into contact with Schwarzenegger over the course of the preceding three decades said he touched them in a sexual manner without their consent. More specifically, the Times said:
Three of the women described their surprise and discomfort when Schwarzenegger grabbed their breasts. A fourth said he reached under her skirt and gripped her buttocks. A fifth woman said Schwarzenegger groped her and tried to remove her bathing suit in a hotel elevator. A sixth said Schwarzenegger pulled her onto his lap and asked whether a certain sexual act had ever been performed on her. According to the women's accounts, one of the incidents occurred in the 1970s, two in the 1980s, two in the 1990s and one in 2000.
"Did he rape me? No," said one woman, who described a 1980 encounter in which she said Schwarzenegger touched her breast. "Did he humiliate me? You bet he did."
Schwarzenegger didn't comment on the scandal … until a certain interview in an adult magazine, Oui, from 1977 surfaced. In it, Schwarzenegger talked about attending sexual orgies. At that point in his campaign, he admitted to having "behaved badly sometimes." And yet he went on to win the election: He became governor of California.
Hearing all that made me wonder if Shriver was ready to leave the marriage a long time ago. After all, someone who has been a womanizer for decades — and who was groping breasts and squeezing buttocks even while married — isn't exactly the picture of a devoted husband. So I wasn't surprised that TMZ is reporting that Shriver had been "extremely unhappy in her marriage for years, complaining about Arnold's out of control ego, as well as his womanizing."
Frankly, I have to think: I'm sorry Maria waited so long — and how in the world could a man like that get elected?
Shriver seems like a good person. She's been a lifelong advocate for people with intellectual disabilities, a staunch advocate for women, and someone who used her position as First Lady of California to try to find practical solutions to end cycles of poverty. She also sounds like a devoted mother — she recently took her son and some of his friends on a college tour.
In a recent interview, she talked about her feelings of uncertainty at this stage of her life. "It is so stressful to not know what you're doing next," she said. "I'd like to hear from other people in transition. … How did you get through it? What were the things that enabled you to get through your transition?"
Good question.
Marie Claire email subscribers get intel on fashion and beauty trends, hot-off-the-press celebrity news, and more. Sign up here.