Why Did She Stand By Her Man?
Maria Shriver may not have known about the love child. But how could she ignore all of her husband's other misogynistic offenses?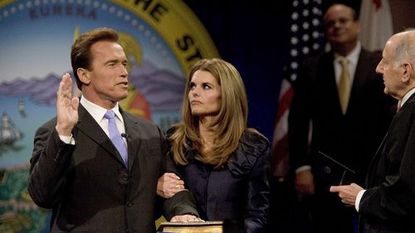 (Image credit: David Paul Morris/Getty Images)
As the rumors (and truths) about Arnold Schwarzenegger mount — now there's speculation that he might have had a second love child, with a stewardess who used to work for him, in addition to the son he fathered after having a sexual relationship with his former housekeeper — I continue to feel very sorry for Maria Shriver. But I'm also wondering not only how she put up with him for so long but how in the world she could stand by this womanizer while he ran for public office.
As I mentioned the other day, as the gubernatorial election neared in 2003, a number of women who'd been groped or otherwise sexually accosted by him came out with some very ugly accusations. How did Shriver respond? As The Daily Beast reports that in a speech to a Republican Women's Group in Orange County, Shriver said: "You can listen to all the negativity, and you can listen to people who have never met Arnold, or who met him for five seconds 30 years ago. Or you can listen to me … I wouldn't be standing here if this man weren't an A-plus human being. I wouldn't be taking my time, I wouldn't have left my job that I love, I wouldn't be doing any of this if I didn't believe in this man."
An A-plus human being? This is the same man who, in 1977 (the same year he met Shriver) told an interviewer about how he participated in an orgy. As The Washington Post recounts, the former governor told an adult magazine about an episode at a gym when a naked woman walked into a room full of bodybuilders. "Everybody jumped on her and took her upstairs, where we all got together." Asked if the group then had sex with her, Schwarzenegger said, "Yes, but not everybody."
And in 2001, Premiere Magazine wrote an article about the repulsive, feral behavior of the "A-plus human being." As The Daily Beast notes, it was "an extensive article documenting Schwarzenegger's peccadilloes. … Among the most damning anecdotes: that during the shoot of Terminator II: Judgment Day, Arnold came out from his trailer one day, walked up to a woman on the crew and 'put his hands inside her blouse…and proceeded to pull her breasts out of her bra.' Another time, the magazine reported, a woman producer on one of the star's films got a visit from her then-husband. Upon being introduced to the man, Schwarzenegger reportedly said, 'Is this guy the reason why you didn't come up to my hotel room last night and suck my cock?'"
If there had been one or two stray rumors about Schwarzenegger, or if the accusations had suddenly burst forth just before his gubernatorial bid, it'd be easier to understand how Shriver might have written them off. But it's a bit harder to imagine how she kept denying the truth to herself in the face of such a record of what I will politely call misbehavior. I didn't have kids with the man, and I haven't spent my entire life with the public eye on me, the way Shriver has. And maybe she managed to convince herself that it was all just a bunch of malicious gossip. But what she had proof of, according to three Daily Beast sources, was that he could also be a complete jerk to her — and given all that I've heard about him, this doesn't seem at all surprising. "The former action star and governor was known to make fun of his wife's weight. And when he was elected governor and she became very public about how difficult the transition was — leaving her job at NBC to assume the role of First Lady of California — he was callous and dismissive, these sources say."
Why would any woman put up with someone who must have made her feel so bad?
I hope Shriver's experience serves as something of a cautionary tale to the wives of certain other politicians vying to be on their party's ballot for the 2012 presidential election. And I also wonder if the citizens of California who backed Schwarzenegger rue their votes now. Cheating is one thing, and bad enough. But his pattern of behavior suggests that he is misogynist and cruel.
Celebrity news, beauty, fashion advice, and fascinating features, delivered straight to your inbox!