7 Moments Guys Knew They Were in Love
Our guy expert, Lodro Rinzler, reached out to seven guys to ask them at what moment exactly they knew they were in love with their significant other. Here's what they had to say: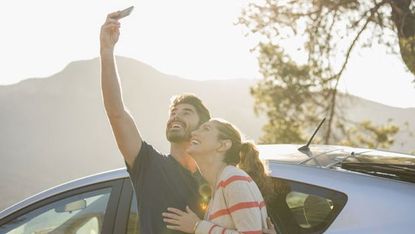 (Image credit: Caiaimage/Sam Edwards)
"It was 14 hours into a 20-hour road trip. We had been dating for only three months. The conversation had broken down and there was silence. But the silence wasn't awkward even a little bit... it felt natural. I was completely okay with just being in the same place with her, driving quietly, and I know 100 percent for certain that she was too." - Will, San Francisco
"I was friends with my now-wife for a long time before we started dating. I knew I was in love with her when we had our first kiss. As soon as that occurred (November 4, 2009) I knew there couldn't be anybody else. I remember the exact date, place, everything. After the kiss, that was it."- Sean, Philadelphia
"The first time? I had suspected it for a while. But when I knew for sure was when my girlfriend let me buy a 52 inch television for the apartment we had just moved into together." - Matt, New York City
"We had been dating for about two months. That night we had a long date that started with dinner, then drinks with her friends, then ended up back at her place. It was after we collapsed in a heap on her bed after sex that I looked at her and knew. She saw it in my eyes too, and was terrified of the L-word so her first reaction was, 'Don't say it!' I told her a few weeks after that, once she got used to us being together." - Allen, New Orleans
"I was in town visiting my girlfriend's family for the first time. She was going away to teach English abroad for six months to a year so I knew I wouldn't see her until one of us visited the other. We had only been together two months at that point. In the midst of me meeting her family and her saying lots of goodbyes we had one quiet hour together. We laid on her sister's couch, with her head on my chest. She was so sweet and tired in that moment. That's when I knew and when I felt I had to tell her." - Jake, Miami
"Annie saved up her money and flew for the first time out of the country from Chicago to Berlin, Germany to visit me while I was studying abroad. When I first saw her in the airport coming towards me with a big smile on her face, I knew I loved her and was going to marry her." - Tom, New York City
Out of all of the men that I've spoken to, and in my own experience, there isn't one factor that makes us fall in love. In fact, it's a gradual progression of falling for every aspect of someone until you simply can't deny that sinking truth: you love her. As is evident above, when that truth is known, it's either immediately or a few weeks later after starting to date you. If after several months of dating you don't feel as though you're getting closer to each other emotionally, and love is what you're after, it may not be the real deal.
Related:

6 Things Guys Think When They See You Naked


The New Millennial Marriage Contract


7 Signs You're Great at Relationships

Photo via Caiaimage/Sam Edwards
Celebrity news, beauty, fashion advice, and fascinating features, delivered straight to your inbox!