Road Testing the New Condoms
If you're still stocking your goody drawer with the same old latex, it may be time for an upgrade. Here, Diana Vilibert tries out the latest STD-blocking breakthroughs and, exhausted, shares her findings.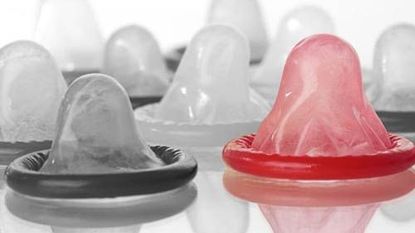 (Image credit: X)
Durex Avanti Bare
, $9.99 for a 12-pack
THE CLAIM: Made of polyisoprene, the "first new condom material in a decade," it promises more stretch and suppleness than latex.
FROM OUR TESTER: "These were supersoft and thin and as close as we've come to a next-to-nothing sensation in years of searching. And just the right amount of friction. Hallelujah!"
TRY IT IF: You're tired of your boyfriend complaining that he doesn't feel anything. If he doesn't with this one, he needs to talk to his doctor; you want to ensure rounds two and three.
Glyde
, $10.99 for a 12-pack
THE CLAIM: Fair-trade natural latex condoms, in regular and organically flavored varieties, are made using a "patented process" that creates a strong yet ultrathin sleeve.
FROM OUR TESTER: "The sensitivity and sensation were average, but while the flavored variety wasn't exactly tasty, it didn't have the icky latex aftertaste common to other flavoreds. And they're certified vegan! Doing good really can feel good."
TRY IT IF: You're prepping for date no. 3 with the meat-free yoga instructor.
LifeStyles X2
, $12.99 for a 12-pack
THE CLAIM: Lubricated inside and out with ExciteGel lubricant, a combo of menthol and "an amino acid that has been shown to increase circulation when ingested," it promises double the intensity.
FROM OUR TESTER: "Expect things to get hot—too hot! After we'd been at it for a good 10 minutes, the lube was still going strong, but the menthol crossed the line from tingling to burning for both of us."
TRY IT IF: You're looking for a change and don't mind a little fire.
Beyond Seven Aloe
, $5.99 for a 12-pack
THE CLAIM: Trademarked "Sheerlon latex" makes for a stronger and thinner condom, "enriched with soothing aloe" and "lubricated generously"—with four times more lube than other condoms.
FROM OUR TESTER: "The little green guy was superthin, but between the aloe and the bonus lube, things got a bit sloppy. There was a lot of cleaning up afterward."
TRY IT IF: You need the extra glide—and you have a headboard within arm's reach, to steady yourself when the slipping and sliding gets out of hand.
FC2 Female Condom
, $10.95 for a three-pack
THE CLAIM: Made of polyurethane, supposedly stronger than latex, this second-generation girl condom (the first version bombed back in 1993) is "the only product under a woman's control that protects against pregnancy and STDs."
FROM OUR TESTER: "As a female-condom first-timer, I was surprised that it looked like an extra-large male version, only with a big ring at the bottom. I found insertion surprisingly easy but felt like my lady parts were wearing a beret as I waddled out of the bathroom with the visible(!) ring hanging down. During sex, it didn't want to stay put, and removing the whole thing afterward required a tug from my partner that sent it ricocheting."
TRY IT IF: You're a control freak; your boyfriend's lazy; you don't embarrass easily.