Can You Eat Your Way to Better Sex?
Two new books say the sex you have is related to the food you eat. Robin Epstein tests whether or not you really can cook up a great orgasm.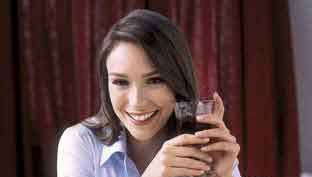 (Image credit: James Baigrie)
Two new books say the sex you have is related to the food you eat. Robin Epstein tests whether or not you really can cook up a great orgasm.
"Absolutely." That was Beau's one-word response. I'd e-mailed him asking if I could use him to help me test recipes from two new cookbooks, Great Food, Great Sex and Fork Me, Spoon Me. I wanted to see if the right foods, well prepared, actually souped up romance and added zest to sex, as the authors claimed. His reply came back three seconds after I hit "send." Beau's enthusiasm was a positive sign, but we had a problem: I don't cook. Before beginning this research, I didn't even know if my oven functioned as anything other than storage space. Even so, I opened up Amy Reiley's Fork Me, Spoon Me because its cover inspired me. When I saw the naked lady sitting on the floor, eating strawberries in front of a booze-filled fridge, I immediately thought, I can do that!
After reading about the history and properties of particular ingredients — almonds, chocolate, honey, figs, etc. — I chose my menu. We would start with Hot Honey Nuts and a dry Riesling, move on to Green Tea-Poached Salmon with Sensual Salsa (a combination of aphrodisiacs the author calls "a veritable Viagra salad"), and end with First Time Fluffernutters, a steamier, toasted version of an old-school favorite. I was already excited. Shopping for this romantic little meal took me several hours at three different supermarkets and had a shocking cost of $115.28. Turn-on? Not so much. But I wanted to do this right, and when I finally got down to cooking, I decided to start with what seemed like the easiest item to make: Hot Honey Nuts. High in arginine, nuts are supposedly excellent for sexual health because they boost blood flow. (This is important for both sexes, but in men, blood flow equals mojo.) The chili on them will "raise body temperature, make tongues tingle and lips plump," Reiley writes. I can deal with that.
Yet somewhere between drizzling the honey-chili concoction and taking the dish out of the oven, disaster struck: I'd burned the nuts. But I kept moving. I still had a fish to poach and sensual mango salsa to make (plus a bathroom to clean and legs to shave). When Beau arrived, he flashed me a sexy smile and complimented my efforts, despite the inedible appetizer. He cleaned his plate and asked for more of the main course, which struck me as both sweet and manly. Then, as I rose to clear the table before beginning dessert, I was struck by another aspect of Beau's manliness. I'm not sure if it was simply the unusual sight of me behind the wheel of a frying pan or the primal nature of the mango in the salsa (it's used to increase virility in India), but before I could unscrew the lid from the marshmallow fluff, Beau had me pressed against the kitchen wall, no fluffing necessary. I slid down the wall and had him on the floor. Now that's what I call dessert.
Encouraged by the results, I was anxious to do it again. My next menu came from Great Food, Great Sex, a book written by Robert Fried and Lynn Edlen-Nezin, two Ph.D.'s who have created a program that is designed to maximize your body's flow of blood to increase stamina and sexual enjoyment. The thinking is that foods rich in nitrogen (veggies and beans), arginine (nuts, meat, poultry, fish), and antioxidants (fruits, seeds, and richly colored vegetables) act as sex fuel — partly because they bring you nitric oxide, the same compound that Viagra boosts. Antioxidants keep the sex fuel potent.
The meal would consist of Broccoli Beef Ginger, Oriental Rice, and Mousse la Banana, with Mint Julep cocktails to drink, just because they looked good. Since Beau's a Southerner, he figured he'd be a natural at making the drink, and I was delighted that he wanted to help with the preparations.
We cooked at his place that night, and the food tasted better this time. (The Mint Juleps might have been to thank for that.) Watching Beau grind up the fresh mint boosted my circulation even before the ginger in the main dish kicked in. And, whether it was all that nitric oxide floating around or the simple fact that we had eaten too much of it, by the end of dinner we both had the urge to take off our pants. I was beginning to see a pattern but wanted to do more research — hey, I'm a professional — so I decided to invite some other couples over for dinner.
We chose our libido-boosting menu based on principles from Great Food, Great Sex, and served Apricot and White Cheddar Panini, Chicken and Beef Kebabs, Spinach Lasagna, and a dessert of fruit dipped in melted chocolate. The wine and cocktails started to flow as soon as people arrived, and the deliciously gooey cheese-and-apricot appetizer was an immediate hit. People even looked sexy eating it. I continued refilling glasses and dishing out food throughout the night, and by the time my guests started dipping their berries in the hot, melted chocolate, I knew my work was done. I'd made a sumptuous meal, and I felt confident that I'd set a seductive vibe. Now it was up to my friends to, um, take their balls and run.
"Well, hostess," my friend Matt wrote me the next day, "the 'after-party' could be described as inspired, aggressive, insatiable, and freaky-deaky." I took this to mean the food had worked its magic. In a separate e-mail, his girlfriend, Veronica, clarified: "Yes, I had a lot to drink. Yes, he was aggressive. Yes, it was good." Hmmm ... maybe it's just the alcohol after all.
Did the recipes from these books really have anything to do with the heat the meals created? The act of making something expressly for the pleasure of my partner was just plain sensual, even if I didn't know how to cook. It helped that Beau and I were spending time together, making something to mutually satisfy, and checking in with questions like, "What can I do to help?" and "Do you like this?" Is that an aphrodisiac? Absolutely.
Celebrity news, beauty, fashion advice, and fascinating features, delivered straight to your inbox!