When Mom Is the Reason You're Single
How do you meet Mr. Right when you can't seem to shake Mrs. Wrong?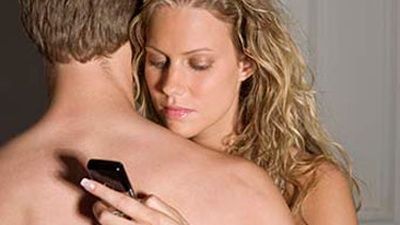 (Image credit: Jupiterimages)
I'VE NEVER BEEN HAPPIER. That's what I wrote in my Italy journal. After 10 straight days spent gorging on penne alla vodka chased with caffè con panna, gawking at the Duomo until my neck ached, and unearthing the quintessential black purse at an outdoor leather market, I had finally experienced the perfect vacation. Maybe because I'd finally found the perfect travel companion, someone who actually adored Florence, and its pistachio gelato, as much as I did.
It wasn't until the one afternoon when I was booking our post-walking-tour couples massage that it hit me: Contrary to what my Facebook status said, I wasn't single. I was dating my mother.
I suppose this shouldn't have been a surprise. Though my mother and I were always close, we'd begun spending even more time together after my father's death 10 years earlier. Somewhere between "hiking" the Grand Canyon together (we walked around the edge, took pictures, then went for dinner) and my mother teaching me the difference between 18- and 22-karat gold at the jewelry mart, I discovered something: Mom was fun. What started as obligation morphed into something I'd never had in my single life: a worthy, reliable plus-one. Now an extra gospel brunch ticket meant, "Ooh, Mom would love this," and a dateless Saturday night became "I wonder what Mom's doing."
How did this happen? I wanted a partner who would make a good parent; I didn't want that partner to be my parent. She'd become the Tracy to my Hep, the Thelma to my Louise. Now, thanks to my epiphany, our joyride was about to go off a cliff.
"You're the reason I'm single!" I blurted out as I poured the sake at our new favorite sushi place. I didn't say it to be mean. I was trying to explain — or rather, to poorly paraphrase — the realization arrived at during a recent therapy session that overbooking my social calendar with her left little room for new people. Since I wasn't in the market for any more girlfriends, new people meant new boys. And I wasn't meeting new boys passing out bite-size Snickers with Mom on Halloween.
Still, my words had stung her, and she withdrew. She began refusing plans. "Please don't come home this weekend," she said on the phone one Friday night. "I'm fine alone."
I should have been relieved — wasn't this what I'd wanted? But our breakup brought some unexpected burdens that I guess are compulsory in your typical mother-daughter relationship. Guilt, for example. (You don't feel bad about not spending time with your mother when you spend all of your time with your mother.) Then came anxiety. Most daughters worry about their single mothers, but a single daughter, by definition sensitive to her issues, wants nothing more than to kill, gut, and deep-fry her mother's loneliness. What is she doing right now, I'd wonder on a Sunday afternoon. Does she miss me?
It goes without saying that finding a respectable partner who not only passes your many character requirements, but also manages to be loved by your friends, is a tough slog. Over the years, I'd become accustomed to uttering the social disclaimer, "He really is different when it's just the two of us." Which is why dating Mom had been an easy relationship to fall into. She had charmed every friend of mine she'd ever met. She cared about my horoscope as much as I did. She understood (and did not laugh at) my life's dream to be in a music video. And she shared my equal appreciation for champagne, Disneyland, and the Kennedy family. The truth is, your mother knows the good and the bad and still loves you, despite what she may mutter under her breath when you show up to your cousin's wedding with a teal-blue streak in your hair.
So, OK, I admit it. I got back together with my mom.
We know our relationship as it stands won't last forever. We both want for me the same kind of requited love promised each holiday season in romantic comedies, and I've resolved to invest more time and effort looking for that. In the meantime, as my mom and I jet to Seattle for a weekend of seafood-eating and sightseeing, I'm happy to be on this ride with her. And when I look back, when I have the husband and kids and dating is a distant memory, I'll be happy knowing she wasn't the one who got away.
Padma L. Atluri is a writer for 90210. Her last piece for Marie Claire, "The Bad Godmother," ran in the May 2009 issue. She lives in Los Angeles, an hour's drive from her mother.