4 Ways to Boost Your Libido
Kegels, schmegels... No one's ever worked this hard to get you off, and we aren't talking about your college boyfriend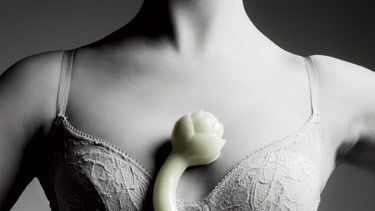 (Image credit: Liz Von Hoene)
Marie Claire Newsletter
Celebrity news, beauty, fashion advice, and fascinating features, delivered straight to your inbox!
Thank you for signing up to Marie Claire. You will receive a verification email shortly.
There was a problem. Please refresh the page and try again.
Sexual health researchers are sweating bullets tackling science's next frontier, the female libido. What turns us from frosty femmes to breathy, toe-curling, spine-arching sexpots? And why do 42 percent of us have trouble flipping that switch, according to a recent study of 31,500 women? Help is on the way, in the form of a drug billed as the "female Viagra." In 1998, men went from limp to lusty with a pop of a pill. In early 2011, we could follow suit if Flibanserin — currently under FDA review — makes it to pharmacies. Till then, read our tips on staying revved up. Cue the Marvin Gaye ... (And if you're really feeling libido-less, check out sexbrainbody.com or sexandahealthieryou.org for help.)
1. Exercises
Forget Kegels. This must-try flexing routine has a new name — pelvic floor physical therapy — and is taking off in doctors' offices and Pilates and yoga studios, where instructors are working the vagina-invigorating squeezes into routines. Even Teri Hatcher has talked up the benefits, including better pelvic health, stronger muscles, and increased blood flow for amped-up orgasms. Still shy? Get to know these muscles now to help with labor (and ward off incontinence) later. The key, says Dr. Lindsey Kerr, urologist at the Eastern Maine Medical Center, is to approach it like a gym class.
We asked Monica Zielke-Cullinane, who owns the Academy of Yoga in Grand Junction, Colorado, to share some pelvic floor exercises.
Step 1: Identify the area. Experts used to tell you to "find" your pelvic floor muscles by stopping your urine mid-flow, but that can cause urinary tract infections. Instead, sit on the floor or in a chair and visualize squeezing a tampon inside your vagina. Then imagine lifting the tampon up and inside you, toward your belly button. Once you can do that, hold the squeeze for five seconds. Do three sets of 10 every day for a week.
Step 2: Work the muscles. First, flex your urethra, the opening closest to the pubic bone. Then flex your vagina. Moving back, flex your anus. Hold each flex for three to five seconds, and repeat the sequence three times. You'll flex some of the same muscles, but focusing on one area at a time helps engage the space between the pubic bone and the tailbone, where your pelvic floor muscles are. Do three sets of three every day for a week.
2. Herbal Sex Aids
An oil: Herbs have been used since ancient times to amplify desire, and Zestra Essential Arousal Oils were designed to do just that. Dabbed on the clitoris and labia in a double-blind placebo study (meaning it was tested as rigorously as a new drug), the oil boosted sexual desire and satisfaction in 70 percent of women who tried it. Since the oil goes directly on the skin, it creates a tingly, warm feeling right away — just don't use it with a condom ($49.95 for 12 one-use packets).
A pill: ArginMax for Women, a nutritional supplement, no Rx necessary, improved the sex lives of 73.5 percent of the women who tried it in a double-blind placebo study. Better yet, for synched-up sex drives, a male version is also available ($75 for 180 pills).
3. Sex Toys
Looking to bring titillating technology into bed? Skip the sex-tape route (rumors of which have dogged celebrities from Kim Kardashian to Avril Lavigne) and check out the best-selling toys from the North Carolina-based Sinclair Institute. (Toys can be viewed and purchased at bettersex.com.)
4. Porn
Women may still be earning less than men, but at least when it comes to flesh flicks, we aren't that far behind the guys. In one study from McGill University in Montreal, women watching porn got hot within 12 minutes, compared to 11 for men. And more women are websurfing sex sites: In June 2009, 20.7 million women in the U.S. visited adult sites, compared to 13.4 million one year earlier, according to the Nielsen Company. But it's all in the name. "I never tell patients I want them to watch or read 'porn,'" says Dr. Susan Kellogg-Spadt, cofounder of the Pelvic and Sexual Health Institute of Philadelphia. "Calling it 'erotic films and literature'" makes women feel more responsive, erotic, and sexually suggestible.
But what if all that canned moaning still doesn't float your boat? Ask a trusted female friend for a recommendation. In a 2003 study published by Indiana University's Kinsey Institute for Research in Sex, Gender and Reproduction, a small sample of women were most responsive to female-friendly porn that had been prescreened and recommended by female research assistants. In other words, women are good at predicting what kinds of porn other women will enjoy. That's an important finding, says Brandon J. Hill, Kinsey research associate, because based on anecdotal evidence from focus groups, women are relatively mum on porn. "Men engage in a lot more conversations about sexual erotica," says Hill. If we were bold enough to ask each other for recommendations, we'd be even more like the guys — and all walk away winners. For ideas, try women-founded and -run sex stores, like Good Vibrations in San Francisco. Its website (goodvibes.com) features a carefully screened selection of women-directed porn movies, and allows users to post ratings.
Celebrity news, beauty, fashion advice, and fascinating features, delivered straight to your inbox!