8 Things He's Thinking But Won't Say Out Loud
Our guy expert Lodro Rinzler tells us what's really going in a man's mind.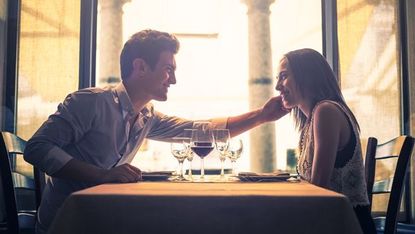 (Image credit: Archives)
1. "Your family really scares me." Either the constant contact, or the gruff father, or the crazy sister... there's some aspect here that he will never name (you don't mess with a girl's family) but it scares the sh*t out of him.
2. "I'm not sure how good I am at that sex thing you seem to enjoy." Whatever "that thing" may be, however much you've encouraged or praised it, he's still not sure if he's a pro at it and feels a little self-conscious each time. The female body is an elaborate and wondrous thing.
3. "I'm not 100% where I want to be professionally." Who is, really? Even if he's wildly successful he'll still have ambition to continue to climb whatever ladder he's on. The more a man says how amazing he's doing professionally, the more insecure he usually is about it.
4. "I have a body complex as well." He sucks in his gut every time he takes off his shirt and hopes you don't notice.
5. "I have occasional doubts about us." No one in a relationship is 100 percent sure all of the time. Mostly he's head over heels for you, but once in a blue moon he does a double take while contemplating your future.
6. "Playing with my friend's kid completely triggers my paternal instinct." He doesn't want to freak you out, and he's not necessarily ready for kids—but damn is that baby cute.
7. "He's scared to say 'I love you' first, too." Unless you get him drunk. Then he might just blurt out "I love you," on the third date. True story.
8. "I am completely in love with your [insert strange trait here]." There is one thing about you that every time he sees or hears it he softens a little bit inside. But that's his secret, and maybe it's okay that he keeps that particular treasured act to himself.
Related:
How to Be The Best Sex He's Ever Had
5 Relationship Faux Pas We've All Made At Least Once
The 10 Best Rom-Coms to Watch With Your Man (Who Hates Rom-Coms)
Photo Credit: Getty Images