Single Girl's Guide: How To Build Your Own House
Instead of just buying a home, at 24, Jessica Gilmore picked up a hammer. Single Girl's Guide To: Flying Solo | Traveling the World | Climbing Mount Kilimanjaro | Driving Cross Country | Meditating for a Month | Starting Over | Spending, Splurging, & Saving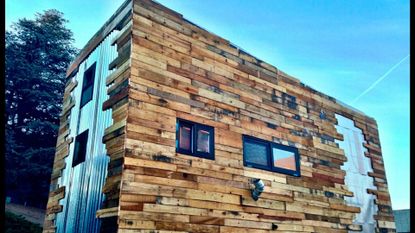 (Image credit: Marie Claire)
I was tired of throwing money away on rent after years of living with roommates in Seattle and here in Salt Lake City. One winter I sublet a 200-square-foot "tiny house"—a kind of make-your-own mobile mini-home gaining in popularity—and decided to build one of my own. Since I studied architecture in college, I came up with a minimal, sleek design. Then I drove to a two-day workshop in Portland, Oregon, to learn specifics, like attaching the house to a trailer. Other builders I met there estimated that my house would cost around $16,000; I took $8,000 that I'd saved from my sales job and applied for a $7,000 project loan from Home Depot.
Next, I talked to construction companies about my project. They donated insulation, wood for the interior finish, and the siding materials. A local museum thought my project was cool and let me build on their lawn, so I always had help from passersby! Piece by piece, I did it, sometimes with assistance from friends and strangers: I built the walls, the roof, the drywall, the windows. I followed the diagrams in a book for the electricity and, miraculously, the lights worked!
After 10 weeks of 12-hour days, I was done. A lot of women mistakenly think they need a man's help before they can even buy a house, so it was really empowering to know I could build one myself. A full-size house is next! —As told to Sarah Miller
Want to Build Your Own Tiny House?
Learn more about them at: TinyHouseTalk.com (opens in new tab).
Buy house plans at: PADTinyHouses.com (opens in new tab).
Also check out: Dee Williams' Go House Go e-book.
Your most important tool will be: A drill. YouTube is packed with cordless-drill tutorials.
My No. 1 piece of advice: Construction guys will try to tell you you're doing it wrong. Don't let them bully you! They just want your phone number.