71 Fun Date Ideas for 2023
Skip the old "dinner and a movie" for something original.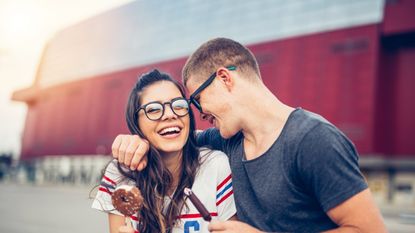 (Image credit: FluxFactory/Getty Images)
If you're tired of first-date clichés like dinners out, catching a movie, and/or hitting the bar, we get it—there's so much out there if you take the time to look. Cities have really grown in their capacity to offer truly unique experiences, and if you don't live in a metropolitan area you can recreate some of these ideas at home. When you're trying to get to know someone, (and you've gone on a lot of first dates—no shame!) you may want an experience that feels natural, like taking a class together or trying a new activity (opens in new tab). You'll both be out of your comfort zones, and you won't fall into those conversational clichés that leave you yawning into your pasta at a local date spot. A lot of these take place in silence or give you ample opportunity to discuss what's going on around you—even if the date doesn't work out, you get to have the experience regardless! Plus, you'll get to know a person even better by putting them into a situation (opens in new tab) they're maybe not so used to, like cycling or going to an arcade. Ahead, 71 ideas to get you started.
1/71
Stargaze Together
You + the great outdoors + the ideal social distancing meet up + your date who you pray is into this as much as you are = the perfect date. Don't forget to bring a comfy blanket, some snacks, and have a chill playlist for your evening under the stars.
2/71
Make Pasta
Carbs and a significant other? Sign us up. Sure, buying boxed noodles seems easier, but watching someone crank out some dough is an unspoken turn-on. (There, I said it.) You can still totally do this if both (or one) parties are gluten-free with this easy recipe here. (opens in new tab)
3/71
Go Ax Throwing
Not only is this an out-there date idea, but it's a great stress reliever too. There's just something about throwing a heavy ax at a wooden target that just makes us forget about all our worries and lets us act as if we were on a one-on-one Bachelor date.
4/71
Watch a Local Sports Game
Sure, it's fun to watch your city or state's team play, but try a sport you guys have never watched or supported before—like netball or rowing, for instance. Local colleges and universities often have games that are open to the public, and there should be enough space to sit, watch, and listen to yourselves talk while you cheer (and try to explain the rules of the game to each other).
5/71
Seek Out a Pool
In the warmer months, this could mean a roof deck with a water feature, in the winter it could mean a jacuzzi or splashing around in a public pool. But if you're just hanging out poolside it's a relaxing and chill vibe. If you're actually diving in (pun intended) with bathing suits on...that could actually be quite sexy, right? Just make sure your date's up for it before you go.
6/71
Go to IKEA
I know what you're thinking..."Why would I go to a furniture store?" But this isn't just any old furniture store. It's *insert enthusiastic jazz hands here* IKEA! No one has ever sighed before telling someone they were making their merry way to the famous Swedish furniture store (except maybe for the characters on 30 Rock (opens in new tab)). Also, it has a food court with some incredible cake, which is great after a day full of picking out your dream space.
7/71
Go to Wine School
You read that right: Not just wine-tasting, wine school. This will help you both feel classy and cultured as you learn about how to properly taste the beverage, differentiate between types, find what you like best, and, yes, taste some delicious wine. There's always something to discuss while you sip!
8/71
Decorate a Space
Okay, so caveat that if you're not comfortable inviting someone over to where you live right away, this doesn't have to be your go-to move for a first date. But maybe your date could use your expert interior decorating skills! Maybe there's a common area you could spruce up together! Maybe you could decorate a cubicle or office with some festive decorations! There's lots of ways to decor, you just have to get creative.
9/71
Try Sky-Diving
Another date that sounds like it's straight out of The Bachelor, wow your thrill-seeking date with one of the coolest activities out there. Obviously this'll depend on your location and you could trade it out with another heights-heavy activity like bungee-jumping, but it'll immediately establish you as the coolest first date ever. Plus, it'll be hilarious if you're both getting over your fear of heights together.
10/71
Go on a Scavenger Hunt
Make like Leslie Knope (opens in new tab) and become a novice treasure hunter! One kind of global treasure hunt is called geocaching, some cities have formal hunts, and universities like MIT actually have competitive annual competitions. You could also just take the stakes way, way lower and just walk around seeing if you can spot certain objects. It's like a hike, with purpose!
11/71
Find a Cozy Coworking Space
Listen, you and your date are both busy people. If you've found it hard to connect outside of work, try taking the work to the date! Coworking spaces aren't the dreary cubicles they used to be, and you don't have to be constantly making conversation if you're just quietly working together. Try to add in fun breaks like going to grab coffee or snacks, and finish it off with a meaningful convo when you're both done.
12/71
Throw Yourselves a Mini-Party
On the totally other end of the spectrum, go nuts with a themed bash (guests: the two of you!) featuring inexpensive decorations, some lights, and festive cocktails. You could try a kids' party theme, a luau, a '90s costume party, or something the two of you make up. If you want to expand it into double date territory, great, otherwise just make it the most exclusive party ever.
13/71
Shop at a Thrift Store
Hit up your local Goodwill and give each other 30ish minutes or so to find the craziest outfits for each other to wear to dinner right after. Look at you being all fun and sustainable! The winner gets to choose where you'll dine later, so make sure to go all out.
14/71
Go Window-Shopping
In a similar way, if your area has a shop-lined street, go looking without making any impulse purchases. Start fun conversations by going into a wildly expensive store with things you can't afford or a knickknack store with random trinkets. These areas can be bustling around rush hour, with plenty to do and see (plus restaurants if all that perusing works up an appetite).
15/71
Learn Some History
Especially if you've moved to a new area, you may be unfamiliar with the local history just outside your door (plus, if you're like me, you only do "touristy" stuff like this when you have family or friends in town). Prioritize aspects of your city that are underrated or lesser known, and try to use this opportunity to make yourselves informed citizens of your chosen region. Some cities have bus tours, if you'd rather ride and listen!
16/71
Take a Boat Tour
Or, if you'd rather see things from the water, be it a water taxi or duck boat tour, this can be a fun date option (and some boats offer cocktails, as another plus!). Obviously this requires, you know, a sizable body of water. Alternative ideas for anyone who's landbound: kayaking or fishing at a local lake.
17/71
Work On a Puzzle
Call us old fashioned, but nothing is more relaxing than putting together a 500-piece puzzle together with someone. The conversation flows, and if you run out of stuff to talk about, you can just hold up a piece to ask where it's counterpart is. BOOM, instant conversation. Don't forget to check out our favorite puzzles here. (opens in new tab)
18/71
Go Ice Skating
Bundle up, mask included, and go support your local ice skating rink. Learning or teaching (you little pro!) someone a new thing helps bring people together, so get ready to watch the sparks fly. Don't forget to grab some hot chocolate after!
19/71
Play a Video Game
Thanks to the 21st century, you don't have to be in the same room to play each other in your favorite video games. Gaming consoles that you can take on the go, like the Nintendo Switch, can allow you to indulge in some friendly competition from wherever.
20/71
Get to Tie-Dyeing
Seventies fashion is having a revival for a reason, so it's the perfect time for you and your date to jump in on the trend. Pick up a tie-dye kit at your local craft store, set up outside, and go all out to who can create the most colorful tee.
21/71
Take a Cooking Class
You'll know right away if the relationship stands a chance once you find out who's better in the kitchen. Approaching it from the right attitude—just have fun and be willing to make a mess!—means you'll have a blast.
22/71
Yoga in the Park
Put on your workout clothes and head to the park for some fresh air and relaxation. Partner yoga positions are always the move, and you can get to know each other in more ways than one (lol). Plus, they'll have new respect for how hard yoga is.
23/71
Volunteer Locally
If you both have a cause you support (or, if there's a place nearby that needs your help), consider signing up to volunteer. There'll be plenty to keep you busy, you'll feel like your time went to good use, and you may even bond over the experience.
24/71
Watch the Sun Rise
This may not be for everyone (a person who doesn't like getting up early, for example), or for every time of year, but there's something magical about trucking out together in the early morning to watch the sky change color. Bonus: Go to brunch after.
25/71
Support the Local Arts
It's pretty much a guarantee that you'll find a local play, poetry reading, dance troupe, or other public event to attend—and it's supporting local culture, even if it doesn't end up being your cup of tea.
26/71
Share a Meal—Literally
Obviously, this won't work if either of you is sick or squeamish, but a fondue place or traditional Japanese shabu-shabu lets you prepare your food in the same shared pot. The latter is customizable and gives you something to talk about while you watch your beef and veggies cook leisurely in a simmering pot. Alternative: Go and get big bowls of ramen and compete to see who finishes first.
27/71
Watch an Old Movie—Outside
There are plenty of open-air venues like parks and rooftops that you can go to during the summer months; Even better, a lot of them have old, classic movies or shows (my first date with my husband was Hitchcock's To Catch a Thief at a park in Brooklyn, so I'm FULLY in on this one). The shared atmosphere and classic flick are a perfect combo.
28/71
Host a Movie/TV Watch
Ok, I realize this sounds like a glorified version of Netflix and Chill. But hear me out! Plenty of bars, restaurants, and social groups do these (hello, Succession), and it's a great way to participate in a shared obsession. Or, you could host one—but that takes a lot of effort, so finding an existing one feels like an easier choice.
29/71
Go Take a Run Around Town
If you and your new date are the athletic sort, what better way to bond than through a shared passion? For anyone hoping for a more...let's call it low-key activity, an exercise class, going to the gym, or even just walking at a decent pace can all fit the bill.
30/71
Go on a (Mini) Vacation
For those who love to travel but don't want to (or can't) go far, take a bus or a train an hour away to see the local sights and just get away from your daily routine. Treat it like a real vacay, with fun local snacks and sightseeing. Even though it's just a skip and a jump away, it's like a whole new world.
31/71
Speak at an Open Mic
It's one thing to attend a poetry reading or comedy show, it's quite another to get up and bare your soul to a group of strangers. Granted, this one's not for people who get stage fright. If that's the case, you can sit and cheer while your date takes the plunge.
32/71
Go Get Sundaes
Don't just walk to get ice cream—really lean in. Compete to see which one of you can craft the most delicious/ridiculous concoction, then race to eat them before they melt. Bonus points if you can make something that your date wants more than their own.
33/71
Go to a Burlesque or Drag Show
Don't be intimidated! These acts are designed to be entertaining, sexy, and/or laugh out loud funny. The scene is loud and boisterous, and the food and drink scene is usually fun too. It's like the ol' dinner and a show—but make it cool.
34/71
Head to the Spa
Get solo or couples' massages! Chill out in the jacuzzi! Hang out in the sauna! There's so much to do here, especially after a long, exhausting day. Just make sure you're both at the same level of comfort (maybe one of you prefers a non-nude spa, you know?).
35/71
Attend an Open House
Have you ever walked by an open house of a beautiful building and think, It must be so gorgeous in there. Go see how the other half lives, ogle some stunning decor, and talk about what you like and don't like. Best case: It might be useful later on! Worst case: cool architecture, and you don't have to talk much.
36/71
Find a Gorgeous View
Regardless of whether your town/city has a ferris wheel, observation deck, or other sky-high view, go and find a location that helps you see your area from a new perspective. That could be traveling a few miles out or even just going to a roof deck to help you look at things in a new way together.
37/71
Take a Meditation Class
I mean, if you're worried about what to say on your date, this is perfect, right?? Even if you've never done it before, taking beginner's meditation together will help you chill. Then you guys can go grab dinner and talk about how relaxed you both feel.
38/71
Get Each Other a Gift
Obviously you don't know each other well yet, so go to a store that sells knickknacks and see if you can get something small and inexpensive to make the other person laugh. Or just browse the oddities together and enjoy each other's company.
39/71
Share Your Favorite Spot
Is there a beautiful mural you love by your home? The perfect place to watch the sunset? That little hole-in-the-wall bakery with the best donuts? Take a walk and share the little details that you love about your area, and encourage the other person to do the same.
40/71
Ride Bikes
Get some fresh air and ride some bikes together. It's the perfect intro to part two of your date: a picnic in the park (keep reading)—where you can sit down, relax, and enjoy each other's company. And the food will be worth it, because you exercised!
41/71
Find a Pottery Class
Get your hands dirty and make some art together—you can get to know each other while making a new addition for your home. So, even if the date is bad, you'll at least feel like your time wasn't wasted. And if the vase looks ridiculous but the date went well, you'll have a funny story!
42/71
Restaurant Hop
If you're near one of their locations, Eataly (opens in new tab) is the perfect place to explore and eat some great food. If not, try and find some local food trucks to get a taste (or two or three) of what they enjoy. Instead of settling in and only experiencing one place, hopping around can make for some fun discussion.
43/71
Get an Aura Reading
Good vibes ONLY. You can joke with them and say you're into horoscopes (opens in new tab), but really you're there to find out if you're wasting your time (#priorities). Some people may not be into this, but if you turn it into a fun hangout it'll make the date way more memorable than dinner and a movie.
44/71
Peruse a Bookstore
When you're both book nerds, a day spent browsing your local bookstore is the ideal setup to get you bonding over your favorite titles. It also allows you to give each other suggestions on what to read next. Just making sure you're not getting too lost among the shelves that you're not paying attention to your date.
45/71
Walk a Dog Together
If one of you owns a pup, take them out to the nearest dog park to catch up and check out all other cute dogs. Note: It might be a mood killer if your dog's not super well-behaved, so just make sure you're prepared to handle any shenanigans that might occur once you get there. Alternative: Go and walk the dogs at your local shelter.
46/71
Go to a Brewery
One great all-season date for booze lovers is a brewery tour. You can sip on the latest IPAs and ciders while getting to know each other—it's a win-win. The same goes for a winery or cidery: Most places know that they key is a killer ambiance.
47/71
Play Some Arcade Games
For those with a short attention span and an adventurous spirit, get to know your date over an adrenaline-racing round of arcade games. Play up your competitive side or join forces as a team against another pair with a game of foosball. And, if you're terrible at games like me, play a couple rounds then cheer your date on as they're crushing it.
48/71
Tour a Botanical Garden
There's no better place to explore on a date than the pretty manicured lawns and gardens of a botanical garden. Pro tip: Plan to go later in the day or after the summer rush if you don't want to find yourself sweating in a greenhouse at mid-day. If they allow food, this can also be a perfect picnic spot (see below).
49/71
Go to a Planetarium
The hushed atmosphere of a planetarium combined with the dark room make for an ideal ambiance for a first date. Spend an evening gazing at the stars and learning about the constellations, with lots of hand-holding potential. My now-husband dragged me to a planetarium early on and I was surprised by how much of a blast I had.
50/71
Visit an Art Gallery
Whether you're a true art buff or just along for the ride, this one's a great quiet place for both of you to gauge each other's interests and conversational skills. Choose a fun, exciting gallery or photo exhibit that's not too obscure if you're anxious about not having enough to talk about.
51/71
Walk Around a Museum
Similarly, museums have new or rotating exhibits—even if you've been before, there might be something new to see. They also have spaces to sit, eat, and chat, and potentially architecture or gardens that offer options to walk around. Museums are designed to spark engagement and conversation, which is perfect. At the very least you can laugh about not understanding the significance of everything!
52/71
Catch Some #Views
Since the #Gram is a big part of everyone's life these days, go and be amateur photographers together. Whether you're catching the breeze at a waterfront walkway or know an especially scenic park nearby, it's always helpful to set the scene for a date with a pretty backdrop.
53/71
Hit Up a Karaoke Bar
If it works for mandatory coworker bonding, it's worth a try for a fun stranger date. Even if you're not exactly Zooey Deschanel in the vocals department, it's more about enjoying the moment and showing your personality. Be sure to ask first before you spring it on them, though.
54/71
A Day of Light Sports and Games
If you're definitely not into the traditional first date thing, take a lighthearted sports bar approach to the date night with an outdoorsy game of badminton or beach volleyball. If it gets too hot out, retreat indoors for some board games or table tennis. This can also be a blast as a group activity or with fellow barmates.
55/71
Go for a Skate
Not all roller skaters were born with balance, but taking a risk with a roller skating date can take the seriousness out of a first date that typically involves wining and dining. A few falls later and you'll both be a whole lot closer, if a bit bruised.
56/71
Attend an Outdoor Concert
This one's a definite time commitment, so you might want to get to know each other over a drink or meal before going for this option. But the perks of an outdoor show, especially if you both love the band, are the good vibes. If there's space on the lawn, pack a blanket or get up close and personal in the pit.
57/71
Head to the Aquarium
No ambience is more romantic than the hush of a soft-lit aquarium. Stroll through the darkened rooms while you point out your favorite creatures behind the glass. Some aquariums offer interactive educational exhibits and teach guests eco-friendly ways to clean up the ocean, so you'll feel like you got something out of it.
58/71
Take a Ferry Ride
The length of a 30-minute ferry ride from one locale to the other is the perfect bite-sized date option for people who don't want to have to drag things out over dinner or drinks. It's a good chance to get fresh air and suss out whether you might actually want to go on a post-excursion drink or coffee.
59/71
Sample Treats at a Food Festival
Big holidays like Chinese New Year and annual food festivals are excellent opportunities to sample bites while you get to know someone. All the various food options and the mingling in a crowd will give you a good chance to survey how adventurous and adaptable the other person is, too. Bonus: You might find a new place for an upcoming dinner date.
60/71
Peruse a Farmers Market
Feel sustainable and healthy (and maybe pick up something for dinner) as you walk by stands of gorgeous fruits, vegetables, and locally made goods. If you've never been, it's also a way to educate yourselves on what's in season and what cool local vendors have delicious stuff you can add to your meal rotation.
61/71
Visit a Tea Room
If you're more into herbal blends than java, visit the soothing atmosphere of a tea room for your first rendezvous. The tea room owner will typically lead you in a ceremony at an ASMR (opens in new tab) volume while both of you sip on calming teas and feel zen.
62/71
Go to the Beach
Whether you live by an ocean, lake, or body of water, a day out on the sand is always a calming date spot if the weather's playing nice. If you're feeling it, rock a two-piece and offer to apply sunscreen. Soak in some sunshine near the water and as the day draws to a close, take a romantic stroll with the setting sun as an Instagram-worthy backdrop.
63/71
Go to a Carnival
Appeal to your inner child by buying tickets for a carnival. Yes, I know, it seems so cliché. But embrace the cheesiness—share cotton candy, let them try to win you a prize, and ride a roller coaster if you've got the stomach for it. It's a great way to get to know each other while having fun at the same time, and talking about your memories of childhood.
64/71
Go Rock Climbing
If you've both got an appetite for adventure and you want to undergo the ultimate "survival test" dating experience, there's nothing quite like being suspended from great heights on a harness while you're clinging for dear life to do it. Alternative: If you'd rather stay Earthbound, try an Escape Room.
65/71
Take Dancing Lessons
Sign up for an hour of dancing lessons where both of you are beginners. Even if your partner has two left feet, the act of learning a skill will bond you closer together. Stay for the all-couple dance session afterward once you're starting to get the hang of it, or retire elsewhere for a bite to eat.
66/71
Go Bowling
Whether you're a strike machine or a ten-pin novice, there's so much fun to be had at a bowling alley, from the beer and cheap pizza to the rush of that first strike. Set up the bumper guards if you want to avoid utter embarrassment or go no-holds-barred for a competitive match. Just...go easy on each other if one of you is better.
67/71
Go Horseback Riding
We gotta love those The Bachelor dates! To emulate some fairy tale romance, spend a day at the stables riding trail horses for the afternoon. If neither of you have much equestrian experience, take a couple of laps around the paddock before trotting out into the wilderness.
68/71
Play Mini Golf
Even though you're way past the age for miniature golf, the low-stakes game allows for some lighthearted fun without feeling like you need to be competitive (and if the other person gets a little crazy about it, that'll probably tell you a lot). Plus, the yawn-worthy pace of golf means you can chat and play without any interruption.
69/71
Pack a Picnic
Keep it simple with a stroll through the park followed by a picnic lunch on the green. Pick out your favorite frozen treats from an ice cream vendor, and chat while you hang out in the grass. You can even people watch while you're at it. The best part? It's cheaper than an expensive dinner.
70/71
Attend Trivia Night at a Local Bar
Combine powers to form a dream team at trivia night. You'll laugh as you wrack your brains for city names and bond over your shared knowledge of obscure horror films. Plus, drinks are usually on the house if you both you end up winning.
71/71
Make Like Tourists in Your Own Neighborhood
Pick a couple nearby landmarks or activities and commit to experiencing them like you don't live there. The act of embarking on a local trip will make for a unique shared experience and will give you the fun feeling of "discovering" your area for the first time. Fanny pack optional.
Bianca Rodriguez is the Fashion & Luxury Commerce Manager at Hearst Magazines, covering fashion, beauty, and more for Cosmopolitan, Elle, Esquire, Harper's BAZAAR, and Town & Country. She likes lounging about with a good book and thinks a closet without platform sneakers is a travesty.