The 12 Best Sex Card Games Of All Time
Per the advice of famed relationship therapist and podcast host Esther Perel.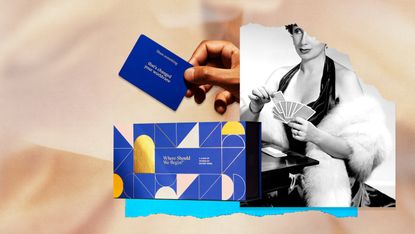 (Image credit: Brittany Holloway-Brown)
Whether you're in a committed relationship, a situationship, or simply dating around, it's always nice to add variety to one's sexual repertoire. And if introducing sex toys or kink to the bedroom is a little too much too soon for you and your partner, or if such options feel uncomfortable or awkward for you, then you might just be in the market for a sex card game. These sex games bring an interesting mix of both structure and variety to your love life by challenging you and your partner to talk about or act out things you never have before.
However, the variety of sex card games out there is surprisingly large. For that reason, we've asked sex expert Esther Perel to share with us her ultimate guidance on why you should try sex card games and how to find the right one for you.
"It is the quality of our relationships that determines the quality of our lives," Perel maintains, when explaining her penchant for sex card games and her drive to create her own game, Where Should We Begin. "Today, we often need new resources to help us manage the complexity of relationships, because the norms are shifting under our feet, and the rules that guided us through the relational landscapes have really changed massively. So we often find ourselves with a lot of choice, but also a lot of self-doubt, and a lot of uncertainty."
During the pandemic, Perel explains, this sense of uncertainty and isolation magnified, inspiring her to find "a playful way, an educational technology, a social technology that is playful, that is fun, that allows people to try out things and to take risks within the safe container of a game."
Why a Sex Card Game?
"One of the beautiful things about playing a game is that it gives you a different script than the one that you just had in your head when you were playing the role of the spouse or the partner," says Perel. Games, she explains, can spice up a relationship or simply prevent monotony by allowing you and your partner to switch up your prescribed script and find a new way to be intimate—both physically and emotionally.
Plus, she says, framing intimacy as game-play can allow both partners to feel more at ease than they might in normal circumstances. "If I tell you a story and it's very serious and linear, it's completely different than if I'm telling you the story that is wrapped in a ritual called, 'We're playing,'" she says.
She also points out that card games are a more familiar, comfortable way of adding variety to your sex life than sex toys might be. "It's not about buying a certain toy or sexual accoutrements or a candle or anything like that," she says. In those situations, she admits, "people may laugh, because it feels awkward; because it doesn't fit anymore in the relationship." On the other hand, card games often encourage storytelling and structured exploration.
"Storytelling is a wonderful bridge to each other," she says, explaining that they can encourage vulnerability with one another without forcing it. "In the course of telling stories, you find yourself suddenly experiencing vulnerability that you never anticipated. It just suddenly came over you, but you are protected by the game. So when it's somebody else's turn, there's an end to it. You're not tied to 45 minutes in a [couples' therapy] session."
What To Look For in a Sex Card Game
When selecting a sex card game, it's important to consider the type of romantic experience you're looking to have. For instance, are you looking to verbally answer questions that can serve as foreplay (i.e., a question about your favorite kinks or about your favorite parts of your partner's body) or would you prefer a game whose cards dare you to perform certain sex acts?
If you want to start by taking it slow, Perel recommends finding a game with open-ended questions. This way, each partner can ease their way into the vulnerable, often sexual, mindset. "I love open-ended questions because it allows people to then take them anywhere they want," she says. "No yes and no answers, but stories that it's like the power of the imagination."
Furthermore, it's important to consider how competitive you want your game to be. When Perel was making her game, she says she considered all sorts of possibilities: "I thought, what card game should it be? Do you win against each other?"
Just as she considered these "game mechanics" when crafting the rules for Where Should We Begin, you should also consider what sort of logistics would work best within you and your partner's dynamic.
And if you or your partner are still nervous about the pressure that a sex card game might instill, Perel says to look for games with different levels of intensity or intimacy. In those cases, "nothing is geared towards pushing you for revelation. You can play it completely safe, you can position yourself at any level you want."
Best Sex Card Games For Emotional Intimacy
Sex Card Games for Physical Intimacy
For more, visit our Sexual Wellness section, where we unpack topics around consent, kink, sex toys, and more so you can have your safest and very best sexperiences yet.
Meet the Experts
Esther Perel is a popular author, relationship therapist, psychotherapist, and podcast host who believes that strengthening the quality of one's relationships fortifies the quality of one's life. Originally born in Belgium, her work has been translated into 24 languages and counting.
Marla Renee Stewart, MA is a professional sexologist and intimacy/relationship/sex coach. In addition to working as a speaker and author on these topics, she is also a sexpert for the sexual wellness brand Lovers ,owns a sexual education company called Velvet Lips, and is a faculty member at Clayton State University, where she teaches Sociology and Women's and Gender Studies. Co-Founder of the Sex Down South Conference and a board member of both PARK Reproductive Justice NOW! and the Diverse Sexualities and Research Education Institute, Stewart is passionate about bringing together diverse voices in order to spread sexual education and liberation.
You may also know Stewart from the media: She has been featured on over 60 podcasts and and television shows, making appearances on the likes of Netflix's Trigger Warning with Killer Mike, VH1's Love & HipHop Atlanta, GPB's Personal Injury Court, and Oxygen's Bad Girls Club: Atlanta. In addition, she also sits on the Boards for SPARK Reproductive Justice NOW! and the Diverse Sexualities and Research Education Institute.