Editors handpick every product that we feature. We may earn commission from the links on this page.
15 Sex Games to Spice Up Your Next Date Night
Game night, but make it sexy.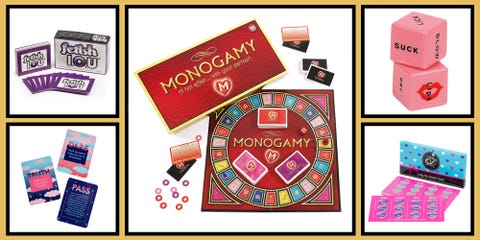 Design by Susanna Hayward
Date night can get, well, stale. Honestly, if you're in a relationship and you're at the point of planning dedicated "date nights," there's a good chance you're firmly in the comfortable phase of your love affair. And there's nothing wrong with that. Comfort is good. Comfort is awesome, even. It's just that comfort can also, sometimes, be a little boring. If you've ever had the "oh, great...movie night...again" feeling when it comes to planning a date night with the human you romantically love, fear not: There is an entire industry out there just waiting for spice up your night in. What is that magical industry, you ask? The sex game industry.
Don't worry, we're not talking about wild, Eyes Wide Shut-esque levels of adventurousness. These are games that anyone who enjoys a sexy night in can play and love with the person they love to play with (and, yeah, we mean "play" both literally and euphemistically). It's game night, but make it SEXY, you know? So, if you fear that you're falling into the same rut of stay-at-home dinners and Netflix-and-cuddle sessions, why not plan a sexy date night that keep things behind closed doors but ramps up the sex appeal x10? Here, find the best-rated sex games to enhance your creativity in the bedroom, from dirty-talk card prompts to intense Kama Sutra board games. Let the games begin...
Truth or Dare Cards
Further proof that an adrenaline-racing game of Truth or Dare is still exciting past your teens. This card game that has you ask saucy questions of your partner and challenge each other to naughty requests.
INTIMATE HIDE-AND-SEEK KIT | AND ITS SKIN MARKER
Indulge your inner child with a game of sexy hide-and-seek that involves a black light and some fluorescent markers.
Lovehoney Oh! Lucky You Scratch Cards (10 Pack)
Lovehoney Oh!
lovehoney.com
$7.99
Take the addictive nature of scratch-offs to a new level with this set of cards with four sections—action, location, time, and bonus—to put up to chance. In this game, everyone gets lucky, though.
COSMOS EDITION
Making sex somewhat of an art form, the Love is Art kit arms you with tarps, a cotton canvas, washable paint, and a body scrubber then lets you bring out your inner Jackson Pollack to create a body paint/canvas art masterpiece. Is being horny the key to enhanced creativity? Only time will tell...
Fetish IOU Cards (50 Pack)
Unbranded
lovehoney.com
$8.99
Looking for an entrée into the world of kink that won't make you blush? Test out each other's comfort zones with this deck of cards that has a fetish-related instruction on each.
Lovehoney Oh! Talk Dirty Playing Cards
Lovehoney Oh!
lovehoney.com
$8.99
Expand your dirty talk vocabulary with this card game that has you fill in the blanks of dirty expressions with your personal desires.
SPECIAL EDITION POKER FOR LOVERS - Little Genie - Spice Up the Bedroom with this Classic Game Designed to Increase Intimacy | Poker for Couples of All Ages
Little Genie Productions
amazon.com
$18.99
When even strip poker feels boring to you, mix things up with a game of "Poker for Lovers" that replaces money with specified sex acts.
Love Honey Nookii Couple's Board Game, 1 Count
This best-selling board game for grown-ups offers up three stages of intensity: from "Mmm" level warm-up prompts to "Oooh" role-play scenarios, and finally, the big-O finale of "Aaah" exploratory tasks. The twist? There's a time limit for every action, so it feels like a high-intensity sex session instead of a dull foreplay game.
Monogamy Game: A Hot Affair for Couples Adult Board Game
Monogamy
lovehoney.com
$29.99
Similarly to Nookii, Monogamy can be as tame or intense as you want it to be, with three levels of bedroom challenges ranging from "intimate" to "steamy." The game comes with over 400 new ideas, designed to make even a familiar long-term relationship feel like an exciting affair.
Lovehoney Oh! Kama Sutra Playing Cards
Lovehoney Oh!
lovehoney.com
$8.99
If you're bored with the same old missionary bedroom routine, expand your horizons with this playing card game that comes with a different Kama Sutra position on each card, so that you'll both end up with royal flushes in no time.
Fetish Seductions
Kheper Games
amazon.com
$15.95
Creativity is the key to this fantasy board game that has you imagine different fantasies to act out with a partner, plus inventive ways of kissing and playing.
Kheper Games Inc. Fantasy Affairs
Kheper Games
amazon.com
$18.99
Creativity is the key to this fantasy board game that has you imagine different fantasies to act out with a partner, plus inventive ways of kissing and playing.
Dirty Dice 'The Original' Adult Dice Game
Classic Erotica
amazon.com
A classic teaser game, this double dice game leaves foreplay up to chance: one comes with a body part on it and the other with an action.
XXXopoly - Adult Board Games by 3DP Fusion
3DP Fusion, Inc.
amazon.com
This is the #1 adult board game of the year, according to Amazon, and it promises to strengthen your relationship and teach you to satisfy your partner. Fun and educational.
Couplicious Sex Game - The Best Couples Group Adult Porn Sex Board Games
Couplicious
amazon.com
$34.99
If you and your partner are looking to bring more players into your personal sex games, this game, designed to "trigger a variety of threesomes, foursomes and other erotic sexual experiences," is for you.
This content is created and maintained by a third party, and imported onto this page to help users provide their email addresses. You may be able to find more information about this and similar content at piano.io