I Tried to Have a Threesome...and Totally Failed
Awkward encounters of the third kind.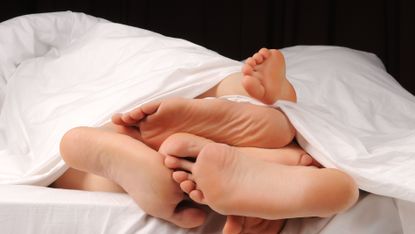 (Image credit: Archives)
There are some secrets we men keep. Like that time that we attempted to have a threesome (which more of us have done than you think)...and failed miserably. Here, some of the most entertaining and brutally honest stories of men and their failed threesome attempts:
Edward:* "I almost had a threesome with one of my buddy's old coworkers and her friend. We'll call the coworker Sally and the friend Jess. We were out all night dancing and somehow in the midst of that started making out three ways. We were headed home to my place when Jess wanted to stop in a 7-Eleven for a drink. Somehow we continued to make out three ways…weirdest makeout session ever? Then Jess decided she wanted a roller hot dog, one of the creepy ones that have probably been on the roller machine since 1993, and subsequently wanted to go to bed. I went home with the coworker, but no go on the threesome."
Lawrence: "After a few too many 'just one more' drinks at my friend's place, he decided to call his latest in a string of no-strings girlfriends. On most occasions I would have taken that as an unmistakable cue to head home, but in this case we each strategized an unspoken gambit to see just how wild she wanted to be. Not particularly, as it turned out. And maybe she sensed how uncomfortable I was with the scenario. In the end they took the bedroom and I ended up alone and naked in the nearby bathtub, reading an issue of Marie Claire." [This story not sponsored or coerced by Marie Claire. But hey, thanks for reading!]
Terrence: "It was a celebratory night and all of Manhattan seemed to have spring fever. In my case, a wholesome flirtation with a friend was on the verge of skipping straight from first base to an inside-the-park home run—except for the ill-timed visit of her childhood friend. My short-sighted effort to sidestep the cockblock by suggesting we all go home together resulted in a rash of hurt feelings, recriminations, and me staying on first base where I belonged."
Sam: "A guy friend and I were vacationing in Vegas. We somehow were able to pick up these two women, admittedly a bit older than us, and charm them back to our room for a drink. After a bit of flirting one left and my friend escorted her to her room. I began making out with the other. Next thing I know there's a heavy knocking on the door—my guy friend is back, having struck out. I refuse to let him in but he persists. My girl is encouraging me to let him in so I do. There's a long, awkward few minutes where I'm kissing her neck, she's rubbing his leg, then he gets weirded out and excuses himself to the bathroom. By the time he comes out we're hidden away under the covers and he's throws himself in his bed."
Joe: "I'm a professional musician, and I make my living performing at private and corporate events. Basically I hang out at parties for a living—it's not a bad gig. I met this woman—let's call her Jane—at a show and she was energetic, attractive, and quite the coquette. She also had a friend with her—let's call her Shannon—who seemed particularly flirtatious toward Jane.
We went out for a drink after the show, and the flirting between them heightened. I went to the bar to get a drink and when I returned to the table they were kissing. Then Shannon excused herself and Jane promptly grabbed me and we started kissing. When Shannon returned Jane dared her and I to kiss, which we did. Now there was only one hitch: I had to go to another gig. So I left, with plans to meet them later.
After the gig I met Jane, but she was sans Shannon. The whole thing had blown up. It turns out the two of them had talked about a threesome, but while I was at my show Shannon had a bit of a freakout about it, so that was that."
*Names changed to protect the somewhat innocent
Celebrity news, beauty, fashion advice, and fascinating features, delivered straight to your inbox!