I Went on a Vacation to Mexico with a Man I'd Never Met
Exploring the new "travel dating" trend.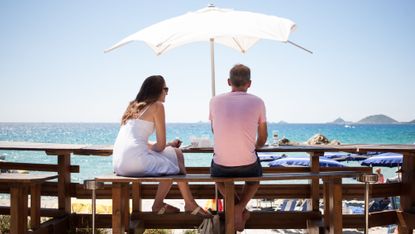 (Image credit: Getty Images)
When I first told my friends that I was spending the weekend in a Mexican mansion on a date with a stranger, they thought I was insane.
"Diana, this sounds a lot like prostitution," they said with raised eyebrows and concerned stares.
Indeed it did, and that's precisely what I thought when I first came across Miss Travel, an online travel dating site founded in 2012 by Brandon Wade, the same man behind the sugar baby/sugar daddy website SeekingArrangement.com. Miss Travel functions like any other dating site, in that users create profiles and message back and forth before arranging to meet if they hit it off—but rather than having your first date at a local dive bar, you have it at an all-inclusive resort in Bora Bora.
In theory, it's a site for people with a disposable income who love to travel and want to add a date into the mix. Miss Travel gives you the option to offer a free trip to someone or find someone to pay for your trip (though there are a number of lonely souls offering to go halfsies, so it does, to some degree, serve people who might just want to go somewhere with another corporeal form).
But, of course, the subtext is sex. Just...sex somewhere other than your place. And maybe sex because someone else paid to whisk you away.
Surprisingly or not, the bulk of the clientele is women—the breakdown, according to Miss Travel, is 70% female and 30% male. (This might be intentional, as the brand splashes "females are FREE!" across its membership materials.)
Go to the site and you'll find a community of brashly straightforward people, with every profile very clearly defining precisely what the person wants. You'll find men looking for relationships, wanting to "have fun and see where things go," or being openly honest about the fact that they're married and busy and just want to "introduce someone to the finer things in life" in exchange for some side action.
The women are equally blunt, if not more so—and most of them seem to be seeking funding for the trips of their dreams, fully aware that there's an expectation as a result. Many profiles specify precisely where they want to go and what they are or aren't willing to do when they get there. Some want added perks, like a shopping fee, on top of the free trip.
The romantic in me hates the idea of diluting a relationship into a business transaction, even though I'm not too much of a pollyanna to realize that all relationships are, in some way or another, a type of exchange. But the part of me that's allergic to bullshit really admires how no-nonsense the site is, especially compared to the illusory ideals of Tinder, where the same men who feed you a feast of feminist terminology turn around and freak out when you don't want to sleep with them after your first date. In this way, there's something respectful about the candidness of Miss Travel; the act of saying "This is who I am and this is what I want," free of judgment from society at large.
Choosing My Date
I'd been ruminating on it for months when an email serendipitously appeared in my work inbox one morning from the publicity department of Miss Travel asking me if I was interested in going on a trip with someone from the site to understand the "travel dating experience." The deal was that Miss Travel would select some candidates for me who were active on the site, and once I picked one, we would fly both of us out to some exotic location for a long weekend. Reporting + a weekend getaway? I agreed.
The PR contact responded with five candidates who were interested in going away with me—all of them were attractive, in my desired age range (27-35), and had impressive résumés. I weighed my options and decided it was between two guys: one who was in finance and lived in New York and was grade-A gorgeous, and another who owned a tech business in San Jose, and—while maybe not *as* attractive as the other guy—was someone I had a lot in common with.
The site recommends that everyone Skype their potential date before they travel. I went a step further—and broke the rules a bit—to meet up with D, the finance guy, in person. He automatically had a strike against him because he made me schlep to a hotel bar even though I'd hinted it was inconvenient for me (and was, fun fact, a block away from his apartment). "This isn't Seamless for Women," I was prepared to say when I arrived.
But when I got there I ended up not having to, because he was extremely nice and normal. Our conversation flowed naturally, like a great first date. I was starting to think this was my dude. Then I made the mistake of asking if he'd ever been in love.
"No, I don't think so," he said after a long pause that told me he definitely had not.
"Okay, well have you been in any serious relationships?" I asked.
"Nah," he trailed. "I don't have the time, honestly."
"So, are you like a love 'em and leave 'em type?" I asked.
"I've actually never had a one-night stand," he said plainly.
I nearly choked on my mimosa. Why does this person even get up in the morning? And why the hell is he offering to take girls on all-expense-paid vacations if he isn't going to hook up with them?
"Okay, so if you don't don't do one-night stands and you're not looking for a relationship or true love, then why are you on the site?" I asked.
"Look, when I first got to New York, I didn't even go out. All I did was go to the office and the gym," he responded, describing my own personal version of hell. "I get a kick out of traveling and it's more fun to go with a girl, and it's no big deal for me to drop some money to do that. But I'm busy so I don't have time to get to know someone. This simplifies things."
In the weeks that followed, I would interview a lot of men and women who use the site, and the line "I'm busy so I don't have time to get to know someone" came up over and over again.
"Do you ever worry that you won't ever find someone?" I asked D.
"Nah," he said. "I'm sure one day I'll just grow into it."
In the spirit of getting what you want out of the exchange, I got up, gave him a kiss on the cheek, and said goodbye—as much as I'm here to report on the experience of travel dating, I might as well do it with someone I might see again afterwards.
The next day, I Skyped the guy I would end up choosing to go with. I'll refer to him as E. E and I had a lot in common—we both speak the same three languages. Our families are both immigrants. He went to Harvard, I went to Oxford. Bottom line, I felt that we could at least pleasantly spend a weekend together in paradise. And he made sure to tell me that he was actually moving to New York in May, thereby implying there was some long-term potential there if we happened to hit it off.
Three weeks later I was boarding a plane to Puerto Vallarta, Mexico, for a first date with a man I'd never met.
Day 1: Friday
When E and I greeted each other at the airport, I was immediately struck by how non-awkward the whole situation was. We talked casually about some of the to-dos concierge had recommended, like going snorkeling in a blue cave or eating a romantic dinner under the stars on an isolated island. It might seem strange to be making plans that are usually reserved for honeymooners with someone you've just met, but somehow it wasn't.
Speaking of honeymooners, we stayed—another potentially awkward thing that wasn't—in the honeymoon suite at the Riviera del Rio boutique hotel, which was so lavish it was actually kind of insane. A winding spiral staircase brimming with magenta flowers led us to an outdoor swimming pool and fully-stocked mini-bar, and from there another staircase led us to a rooftop hot tub with panoramic views of a city encased by a lush valley. French doors opened onto another staircase leading to a room with its own bedroom and bathroom, and further down was another suite with a canopied harem-style bed and fireplaces in the living room, kitchen, bedroom, bathroom, and outdoor terrace. I gave E the lower suite and stayed in the upper one, which had a medieval bed and floor-to-ceiling windows that opened up to a big balcony. "I could fall in love with anyone here," I thought.
E went to change and I lounged around the pool on a float, drinking a martini bianco, wishing all my ex-boyfriends could just see me now.
Our arranged dinner that night was at a candle-lit restaurant on the precipice of a ravine. We exchanged stories over endless rounds of lobster and champagne, toasting to life, to my PR contact, to our good fortune. We had, as I've mentioned, a lot in common, so conversation flowed easily. I came from a family of immigrants that fought tooth and nail for everything they had, and he told me about moving to America as an adult and sleeping in his car for stretches of time before he "made it." Now, he was living in a glorious apartment on a California beach. His parents were staying at his place during our trip, and he kept picking up their calls to explain how to turn on his Smart TV and where they could buy cigarettes. The exasperated but caring tone he took with them was the same one I used with my parents. I laughed. I nodded. We understood each other.
Later, we walked down to the seawall, which was lined with nightclubs and men selling technicolor toys, and vowed to put a dent in the $200 spending money Miss Travel had provided us. We drank and danced, but to be honest, there was nothing there in the way of chemistry or heat. On the walk home, we had to cross a rope bridge over the ravine to get back to the hotel, and it all should have felt magical and romantic, but it didn't.
As I walked beside him, I couldn't help but think of a second date I'd had exactly a week beforehand. It was at the Apple Store, arguably one of the least romantic places in the world. I had stupidly broken my phone 10 minutes before our date—it fell off an elliptical at the gym—so when we met up I suggested in mock flirtation that we move things to the Genius Bar. While we were there, waiting, we nestled on two stools and watched movie trailers. When the appointment keeper asked us how long we'd been together, we looked at each other with wry smiles and said "a while." Later, once I'd received my new phone, we were leaving the store when he suddenly wrapped his arm around my waist and pulled me into an all-encompassing embrace, and there was something so enthralling and life-affirming about melting into this husky man at midnight in the Apple store, in the stark fluorescent lights amid the frantic hustling of tourists.
And yet here I was in this luxury hotel in a resort town in Mexico with a man who was everything I'd been looking for on paper, and I felt nothing. When we got back to the rooms, we did a little lackluster making out before conceding that we were "too drunk" to do anything else. I sprinted back up to my room in drunken zigzags, and as I wrapped my arms around my cool pillow, I knew for sure that this wasn't going to be love.
Day 2: Saturday
I wanted to kill the rooster. He resided somewhere in the safe anonymity of our neighboring rooftops, and he started wailing as early as 3 a.m. This rooster wasn't even doing his job properly, but once he'd started crowing he would not stop.
Eventually we started our day with a few cups of coffee and a plate of huevos rancheros at the hotel. We headed to the beach, where we sipped mimosas and ate ceviche, our sunbathed stupor interrupted only by the ceaseless litany of sweaty men who stomped through the sand offering to sell us beads. When we got back, we had a couples massage in our hotel room. Later, we had dinner in a gorgeous seaside restaurant where white-clothed tables were positioned right on the sand, and we could hear the sounds of waves hitting the shore. We talked without pauses but I can't remember a single thing he said.
We took a taxi back to the hotel and he suggested cracking open a bottle of champagne. As the bottle emptied into glass after glass, I wondered why he hadn't kissed me. I'm not one to be coy so I bluntly asked just that. He said that I was exactly the kind of girl he was looking for, and that, historically, he had lost interest in girls as soon as he slept with them and he didn't want that to happen to me. I began to wonder if was just using me for the free trip to Mexico.
In interviews later with women active on the site, I was told many times that the men they traveled with were often completely uninterested in sex. Then why pay for women you don't know to go on a trip with you, I asked. "One word," one user answered: "Status."
The next morning, we ate breakfast and parted ways. He sent me some text messages after I got back to New York, but in the cool reality of my day-to-day life, my time with him had lost its luster.
So what's my verdict on travel dating? On an objective level, there's nothing that strange or scandalous about it. I still remember a time when online dating was something only lonely people did in secret, and now you're hard-pressed to meet anyone who met their significant other IRL. And if you're sensible about it (tell people where you're going and who you'll be with, demand your own hotel room, make sure you have the finances to get home in case things get weird, etc.), there's no reason for it to be particularly dangerous. The way I see it, there's almost more danger in meeting someone for a blind date than being at a hotel where the concierge has your date's credit card information and a copy of his passport.
On a personal level, I'm into romance, so it's not really for me. I think a gas station could feel like Paris with the right person, and Paris could feel like a gas station with the wrong one. Either way, I know one thing: It sure beats Tinder.
Follow Marie Claire on Facebook for the latest celeb news, beauty tips, fascinating reads, livestream video, and more.
Marie Claire email subscribers get intel on fashion and beauty trends, hot-off-the-press celebrity news, and more. Sign up here.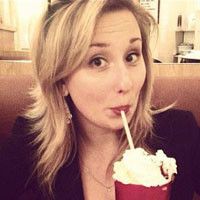 My writing has regularly appeared in The New York Times, The Paris Review, Salon, VICE, Guernica, The New York Observer, BuzzFeed, Cosmopolitan, Seventeen, Esquire, Elle, Harper's Bazaar, and many more publications.

I was previously the Senior News Editor at Best Life Online and the Viral Content Editor in the Newsroom of Hearst Digital Media. My portfolio consists of a vast and diverse body of work that includes personal essays, lifestyle articles, breaking news posts, and viral content. My areas of expertise, however, are Russia, sex and relationships, and mental wellness.