I Was a Real-Life "Sugar Baby" for Wealthy Men
My actual Girlfriend Experience.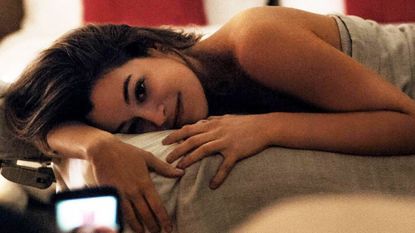 (Image credit: Starz)
I 'm the tall brunette in the romper," I texted from the lobby of the Ritz-Carlton.
I felt a tap on my shoulder. "Nice outfit. I'm Rich."
The 65-year-old business executive looked old but well preserved. After martinis and a cheese plate, we got a room—Rich undressed, I de-rompered. We popped champagne, toasted in the Jacuzzi, and dried off.
On my way out, Rich slipped an envelope in my purse. "Your allowance, babe."
"Thanks, daddy," I replied, counting five crisp hundreds.
I met Rich through SeekingArrangement.com, a dating website that matched wealthy, successful older men, called "Sugar Daddies," with attractive, open-minded young women, AKA "Sugar Babies." Prospective Sugar People filled out a profile, on which Daddies stated their net worth and income, and Babies could indicate a desired monthly allowance, averaging $3,000. For the gentleman of means, a mutually beneficial arrangement provided no-strings-attached companionship, much like The Girlfriend Experience—Starz's provocative new series starring Elvis Presley's granddaughter Riley Keogh. Its story of a savvy yet detached student turned high-end call girl is, essentially, my own.
From the start, I was an unlikely candidate for the site: a quirky girl-next-door type with the face of a nun. My two younger sisters and I enjoyed an upper-middle class upbringing in a Massachusetts suburb. My father, raised Jewish, was a lawyer-turned-entrepreneur. My mother, a product of stoic British parenting, taught first grade. I attended an all-girls prep school and later Tufts University, where I double majored (in child development and Chinese) and played oboe in wind ensemble.
In truth, I was flailing. Depressed and bulimic, I felt stuck, unmotivated, dragging my body through ritualistic motions. With graduation approaching, I'd secured an entry-level office position and felt grateful given the dismal job market in 2011. But the question of how I wanted to spend my life, personally and professionally, posed a daunting dilemma.
Throughout college, I'd rarely dated. For four years, I'd shared a platonic bed with my gay best friend. Lately, he was busy exploring the Boston nightlife scene and all Grindr had to offer. I often found myself sleeping alone.
Half joking and half desperate, I Googled the phrase "Sugar Daddy" and stumbled upon Seeking Arrangement, unlocking a world of generous benefactors, willing to finance my aimless existence. From age 22 to 26, I juggled 30 different men between the ages of 42 and 75, and made close to $300,000 in total.
Rich was the first to message: "Nice clavicle," he wrote, referencing my anonymously-cropped profile photo—much akin to that of Keogh's character in the series. I'd envisioned opera tickets, spa treatments, new jumpsuits for my fall wardrobe. Straight up cash, though, was a sweet surprise.
"That was the easiest $500 I've ever made," I boasted to my roommate, who was working for $10 an hour as a research assistant.
I was astounded to realize I could get paid to wear a slinky dress, sip cocktails, and chat, just as I'd done for free with guys my age. I thought back to one particularly cute guy I'd met through OkCupid: tan, toned, and 27. We'd dined at the local Pizzeria Uno's. Afterwards, I went back to his place for sex—a fair trade, I thought. For two vodka cranberries and a flatbread, it seemed natural to return the favor.
That's the thing though: Seeking Arrangement was just like OkCupid—but for money.
I never saw Rich again, but after our tryst I was hooked on the site. I loved the naughty thrill and instant high of dating-for-profit. Sifting through my messages, I scheduled a new potential suitor for each night that week: a lawyer on Tuesday, professor for Wednesday, neurosurgeon on Thursday. Friday, I met a software engineer with a foot fetish.
Sex was never a requirement on Seeking Arrangement, though I found it was often the main aspiration for these men. I didn't hate intercourse; it felt like exercise—sweaty and cardiovascular. I capitalized on my indifference. With nothing at stake for me emotionally, money replaced the pursuit of pleasure. It was an incentive—a tangible, guaranteed reward in exchange for my consent.
I jibed well with the daddy demographic. Tendril-haired with a praying mantis physique, I was not the standard beauty; but these men saw my youth as a novelty—a fantasy.
Thanks to my lucrative exploits, I was able to move to New York after graduation and pursue many ventures: I tried internships, enrolled in a film course, and performed off-Broadway. In my spare time, I cultivated tomato plants, beat every level of Candy Crush, and taught Zumba to the elderly—sleeping with rich men who treated me like their paid princess was my secret second life.
Updating my zip code on Seeking Arrangement, I spent weekends at the Plaza with one affluent senior citizen and visited another after my weekly puppet-making class. Dating Sugar Daddies felt like a natural, preferable alternative to submitting to marriage or a stressful career. It was a life hack—a loophole in our society, one area in which young women could capitalize.
At reunion events, friends from my all-girls' school listened intently as I regaled them with tales from the Sugar Bowl, as I called it, a welcome respite from their jobs working 9-5 in human resources. The story of the 42-year-old quadriplegic, whose virginity I had the pleasure of taking for $1,000, was a crowd favorite.
"Are you dealing drugs?" asked my (real) father. Aware I'd quit my day job, he was confused about the source of my mysterious cash flow. He'd taught me not to depend on a husband for financial support—in a way, I was following his advice. Banking on my feminine appeal, I felt like an independent woman, not tied down or trapped by one partner.
Eventually, I decided just to come clean. My parents weren't thrilled to hear about my entrepreneurial dating methods, but they accepted my choices. After my depression and eating disorders, they were relieved I was functioning—grateful that I was even alive.
"We just want you to be happy," said my mother.
Grandma was more enthusiastic. "Why didn't I think of that when I was your age? I had very nice legs." (I loved that broad.)
Yet my father's words pained me: "I'm sorry I couldn't give you everything you wanted," he said.
Really, he had. "None of this is your fault, Dad. I don't know why I'm doing it. I'm trying to figure it out. I just want you to be proud of me. I'm sorry."
"I'm always proud of you," he said.
I felt undeserving.
I applied to grad school the next day.
Three months later, back in New York, I was seeing no one. I was hopeful about returning to school, but without the Daddies I lacked direction. They were supposed to be a means to an end, but I still felt lost, devoid of ambition or any clear idea of what I wanted. For me, sex work had become a means of stalling—the ultimate distraction, vocationally and intimately. I turned to therapy for insight.
"What would bring a nice, college-educated young woman to have sex for money?" asked the shrink.
"Besides money?" I replied. He was not amused.
"What happened to your spirit?" he continued. "What broke, and when?"
I believed I'd acted deliberately, pragmatically, as a conscious adult. Becoming a Sugar Baby was not the path I'd envisioned for myself, but I viewed it as part of my journey to a life of stability—and human connection.
Still, as more time passed, I couldn't help but feel haunted by what I was giving away. Every time I saw couples together I wondered, why don't I want to share my life with someone? I feared something was wrong with me—I didn't have this desire for emotional connection. Having sex for money had become a way for me to participate in this realm of intimacy, because otherwise I wouldn't have wanted to have it at all.
In therapy, I finally confessed the source of my brokenness: At age 15, I was sitting next to my grandfather at dinner and felt his hand on my bare thigh. When I'd mentioned this to my mother later that night, she froze.
"That's why I never left you alone with him when you were little," she said. "He did things, when I was growing up—."
As a small child, I'd learned that the closer I was with him, the more gifts he'd bring me: Cadbury eggs, Madame Alexander dolls, raspberry candies in little round tins. Everything seemed innocent to me then, even when it wasn't.
Acknowledging this confusing part of my past was important for my own self-understanding. Yet I didn't want to make excuses for my actions, nor did I wish to confirm the malformed notion that sex work was inherently pathological. Whether or not we make choices based on events that occurred in childhood, we certainly do act in reaction to our immediate situation and environment: Mine was hookup culture. Hesitant about returning to OkCupid, I logged back onto Seeking Arrangement to check my inbox.
"Hey gorgeous. Wanna be spoiled?"
"Yes," I replied, accepting the 45-year-old Wall Street trader's proposition.
After tapas and drinks, we retreated to his apartment, sipped Merlot on the chaise lounge and, sufficiently aroused, progressed to the bedroom. I never truly looked at these men naked, but now I couldn't ignore the dad bod.
"No panties," he noted while caressing me. "I like that."
"That's what's great about rompers—a whole outfit all in one." I let the garment slide off me, as nonchalant as removing my shoes.
Sex had become automatic—a mundane ritual. But this time I couldn't zone out the way I used to. After what felt like hours, I stood up and started getting dressed, thankful I could leave.
"I don't get it—what's wrong with you?" the Daddy asked.
"There's nothing wrong with me," I told him. "Good night."
At first I was angry with myself for not collecting my allowance. But I didn't care anymore. I could no longer carry on as I had, sleeping with men I wasn't attracted to, switching off my feelings as though I were two separate people. It seemed in selling my body I was trying to reclaim control, however false and fleeting. That's when I quit.
It was true—I viewed sex as a performance. I'd been playing a role. I'd always had personal agency—to join Seeking Arrangement's website, to sleep with the Daddies, to accept their money, and finally, to walk away.
Later that night, I unpacked boxes in my studio apartment. Graduate school classes began the next day. This time, I craved something more substantial than sugar.
Follow Marie Claire on Facebook for the latest celeb news, beauty tips, fascinating reads, livestream video, and more.
Marie Claire email subscribers get intel on fashion and beauty trends, hot-off-the-press celebrity news, and more. Sign up here.