An Unfiltered Look at Life as a Male Escort
A gigolo opens up.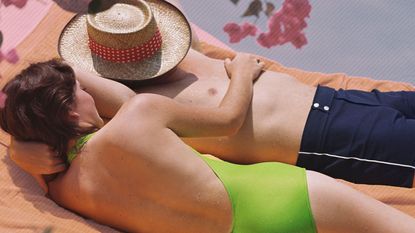 (Image credit: ARCHIVES)
Vin Armani, 35, is an escort with the company Cowboys 4 Angels, which provides straight, elite male companions for women. Armani is also a regular on the Showtime series Gigolos, which was recently renewed for its seventh season. He has a philosophy degree from Howard University, and is the author of the book Tao of the Gigolo.
A lot of my clients tell me, "you're like a drug." I understand that. It's an aspect of seduction. There's a consciousness shift when they're with me—as in, they're having an experience that's literally altering their consciousness, delivering the endorphins and hormones associated with love. It's like having a cocktail that they want to drink over and over again. But there's not some mystery about how we fall in love. There's a science to it, and it's a science I've studied.
For years, I was heavily involved Los Angeles' seduction community. I was well known in that scene, so becoming a male escort was an obvious next step—an extension of the career I already had. But now I pick and choose how often I work: my minimum pay is $500 per hour, and most of my clients are regulars. Most of them are also single. A lot are recently divorced. Some of them can't articulate why they hired me, but I don't think they've consciously thought it out—they're just going with their gut.
The first misconception about being an escort is that my client relationships are somehow fake, and that the feelings involved aren't real. But just because something's paid for, doesn't make it unreal. If you paid for a massage, did you not get a massage?
The second misconception is that being an escort is all about sex. Yes, sex is something my clients are interested in—but if they were to prioritize what makes them feel great when they're with me, sex would probably be number five or six down the list. Sometimes they want me to dress up in private. I even had a client that asked me and another escort to dress up as ancient Egyptians for her birthday party. She was a "slave girl," we were the pharaoh and his advisor, and she served us. She wanted us to stay in character for hours, which is tough—I'm not an actor. Ultimately, she sent the other guy home and she and I were together alone.
I have no problem with women falling in love with me, but they can't possess me. That's not what this scenario is. A client would be delusional to think this is a long-term relationship that leads to marriage and kids. That would be like going to Disneyland and thinking you're going to live there without paying. There's a ticket price and a closing time.
Plus, there's a logical progression in the human dating/mating game. When a woman goes out on a date—even if it's just in the back of her mind—she's hoping to have a fantastic time, a good connection. Ideally, she's looking at her date and thinking, "I want to rip his clothes off." She's hoping the two of them will end up like something out of a movie, throwing each other against the walls and kicking things because they can't keep their hands off each other. Isn't that the progression of every woman's fantasy date? Hiring an escort is a chance for women to embrace every single aspect of their sexuality without judgment. To just be in the moment. When you're like that, you know what happens? Humanity happens.
I believe 100% that the escort experience is empowering for women, because my clients tell me it is all the time. Ultimately it's a shot at being wanted, of feeling valuable, and feeling it deeply. To know, "Someone in this world thinks that I am fantastic and dammit, I am fantastic." We all need that.
Follow Marie Claire on Facebook for the latest celeb news, beauty tips, fascinating reads, livestream video, and more.