F--k Tinder: Why More Women Are Turning to the New Era of Matchmakers
Dating-app fatigue is real.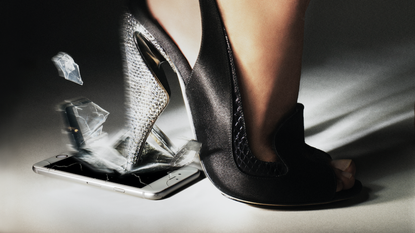 (Image credit: GRAEME MONTGOMERY/TRUNK ARCHIVE. CELL PHONE: JEFFREY WESTBROOK/STUDIO D)
Marie Claire Newsletter
Celebrity news, beauty, fashion advice, and fascinating features, delivered straight to your inbox!
Thank you for signing up to Marie Claire. You will receive a verification email shortly.
There was a problem. Please refresh the page and try again.
You'd think that one of the first women to work at Facebook would have the whole online-dating thing down. But after an awkward date ended with a guy giving her his résumé, asking if she could pass it on to "Mark," she decided she was finished trying to meet men on her own. Not only was it mortifying that someone had feigned romantic interest in her in order to get a job interview...it was also the second time it had happened.
She went home, Googled "Palo Alto matchmakers," and wrote an e-mail to the first name that popped up: Amy Andersen.
Andersen recounts this date-gone-awry outside her office in the Allied Arts Guild, a sprawling Spanish-mission-style complex in Silicon Valley, with stone walls and terra-cotta tiles and a couple of courtyard fountains. The 40-year-old former Merrill Lynch financial adviser is part of a new generation of matchmakers, many in their 20s and 30s, repackaging a career that seemed dusty and a romance option that sounded like a last resort. For at fees that range from several hundred to tens of thousands of dollars, these would-be cupids offer a form of self-care for daters who've had it with Tinder.
Founded in 2003, Andersen's Linx Dating serves a select tier of tech-industry insiders. For $35,000 (yes, $35,000), Linx offers a "silver" package, which guarantees clients eight introductions over two years, with matches drawn from a database of about 850 active members. Upgrade to "platinum" for $10,000 more and you'll get 10 introductions plus a "romantic concierge" to plan your dates. To be considered VIP, membership starts at $100,000. For these Very Important Daters, Andersen conducts "intensive searches" beyond her database, "hunting" for prospects through social media networks, at fundraisers and galas, and on the nearby Stanford University quad.
[pullquote align='C']A study by Pew Research Center last February found that a third of people on dating apps never meet anyone in person.[/pullquote]
Linx clients occupy a curious position: They've earned enough tech dollars to take their love lives offline. ("No algorithms. No arrows. No apps. Just intuition," the website promises.) Most daters can't spend $35,000 to meet a potential match, and Andersen has only a handful of VIP clients. But the fact that the hefty price tags exist, and that there are people willing to pay up for her services, is a sign of a larger trend. Matchmaking has become an aspirational good. Today, there are a growing number of young people across the country exhausted by using a gajillion dating apps, and a new crop of matchmakers setting up shop to serve them.
It was app fatigue that drove Rachel, a real-life success story of Three Day Rule, the country's largest matchmaking database. The 32-year-old cosmetics company executive had been living in New York before she left in 2012 to attend business school. When she returned two years later, she found a dramatically different dating landscape. "Everyone was using all the apps all the time," she explains. "It was hard to navigate. You don't know what people want—a relationship, a one-night stand—and you can't really ask. It takes a lot of time and energy to meet people and sort it out." Matchmakers relieve some of the anxieties that dating apps create. For one thing, they make it clear that a date is a date. Nobody hires a matchmaker because he or she just wants a hookup; if you accept a date brokered by a matchmaker, you know that you are signing up for someone who at least wants the potential for a relationship. Matchmakers can also help smooth over misunderstandings that might otherwise lead people to "ghost," or disappear on, each other, if they'd met through, say, Hinge.
At one point, Rachel had problems on Bumble, The League, OkCupid, and, yes, Hinge. She came across Three Day Rule in a women's magazine or on a website—she can't remember. (The name, Three Day Rule CEO Talia Goldstein explains, was inspired by the film Swingers, in which guys waited three days to call a girl after meeting.) "It seemed like a way to help navigate this crazy world," Rachel says. "The matchmakers were people in my age range who would understand my situation." Rachel joined last summer. Six months later, she is still dating her first match.
[pullquote align='C']For $35,000 (yes, $35,000), Linx offers a "silver" package, which guarantees clients eight introductions over two years.[/pullquote]
"It's funny, because I think that we were on the same apps before but we never connected, and I don't know if I would have chosen him on a dating app," Rachel confesses. "I was a victim to swipe culture; I was being a little bit superficial about it, and the guy I'm dating now, he's really cute, but I don't think that was what I was looking for. But the more I got to know him, I was like, Oh, all right, I guess they knew what they were doing, because it seems to be working!"
Initially, Rachel felt ambivalent about using the service. It's not exactly the meet-cute story you can't wait to tell your friends at Saturday brunch. But now, happy with her relationship, she says, "At the end of the day, none of that stuff really matters."
These matchmakers are not like your pushy aunt or Yente in Fiddler on the Roof, the sort of matchmaker who calls friends and friends of friends to inquire about the avail- ability of their sons or daughters. Millennial matchmakers use Facebook and LinkedIn or Tinder and OkCupid to recruit thousands of members to their databases. Most got their start in New York, Los Angeles, or San Francisco, but many are expanding to San Diego, Chicago, Boston, Philadelphia, Washington, D.C., and Atlanta. In all of these places, it seems, there are more and more 20- and 30-somethings spending so many hours in the office that they want to outsource their love lives, just as they outsource everything else in the app era. And that demand creates an opportunity for a growing number of their peers to pursue what many might consider a dream job—making their own hours while being paid to talk and think about romance. (Yearly salaries for matchmakers in cities like New York and L.A. start at about $50,000; those running their own shop can make up to $125,000.)
But not just anyone can be a matchmaker. The job requires a special skill set, Three Day Rule's Goldstein explains. Partnered with Match.com, ChristianMingle, and JDate, the company currently has more than 20 full-time matchmakers, with 400 paying clients, and 75,000 singles in its database. "At the beginning, I thought I would hire these super-accomplished women who went to Harvard Business School," Goldstein recalls. "But I learned that what matters is not the pedigree; it's soft skills."
There are places where a would-be matchmaker can train. Like the Matchmaking Institute (MMI) in New York, the only state-licensed school that certifies matchmakers, which opened in 2003. During its first year, MMI had seven students. Last fall, it had more than 100, each paying $5,000 for a three-month course. Students learn how to help clients identify their goals and recognize their personality traits, as well as the traits that will complement them. While dating apps sort mates by categories like favorite books and bands, human matchmakers go deeper—how you feel about your family, whether you're an introvert or an extrovert, and your "attachment style" (see: secure, anxious/preoccupied, dismissive/avoidant, fearful/avoidant). Another strategy: the photos of your exes you've been meaning to delete. Matchmakers scrutinize pictures of all their clients' exes to try to figure out what attracts them. It's all about face shape, declares Goldstein. Even when someone's exes come from different ethnic back- grounds, they almost always have the same face shape, she says. After figuring out what this is, Three Day Rule matchmakers use facial-recognition software to screen their database for prospective matches for clients.
[pullquote align='C']there are more and more 20- and 30-somethings spending so many hours in the office that they want to outsource their love lives.[/pullquote]
That said, a lot comes down to a matchmaker's personality. Matchmakers must be outgoing enough to chat up strangers to add to the database but sensitive enough to handle clients' feelings of frustration or sadness. They must also be able to coax them out of rigid expectations.
Take, for example, Megan,* a 32-year-old startup investor in San Francisco who hired a matchmaker from Three Day Rule. Megan, in short, is a catch: She attended Harvard, has an MBA, and worked as an investment banker before becoming a venture capitalist. The biggest dating dilemma Megan faced, as she explained during her initial consultations, was that she intimidated the men she met on dating apps. (For the record, she's also 5'10" and beautiful.) Megan thought that only someone with the same educational pedigree would accept her professional ambition—someone with a diploma or advanced degree from a top school, who works at a top company, investment firm, consulting firm, law firm, hospital, or university. Her matchmaker had other, simpler ideas: Megan needed someone handsome and taller than she is.
So she introduced Megan to Mike, a man she'd approached at a bar when scouting for Megan and who worked at an energy company. Megan thought he was cute but that his education and career weren't "up to par." She feared that they were "on different intellectual levels"—and she had learned the hard way that men would not accept that.
Megan and her matchmaker hopped on the phone to talk through it. OK, so he went to a non-prestigious college. And he didn't make as much money as she did. But he had ambition. He was starting a new company, a project he was passionate about, on the side. Megan and Mike met at a wine bar in the Marina District neighborhood.
Six dates later, Megan found herself feeling more and more attached to Mike. He was "kind, thoughtful, a solid communicator, and not self-absorbed." He "got her" in ways she couldn't quite explain. It turns out, despite what she'd been look- ing for, she didn't need a clone of herself. A more laid-back man offered balance rather than competition. One year later, Megan and Mike are still together.
Think of the Millennial-era matchmaker as a sort of professional wing-woman. Francesca Hogi, 42, a bicoasdern tal matchmaker and dating coach, describes it as helping her clients make choices.
A 2014 New York Times article reported that Tinder users spend up to 90 minutes per day swiping. Yet a study by Pew Research Center last February found that a third of people on dating apps never meet anyone in person. "People have lost the ability to make choices," says Hogi, who encourages her clients to narrow their focus to a few options.
Amy Van Doran, the 31-year-old founder of Modern Love Club (a "high-touch, curated" matchmaking business in New York focused on "creatives"), points out another aspect of the problem. Dating apps, Van Doran says, encourage people—especially straight men—to treat dating like a video game: "Every guy is trying to date up a video game level. But they're above what they can net." Unrealistic expectations create a negative-feedback loop that ends in disappointment and disengagement. "Instead of figuring out what they need to work on, they're saying that dating apps suck and you can't date in New York," she says.
[pullquote align='C']Dating apps encourage people—especially straight men—to treat dating like a video game.[/pullquote]
The matchmaker's mission is to help clients slow down. "Everyone is always looking for what I call the BBD—a bigger, better deal," Andersen says. "Even when I meet with them, I slow down my speech, to start to have that hopefully seismic shift in their mental space." Andersen encourages her clients to avoid Googling or Facebook- stalking each other, to put off sex, and, unless a date goes horribly, to go out with anyone she introduces them to at least twice.
Flexibility is key. "Clients get three deal-breakers—that's it!" Van Doran says. "They can't be like, 'He has to be 6' tall and have brown hair and be Jewish and make more than $500,000 a year.'" The dance between the matchmaker and the recruit is delicate. The matchmaker often ends up doing things that seem like flirting or even dating on behalf of her client. There is also a fundamental inequality between clients and matches. The reality: Someone who's paying thousands or tens of thousands of dollars is usually meeting someone who's there for free or for not much. Frankie Bashan, a San Francisco–based matchmaker for lesbians and bisexual women, charges "recruits" $250 to be in her database to create a sense that they, too, have "skin in the game." For matchmakers working for straight clients, it's a struggle to keep a balanced gender ratio; they tend to receive more client requests from women than men.
Dating is a numbers game, and clients are hiring matchmakers to increase their odds by increasing their number of possibilities. This is where matchmakers really earn their fees. Jasmine Diaz, an L.A.-based matchmaker who works primarily with African-American professionals, has gone so far as to set up interstate searches for clients in Charlotte, North Carolina, and Oklahoma City. One woman, a 28- year-old doctor who lives in L.A., found Diaz through a friend. "I thought if I knew someone like a matchmaker, I could meet someone I could feel comfortable with, where I wouldn't have to worry: Who am I really talking to?" she says. "You hear a lot of stories about apps, and you think, What are the odds that I'm one of the good stories?" That, and she doesn't have time to waste endlessly scrolling through countless apps. Hiring Diaz, she thought, "would be a way of working smarter." She's met one guy so far—they went out once, for brunch, and have plans to hang out again—and is supposed to meet a second guy soon. But brunch isn't what makes her experience a success story—it's a change in mindset. "It's gotten me more comfortable with dating," she says. "I didn't do it to and The One...I wasn't so experienced with dating. Jasmine pushed me to be more social, to put forth the effort."
It's difficult to measure success rates. What counts as a happy ending? What if they date for years but never actually wed— doesn't that count? "It's hard to come up with a single metric of 'success,'" Goldstein says. "We are proud that 70 percent of clients go on at least a third date with their matches." She recalls one couple she set up years ago. "She came to me from Orange County. She was very preppy, wore pearls. She thought she wanted a finance guy," Goldstein says. "But I could tell she had an edge. I matched her with a rocker who played in a metal band and was covered in tattoos.
"I told her, 'I'm gonna set you up with this guy, and if you're looking for nights out at the ballet, this is not your guy.' But she was up for an adventure, and they ended up having a lot more in common than they thought." Goldstein is no longer in touch with the couple, but she saw the pictures of their small California wedding—and then their baby—on Facebook.
*Name has been changed
This article appears in the February issue of Marie Claire, on newsstands now.
Celebrity news, beauty, fashion advice, and fascinating features, delivered straight to your inbox!