Confessions of a Spanx Addict: What Happened When I Decided to Let It All Go
My empowering journey from daily constriction to total freedom.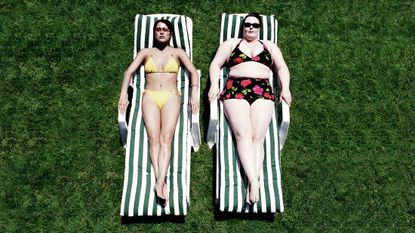 (Image credit: Getty Images)
I am fat. Not the sort of "fat" that thin people think they are—the sort that is easily concealed by forgiving wrap dresses—but actually, legitimately fat. Some might prefer to use the term "plus-size" to describe a body like mine, but I call it like I see it.
You should know I am also from the South, where Dolly Parton, in Steel Magnolias, famously said "these thighs haven't left the house without Lycra on them since I was 14," a message that many of us, even into the early 2000s, took to heart.
My first piece of shapewear was a legitimate girdle, swiped from my mother's lingerie drawer, and it made me feel thin for the first time. I would wear it under my jeans and T-shirts, thinking that it was somehow masking the fact that I was fatter than the other girls. It was the full-bodysuit type of girdle, that promised to smooth away back and belly fat alike. In reality, I looked a bit like an angry sausage—sweaty from the compression and all sucked into a too-tight binding. But I persisted, wearing that uncomfortable monstrosity throughout high school, when it finally fell apart at the seams. Fortunately, the loss of my first girdle cosmically coincided with the invention of Spanx, which promised to be every woman's shapewear dream come true.
Unlike the poorly-constructed, too restrictive garments of the past, Spanx offered smoothing and shaping that didn't make you completely miserable. Or at least, that was the promise—if you've ever sweated through a pair of Spanx at an outdoor wedding, you know that these claims are not exactly scientific. But you shrug and carry on, because you can't imagine life another way.
Spanx continued to be a regular part of my life well into my 20s, when I would wiggle into a pair before throwing on slacks for work, or use them to blur the "visible belly outline" on anything remotely form-fitting. If you are going to be fat in this society, I thought to myself, it's important that you erase the most glaring reminders of your fatness—exposed fat skin, visible rolls of flesh—in order to avoid the most virulent hate. Strangers on the street have no problem telling you that you're fat, and they're certainly more likely to do it when you're being visibly, unrepentantly fat.
At some point, the chafing and gastric distress of wearing these restrictive garments all sort of came to a head. There really is no watershed moment for deciding that you no longer want to struggle into one of those pairs of flesh-toned shorts and "Power Panties"—it's more of a cumulative thing, a barrage of moments like picking the nylon out of your buttcrack in the middle of five-star restaurant, or sneaking off to a bathroom to readjust the shaper that's settled onto the wrong part of your thigh and rubbed a wicked blister.
The first time I left the house in a dress with no Spanx, no shaper, no Lycra on my thighs at all, was equally liberating and terrifying. As a girl who didn't wear many dresses growing up, not unless forced, I was convinced that I would be showing my entire ass (literally) to someone when the wrong gust of wind came. Even knee-length skirts felt like they could become scandalous at any second. Once discarded by teen-me as too feminine and fussy, I didn't realize just how much a comfortable maxi or skater dress felt just like pajamas when you haven't crammed your belly and thighs into a piece of fabric that is too small to contain them underneath.
Since that day, I haven't forced myself back into Spanx once, and surprisingly, my wardrobe has gotten so much better. I hadn't owned a dress since my mother was buying them for me, and now I have a closet full of them. I even bought a pair of shorts, something that was never a possibility before because they couldn't be worn without a pair of shaping shorts underneath. My body is the largest that it has ever been, and at this point in my life, I am able to wear more things than I could even when I was younger and thinner.
Still, I haven't thrown the Spanx or any of the other shapers I own into the garbage just yet. They still fill nearly an entire drawer. I see the nude, slgihtly shimmery Power Panties every time I change clothes, and I remember what they can do on days when your thighs feel too bumpy and your belly too big. There is occasionally a twinge that tells me I should put them back on, that my body deserves to be hidden from sight as effectively as possible, no matter how uncomfortable it is.
In the back of my mind, it seems as if there could always be some occasion, some outfit that could make me start sucking it all back in again. But it hasn't happened yet.
Ultimately, I can't help feeling like the shapewear sort of showed me that I actually like—and sometimes love—the way my body looks in clothes. And hey, nothing beats not having to worry about wedgies.
Marie Claire email subscribers get intel on fashion and beauty trends, hot-off-the-press celebrity news, and more. Sign up here.