You Need to Book a Trip to Detroit ASAP
Meet the three feminist artists who'll be your tour guides.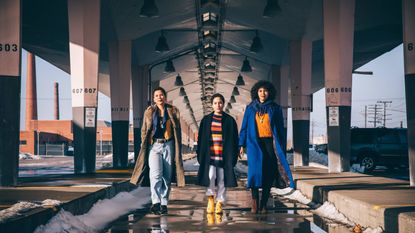 (Image credit: Courtesy of Red Bull House of Art)
Marie Claire Newsletter
Celebrity news, beauty, fashion advice, and fascinating features, delivered straight to your inbox!
Thank you for signing up to Marie Claire. You will receive a verification email shortly.
There was a problem. Please refresh the page and try again.
Near Detroit's street art-splattered Eastern Market neighborhood stands an anonymous red brick building, colossal in size, that looks like it might be a warehouse or a factory or an underground nightclub where beautiful people do beautiful things, probably covered in glitter. In a way, it's all three: The Red Bull House of Art is a sort of incubator for artists who live and create within the space. This month, it launched an exhibition by its three current resident artists: Lucia Hierro, Joiri Minaya, and Gina Goico.
The three Dominican-American artists (Hierro and Minaya were born in New York City; Goico is from the Dominican Republic; all three are based in New York) each explore identity and the tensions that exist between where they live, where they're from, and who they are through paintings, video, screen-printing, performance, embroidery, and more. The exhibition, Aquí y Ahora (translation: "here and now"), open to the public through May 28, is bright, blunt, and poignant—and the first thing you should see on your next trip to Detroit.

As part of the Red Bull House of Art residency, Hierro, Minaya, and Goico spent three months in the Motor City, working and exploring. MarieClaire.com got the lowdown from each woman on what she ate, drank, saw, and did in her temporarily adopted hometown—and the art she created while there.

JOIRI MINAYA'S DETROIT
HER WORK: Minaya explores how the world interacts with her identity. "My experience is very impacted by how people perceive me—things like my accent, my look—and the ideas they have about the Dominican Republic and the Caribbean, which are informed by popular culture, the tourism industry, ideas of leisure," Minaya says. "My work looks at global north cultural products that idealize the tropics and I try to break them down, subdue them, highjack them," including a series of framed trompe l'oeil Hawaiian shirts titled I can wear tropical print now.
FOR SUPPLIES: "I went thrift-shopping at Value World and Goodwill for materials. I went looking for Hawaiian shirts but I really didn't have to dig that much because there's such an overproduction."

FOR GRUB: "Supino's Pizzeria is the best thing ever. I cannot get enough of the Supino's Special—I've eaten it three days in a row."
TO CHILL: "I spent a lot of time at Belle Isle Conservancy. I love that place. It relates to the things that I'm interested in. Just spending time there, looking at the plants, their names, and where they come from—I'm a little bit of a geek in that way. And when you come from the Caribbean you need a little dose of humidity, plants that you recognize."
GINA GOICO'S DETROIT
HER WORK: Colonization and empowerment inform Goico's artwork. Goico, an educator and activist, was inspired by the startling rate of femicides (the killing of a woman or girl on account of her gender) in the Dominican Republic. "In 2017, the official numbers were 170, but of course the ways in which the government measures femicides is completely off. It's probably over 300 and in the first two months of 2018 there were already 30 femicides," Goico explains. "Our country lives off tourism. We live where you vacation, but we're dying. We're being systematically killed, and the government doesn't do anything." At Aquí y Ahora, Goico's work includes printed news reports about femicides layered with painting and collaged images.
FOR SUPPLIES: "If you're someone who makes things from random materials, Arts and Scraps is the place. I found fabric scraps, patterns, old 16mm films, bags, a lot of thread—and it's really cheap. You basically buy bags, fill them up and it's like $8. I have art materials for the next six months."
FOR GRUB: "Asty Time is a Dominican restaurant and it's family-run. It was amazing—just the dynamics and the community and how we find each other. Man, Dominican food is amazing, so that was great. I'm supposed to be vegetarian, but I ate chicharrón fried pork belly a few times."
FOR DRINKS: "I'm a beer drinker—I love IPAs—so I went to Eastern Market Brewing a couple of times. They have a rotating tap, and I'd usually get an IPA or their porter. Because I don't know anything about sports, it occurred to me on Super Bowl Sunday to go to there and read. I went to read! I see that everyone is looking at the television and I get my beer and I open the book. And then people started getting loud and I'm so used to noise around that it actually helps me concentrate. They were like, 'I'm so sorry we're being loud,' and I was like, 'No, no, I'm the only one who's here who doesn't realize it's Super Bowl Sunday. I'm the one that's wrong.' The bartenders came over and were like, 'You know we have a quiet room in the back if you want.' I was like, If I was in New York I would get booed and get beer thrown at my face."
FOR CHILL: "I took some vinyasa yoga and other workout classes at the YMCA. The walk there from Red Bull House of Art was great for unwinding and taking a break from this whole thing. It's a 22-minute walk down Gratiot Avenue. That was my thing. And there's no one on the street, it's not like New York City, so I could dance and sing along to music and not even think about it. I felt free and not judged, it was liberating."
LUCIA HIERRO'S DETROIT
HER WORK: For Hierro, her work in Aquí y Ahora is about reflecting on who she is through nostalgic and everyday objects without overemphasis to give viewers the freedom to interpret the work on their own. Take, for example, Mangucito, a digital collaged print on brushed nylon of plantains, cheese, butter, and salami. "It's just ingredients on a table and if you know what's about to go down then you know you're about to make mangu [mashed boiled plantains]," Hierro explains. "And if you don't, then it's just plantains. That's a really interesting metaphor: All theses dismembered parts, if you really take a closer look, are more connected than you would have imagined."
FOR COFFEE: "Astro Coffee is a good place to sit and eavesdrop on conversations. And the coffee is good. And Trinosophes, a gallery-slash-performance-venue-slash-café. It's really relaxed, you can have meetings, do your work there—and they have the best drip."

FOR GRUB + DRINKS: "Having a cocktail at the Detroit City Distillery, hanging out and listening to music is nice. There are great burgers at Grey Ghost, and Selden Standard is really good, too. They have this grilled octopus dish that is...oof."
FOR CHILL: "The Detroit Institute of Arts Museum became my place to just go and be quiet and look at work. I love the African American wing. Sitting amongst all that is quieting."
WHAT'S NEXT? "Oh man, I need to come back. I love the fast-pace-ness of New York because I function that way. I have to keep busy. But it's nice to go somewhere where it takes a little bit of time to get the thing you are going to go buy because people just want to interact with you. It's so beautiful. I am going to miss that, and people saying 'hi,' 'good morning,' or 'good afternoon,' to you on the street. It didn't matter where I was. The acknowledgment of somebody's existence is so nice."
Celebrity news, beauty, fashion advice, and fascinating features, delivered straight to your inbox!
As deputy editor, Jen oversees Cosmopolitan's daily digital editorial operations, editing and writing features, essays, news, and other content, in addition to editing the magazine's cover stories, astrology pages, and more. Previously, Jen was a senior editor at Marie Claire. Before that, she worked at GQ.