Meet the Woman Behind the Coolest New Way to Travel
Kiss that selfie stick goodbye.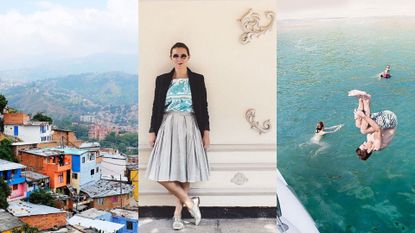 (Image credit: Instagram/El Camino Travel)
Vacation—you know, that thing that's supposed to be fun and relaxing? But with the task of planning, making sure you have an "authentic" experience, and keeping everyone updated via social media, sometimes it's just another thing to stress about.
Enter: El Camino Travel. Started by Colombian-American Katalina Mayorga, 30, the company aims to take all that pressure off. "Be a traveler, not a tourist" is the slogan, and an apt one at that—clients pay upfront for a custom-curated trip to cities around the world (Cartagena, Medellin, Mexico City, Granada, etc.), and in exchange you get room, board, most meals (except alcohol), and local immersion opportunities.
But this isn't your mama's travel agency—Mayorga offers a particular benefit that's very 2016: You have a personal photographer with you at all times, who emails images to you after every day. (Put down your phones, people). There's also a translator with you every step of the way.
With a mindfulness for what you actually want to do—and how you actually want to remember it—Mayorga is disrupting the travel industry. Here, she gives us the scoop on her vision, how the concept of vacation is changing, and how she hopes it'll change the world itself.
Marie Claire: What's your first memory of travel?
Katalina Mayorga: I grew up traveling between the U.S. and Colombia. I remember spending summers or holidays there, exploring the fruit orchards of my uncles' farms on the outskirts of Cali, Colombia. I remember being fascinated by how long and how much the adults could party and dance salsa. I remember seeing morsilla (a type of blood sausage) being cooked for the first time and my young taste buds being in complete culinary shock. And I remember how all of the new sights and smells felt so familiar, but so foreign at the same time. The latter is a conflicting but pleasant sentiment that continues to show up in my travels and now rings of nostalgia.
MC: What gave you the idea for your company?
KM: Two "aha" moments on a work trip to Guatemala in May of 2014 lead to the idea of El Camino. The first was a boat ride to a village I was staying at on Lake Atitlán. In front of me laid this majestic view of an expansive lake surrounded by three volcanoes. However, all the tourists of the boat (including myself) were viewing this panoramic scene through our phone screens. We were all snapping away with the obsessive commitment of getting that "perfect shot." This was the moment when I really felt that the experience of travel had drastically changed in the past few years with the rise of mobile technology and social media. As travelers we have become more concerned with capturing the moment and our capacity to share it immediately with friends, rather than living in the moment.
The second "aha" moment happened in another mode of transportation. I had a long taxi ride from Guatemala City to Antigua. My taxi driver and I were talking about everything going on in the region, particularly with the violent drug industry. Out of nowhere he said, "You know, thank God for tourism." I told him that was an interesting statement and asked him why he had said that. He began to explain that it provided him a high income, it provided him a reliable income, and that that the only other industry that can compete with what he made in tourism is the drug industry. So, thank God for tourism, it was keeping him out of the drug industry. And there it was—my second eureka.
My mind began to race. I thought about my own work in international development at that time, where we often tried to create sustainable employment opportunities, but where it would often fail, and the jobs would disappear once the grant wrapped up. Here it was, an industry *actually* rooted in demand and supply that has had, and could even have a bigger, economic impact on millions of lives. There is a huge demand for more culturally immersive experiences, in destinations far from the beaches of Cancun or Costa Rica, and in countries whose local economies need an injection of cash from the outside. There are millions of individuals that could provide those services and millions of travelers eager to pay for those services. On the plane ride back, I began sketching out the early stages of El Camino Travel, and as one would say, the rest is history. We launched in July of 2014 and now have a full fledge company that is focused on getting travelers compelling and dynamic images so they can be present in addition to providing awesome off the beat experiences while also supporting local economic development.
MC: What was your first group like?
KM: Our first group was mostly friends of my former cofounder and I. We had a few wild cards who ended up being the best addition/energy to launching such an exciting idea.
MC: What was something you learned doing this work early on?
Fail fast and fail cheaply. During the early stages when we were gauging interest, one person said to me, "Kata, yah this is an awesome idea, but don't think someone else isn't going to try to do it. It is all about who can run faster and smarter with that idea." So that is what we did. With little money, we quickly tried to see what would stick and what wouldn't. We got scrappy and we got super creative. We piloted new ideas at such a small scale before deciding to scale up and spend more money or to ditch the idea all together. We are still in scrappy and creative mode and I hope that spirit continues to be core to the fabric of our company no matter if we have two employees or 200. Most importantly, you need to be okay with failure. Not everything is going to work, the astrological gods know it hasn't for us, but revel in what you learned from those failures and use them for the development of future successes. Be smart about your failures.
MC: How does your company differ from a normal/everyday travel agency?
KM: We are passionate about providing unique experiences in unique destinations. We have a professional photographer on all the trips that provide our travelers with edited images each morning. The idea is that our travelers can go back to living in the moment rather than focused on capturing the moment. We provide a certain percentage of our profits to a local social entrepreneur that is changing the face of the country we are visiting. Our travelers have the opportunity to meet this individual and learn about the country through their perspective.
MC: How do you find the photographers?
KM: At first, we reached out to photographers who work we admired and had been following. With the grown of El Camino has been a rise in the number of photographers interested in joining our team. We get several portfolios sent on a weekly basis and we have been able to discover a whole cadre of additional talented photographers.
MC: Do the photographers create their own shots or can those on the trip request images in certain locations? How does that collab work?
KM: We think the most dynamic and compelling shots are those that are candid and in the moment. That is what drives our photography philosophy. However, if our photographers are inspired by a landscape or architectural structure they might pull one of our travelers to the side to take photos that use that inspiration as the base. The whole idea is that it is natural and relaxed. We are on vacation and we want it to be a seamless and exciting part of the experience.
MC: Who are your usual travelers?
KM: Millennials who value experiences over things. They rather spend their money on travel than a house or car, and are open to seeing a country through various lenses while getting to know new people. They want to get off the beaten path, are up for adventure, but also appreciate good design and aesthetic.
MC: Do you have special access on trips? What makes your tours unique?
KM: I started off my career in international development and through that have created a strong network of interesting individuals throughout Latin America and the Caribbean. These individuals have been critical to us creating unique experiences from the ground up that we think our travelers will freak out about and that other travel companies have no idea about. As we have grown many of our members of our community have put us in touch with some really interesting folks (chefs, designers, architects, community leaders, radio personalities, etc.) in the places we are traveling to and movers and shakers that quickly grasp the El Camino travel philosophy. This growing network allows us to continue to think outside the box in the experiences we are creating for our travelers and push the boundaries of travel. One perfect example of this is our recent collaboration with CoolhunterMX and Hidden Kitchen to create a pop up dinner in restored colonial mansion turned art gallery space in the hip neighborhood of Condesa, Mexico City. We would have never even known about this stunning and under-the-radar space without them.
MC: From your site, you even have a "music curator"—what do they do?
KM: We think music is such a key component to the sensorial experience of travel. There is one song you hear over and over on a trip that will forever take you back to that place and the adventures that surrounded it. We work with DJ Ayescold, to create a playlist of regional rhythms infused with more familiar songs to get our travelers excited about their upcoming trip. A perfect example of this was how she mixed a Missy Elliot song with a traditional Colombian Cumbia beat–It was pretty intense.
MC: What's your biggest takeaway from these travels?
KM: There is a huge opportunity to create economic opportunity and income for communities that really need it. This can be done in a way that respects and promotes the local culture while creating a thrilling experience for a traveler. You can truly make the world a better place through responsible tourism.
MC: What locations are you scouting/want to include?
KM: We will be taking our first group of travelers to Trinidad and Tobago in June and I am so excited about the destination. First, it truly feels undiscovered. When you arrive, there are barely any other foreign travelers exploring, so you feel like you have been privy to a little tropical secret. Second, it does not feel like your typical Caribbean vacation that seems to sway to the side of laying around on beautiful beaches with a piña colada in hand. Instead, this is a country that is culturally and biologically rich with plenty to discover. Over 40 percent of the population is East Indian so it has lead to this crazy fusion of Indian-Caribbean food (try the curry crab dumplings and doubles) and music (imagine Bollywood beats mixed with socca) that seeps into various aspects of the overall travel experience.
Nature-wise, you can still wade in crystal clear waters, but instead imagine a travel scene where twenty brightly painted two-story fishing boats, pull up to the middle of the ocean. It happens to be at a spot where it is very shallow and the water is a color of blue you have never seen before. Everyone gets off the boats and parties at this surreal geographical location while socca music is blasting in the background from the boats. It seems like I could only dream that, right? Google Nylon Pool. Beyond that, you can traverse the Trini jungle to remote waterfalls and if you are there during the right month, you can easily stumble upon 1000 pound, 5-foot leatherback turtles on the northern shores of Trinidad. I could go on and on about why Trinidad and Tobago should be the next place you visit particularly if you are a traveler that is energized by the art of discovery.
MC: Is there anything that you're especially proud of?
KM: We are continuously about pushing the boundaries of traveling and experiences. Recently El Camino organized a volunteer trip to work in the refugee camps located in Greece. We decided as a company we could no longer watch passively as one of the world's worst international humanitarian crisis unfolded in front of us. Millions of individuals were fleeing the Middle East, trying to escape the violent wrath of ISIS. We knew our community is savvy in international happenings and one that cares about having a positive impact in the world. When we put out the call for volunteers we received over 150 passionately written emails in just a few short days. We were blown away and in tears reading their words. It was inspiring to read all the letters from our community and a proud moment to see the type of community we had cultivated as a brand. Ten of us ended up going in March and working two weeks in refugee camps on the island of Lesvos and the Port of Piraeus outside of Athens. I can say every cliché phrase that you can only imagine the impact an experience like that can have on someone, but I have to say it...by far it was the best experience of my life. In a short few days we saw the consequences of the worst in humanity and we also experienced the best in humanity.
I will give you one example. One other volunteer and I were folding women's clothes in a large distribution center that we would eventually hand out to refugees who were in dire need of dry apparel. Alongside us working were two young Afghani men in their early 20's who were also refugees, but wanted to help out. As we folded clothes and talked to them we arrived to the topic of why they had fled their country. As they folded sweaters, one of the guy's told us that the Taliban had shown up to his house and demanded that his parents let him join their militant forces. His dad, who was a driver for the government, vehemently refused. A few weeks later, those same people planted a car bomb in his father's government car and he was killed while driving to work. It was a vicious warning that he would be next if he did not join them, so he was forced to flee while his mother and siblings went into hiding. He told us this in a casual tone like this was an everyday occurrence while the other volunteer and I did everything in our power to hold back tears. Unfortunately, this was a common story among those at the camps.
We would hear stories like this over and over again; human tragedies we could never imagine hearing first hand. However, there was this strong sense of human resiliency in the camps. They all had plans on how they would start over once they arrived to their final destination of safety. They had goals and dreams and they were confident that they would accomplish them someday soon. Because of technology like Whatsapp and Facebook, our group is still in daily touch with many of the refugees we met. We are supporting them the best way we can in their passage to safety by trying to get them the right legal advice in an asylum process that is rabid in bureaucratic confusion. Despite the uncertainty of their future, they still remain positive and resilient. This is what has been inspiring my work as of late.
MC: What's the next step for the company?
KM: We just launched a podcast, La Piña. In each episode, we dive deep into the heart of a destination, according to those who know it best. Instead of consulting outsiders, we talk with local tastemakers and creatives who are changing the face of their city. These locals have generously welcomed us into their living rooms, their businesses, and their favorite spots to share insider tips. We get to know a place from those that know it best in such a hospitable manner. Now we're sharing this insider tips with travelers in an experiential format.
In the first episode of La Piña, we explored Mexico City, where we talked to a Mezcal connoisseur who teaches us how to properly find and drink Mezcal, the operations director of a high fashion brand who empowers indigenous communities through high end fashion, and a fourth generation legacy chef who is incorporating traditional Mexican ingredients (like bugs) into his dynamic menu. Up next is Medellin, Colombia.
MC: What's the next step for you?
KM: Next steps for me are to continue to grow as a leader to my team. I have a cadre of ambitious young female professionals in their mid-twenties and we are so fortunate that El Camino is part of their professional development. Because of experiences in the past, I feel a great responsibility to create a work environment where they feel empowered, unabashedly passionate about their ideas, and where they can speak up without having to apologize. Whether they stay with us for decades or move on in a few years, I want to know that we gave them the tools and confidence to be part of the next generation of female leaders in the workplace that continue to break the glass ceiling. By giving that to the next generation of young female professionals, we can end many aspects of sexism in the workplace.
For more information and to book your vacation, visit ElCamino.travel.
Follow Marie Claire on Facebook for the latest celeb news, beauty tips, fascinating reads, livestream video, and more.
Celebrity news, beauty, fashion advice, and fascinating features, delivered straight to your inbox!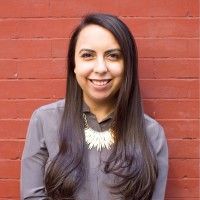 Samantha Leal is the Deputy Editor at Well+Good, where she spends most of her day thinking of new ideas across platforms, bringing on new writers, overseeing the day-to-day of the website, and working with the awesome team to produce the best stories and packages. Before W+G, she was the Senior Web Editor for Marie Claire and the Deputy Editor for Latina.com, with bylines all over the internet. Graduating from the Medill School of Journalism at Northwestern University with a minor in African history, she's written everything from travel guides to political op-eds to wine explainers (currently enrolled in the WSET program) to celebrity profiles. Find her online pretty much everywhere @samanthajoleal.