Weekend Trip Guide: Where to Stay, Eat, and Drink in Cancún, Mexico
One way ticket to paradise, please.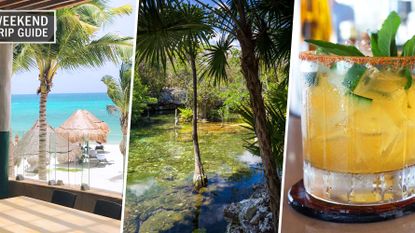 (Image credit: Fairmont Mayakoba )
Home to the best fish you've ever eaten, turquoise blue water, and sunsets so good they don't need a filter, Cancún is the ultimate spot for a relaxing weekend getaway. No, it's not the most off-the-beaten-path place to visit in Mexico, but it's absolutely one of the most chill—especially if you keep away from tourists traps, pick the perfect place to stay, and go to the trouble of getting tips from locals.
Oh, and did I mention the turquoise blue water? Time to book a trip—but first, check out where to eat, sleep, and hang in, well, paradise.
Where to Stay
Cancún isn't short on places to call home for the weekend. In fact, there are almost too many options—so in the interest of making life easier for you, lemme offer you these two little words: Fairmont Mayakoba (opens in new tab). The Fairmont is a far cry from what you'd expect of a typical all-inclusive beach resort. Yeah, there's the infinity pool, the delicious cocktails, and the Caribbean Sea (it's casual!). But this isn't a regular hotel. It's more like a series of private cabanas nestled within a sweeping 240-acre jungle. Monkeys will greet you in the morning. Local Melipona bees make delicious honey for use at the restaurant and spa. And the beach? It's a 10-minute stroll through the trees, or if you're as lazy as I am, a convenient golf cart ride. And once you're there, this happens:
This isn't necessarily an inexpensive resort—but if you have a little extra cash to spend, this is a good place to spend it. In need of more convincing? Allow me to tell you the story of this one time I went to the spa, got a papaya body scrub, and came out a new person.
Where to Eat/Drink
It's natural to take advantage of the "all-inclusive" part of resort life by eating all your meals at the hotel (the drinks at Fairmont are legit bomb). But if you're more the "lemme venture out for an evening" type, the town of Playa del Carmen has no shortage of restaurants. That said, it is pretty touristy, and if you're visiting somewhere touristy, you need to get advice from locals. Which is how I found out about Romeo's (opens in new tab)—an intimate Italian restaurant that's all kinds of cozy. I know, I know, Italian food in Mexico? But let me stop you right there: The chef/owner prepares everything from scratch, including the pasta.
Pro tips:
Check out the food trucks around Playa del Carmen!
If you're more the type to stop in a random restaurant, check for the following traditional Yucatán dishes on the menu: Sopa de Lima (lime soup, often with chicken), Tikin Xic (fish rubbed with adobo de Achiote, wrapped in banana leaves, and baked), and papadzules (tortillas with boiled egg and pepita—or pumpkin seed—sauce).
What to Do
You mean other than lounge at the beach by your hotel? How about some local watering holes—and I mean that in the most literal way possible. No visit to the Yucatán Peninsula is complete without checking out the "cenotes," which are basically ancient swimming holes. Cancún has many cenotes near the Mayan ruins (oh, you should probably hit those up if you have an extra day!), but Jardin el Eden Cenote (opens in new tab) is just 20 minutes away from Playa del Carmen—and stuh-ning. Plus, it's less touristy than the more well-known cenotes in the area.
If you have a little extra time and don't mind the drive, Bacalar (opens in new tab) (a.k.a. "The 7 color lagoon") is about two-and-a half-hours south of Tulum, and as you might have guessed from the name, it's jaw-droppingly beautiful:
Finally, if you really want to have your mind blown by crystal clear waters that seem as though they should only exist in a dream land, check out the tiny island of Holbox (opens in new tab), which features a laid back fishing village and plenty of beaches.
Helpful Tips
1. Sunscreen. I know it sounds obvious, but I lathered a high SPF on my face every day and still managed to come home with sun spots resembling a pencil thin mustache. Not the best look—take care of your skin!
2. I mentioned this already, but it's relevant for all weekend getaways—no matter where you're going. Get chummy with the concierge at your hotel (or the chef!) and pick their brain about the best places to eat in the area.
3. Plan your itinerary in advance. Yeah, the entire point of a beach vacation is to relax, but if you do want to explore a cenote or local beach, you'll need enough time to get there, get back, and have a couple hours for your very important schedule of reading by the beach.
Happy travels!
RELATED STORIES
Weekend Travel Guide to Saint Lucia
11 of the Best Travel Photos of the Year
Mehera Bonner is a celebrity and entertainment news writer who enjoys Bravo and Antiques Roadshow with equal enthusiasm. She was previously entertainment editor at Marie Claire and has covered pop culture for over a decade.