Where to Stay, Eat, and Explore in Nantucket, Massachusetts
The ultimate summer getaway is only a 45-minute flight from JFK.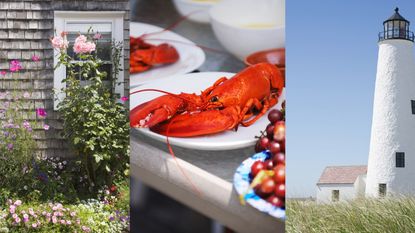 (Image credit: Getty, Bridget Burns)
Marie Claire Newsletter
Celebrity news, beauty, fashion advice, and fascinating features, delivered straight to your inbox!
Thank you for signing up to Marie Claire. You will receive a verification email shortly.
There was a problem. Please refresh the page and try again.
The secluded natural splendor, the slowed-down pace, the celebration of a milky shade of maroon… Not to be confused with Rajneeshpuram, this is Nantucket—an island with a cult-like following of its own.
Despite the wave of glamour that's come to be synonymous with the island over the last 60 years (Drew Barrymore, Joe Biden, and Kourtney Kardashian have all been spotted summering here), the New England island remains unfailingly charming and connected to its Quaker roots. With its endless bicycling paths, groundbreaking land conservation programs, cobblestoned roads, and a posh selection of mom-and-pop shops, Nantucket checks off all the boxes for a relaxing and elegant weekend getaway.
If you're lucky enough to while away a summer day here, follow our guide of where to stay and eat, and what explore on the island that's even more beautiful in real life than Grayer, the little kid from The Nanny Diaries, led me to believe when he threw a tantrum over not being able to go there with Scarlett Johansson, Laura Linney, and his kind of creepy dad.
Where to Stay
There are a growing handful of boutique hotels and rental options on the island, but I'd highly suggest booking a Nantucket Island Resorts property if you're headed for a long weekend and want a cozy-chic, hassle-free trip with unrivaled amenities. Chocolate-covered cranberries made downtown at Aunt Leah's Fudge greet visitors upon check in; complimentary priority bikes, airport shuttles, BMW car rental services, and daily wine and cheese tastings are among the distinguishing offerings. I stayed at two of Nantucket Island Resorts' properties, The Wauwinet and The White Elephant Village, a few weeks ahead of Nantucket's peak season, and both made me want to rebook a trip back before I'd even left the island.
The Wauwinet, a historic hotel whose history traces back to 1876, is located at the secluded, far northeast edge of Nantucket, where the Nantucket Bay meets the Atlantic Ocean. Elegant and romantic, the five-star property is ideal for ~adults~ looking to unplug and unwind (sorry not sorry, don't bring your kids). This Spring, the Wauwinet unveiled the culmination of a bottom up, multimillion dollar renovation, in which each guest room has been reimagined with contemporary updates, like glass-enclosed walk-in showers, modern bed frames, and chaise lounges. The hotel's charm (beckoning return guests for 30 years) and the legendary ironed Italian linens remain.
Also, if oysters are your thing, note that the property boasts an oyster farm a few yards away from the dock. Sampling is simply a must.
If you prefer being in the thick of it all, a Wauwinet sister property The White Elephant might be more your speed. Situated right in front of the harbor, it has a slightly younger and trendier feel that doesn't compromise its New England charm. Guest rooms are spacious, and many come equipped with their own fireplace. You'll be just footsteps away from Children's Beach (which newcomers should note is a popular hangout spot, certainly not just for kids) and a five-minute stroll away from the shops downtown. Pro tip: The view of the sun rising over the harbor from The White Elephant's lawn is breathtaking and fully worth setting a 5:15 a.m. alarm.
Where to Eat and Drink
Despite its small size (the island is just over 100 square miles), there's no shortage of mouth-watering food options on Nantucket. For a laid-back lunch, Claudette's is a cash-only sandwich spot (literally, they only sell sandwiches) in Siasconset that makes for a scenic car trip (or six-mile bike ride for the very motivated) from downtown. Vegan options are available as well.
For something intimate and special, Topper's is an AAA Five Diamond-award winning restaurant (and if you're not fluent in fine dining-ese, know that only 0.4 percent of the 27,000 hotels who apply for this honor each year ultimately receive the recognition). From the bread and butter to the last bite of dessert, each dish at The Wauwinet's famous restaurant is mind-blowing in both presentation and flavor. Also, if you're stuck on which wine to order—reasonable, considering as the wine list has 1,450 entries—Topper's has three globally trained sommeliers who will find you the exact flavor, region, age, and price range you're looking for.
In the mood for New York–style pizza? You're in luck. Head over to Sophie T's (across the street from the famous—or infamous, depending on your view—Chicken Box bar, though Sophie T's is, sadly, not open late-night). The family-run restaurant (named for the owner's daughter) has been in business for nearly 20 years and serves up the best pies on the island. Visitors from the Boston area will particularly like the decor; Yankees fans, not so much.
For drinks, Cru on the harbor is a favored local hangout. Their signature 'Crucumber' cocktail (a mix of cucumber, lemon balm, and vodka) is the ultimate refreshing summer cocktail. If you're in the mood for something cozier, stroll over to the bar at Greydon House, a dimly lit, wood-paneled spot where the design and the drinks evoke Nantucket's maritime past. For a sugary indulgence, The Juice Bar is a laid-back spot near the Whaling Museum that serves up some of the best ice-cream and smoothies in town.
What to Do
Cisco Brewers
You'll find an extensive selection of homemade wine and beer at the island's best spot for a simultaneously cultured and boozy afternoon. If you're planning on drinking (editorial note: I would describe the red sangria as life-changing), a free shuttle bus departing from the visitor's center downtown is offered daily.
Local food trucks serve up tasty snacks in case you get hungry, and on the weekend, live music sets go on at 1:30 and 4:30 p.m. If you're stuck on what to wear (see packing suggestions below), I conservatively estimate that 96 percent of the attendees I observed here were sporting some variation of denim jackets, white jeans, and the kind of practical windbreaker you buy from your college bookstore and wear for the next 15 years.
Hinckley Yacht Rental
For those looking for a nautical excursion of the YOLO variety, arrange a Hinckley yacht rental with the concierge at the Wauwinet. A full-day rental might collectively set you and five friends back the price of a medium-sized Givenchy bag, but the experience of being out to sea and looking back at this picturesque island is truly unrivaled.
The Atheneum (Nantucket's Public Library)
Sure, visiting a library during a beach vacation isn't everybody's version of a sexy or thrilling afternoon, but passing up on the Atheneum would be a mistake. Rich in history, the library was established during the 1820s and was the venue for one of Frederick Douglas' earliest speeches in 1841. Beyond the library's historical significance in the abolitionist movement, the space has drool-worthy interiors (we're talking major Restoration Hardware vibes) and hosts a plethora of community events.
Shopping
Downtown Nantucket boasts chic boutiques at every turn. The Eye of the Needle is brilliantly curated shop with items ranging in price from $5 to $1,000 and brands such as Veronica Beard and Schutz. If you fancy off-the-runway resort wear, Serenella is an artfully curated store by fashion veteran Leslee Shupe, boasting labels like Roksanda, Tabitha Simmons, Gucci, and Emilio Pucci.
For souvenirs with an All-American vibe, stop by Murray's Toggle Shop, a 72-year-old shop that is—fun fact—the only official seller of Nantucket Red. There's a whole section at the back of the store exclusively devoted to gear in the shade. (It's worth taking a peep at their website for a taste of what endless Nantucket Red looks like). For sweets, Aunt Leah's Fudge is an exclusively women-run candy shop that's been in business for more than 30 years and we know why: The peanut-butter fudge is to die for.
For more stories like this, including celebrity news, beauty and fashion advice, savvy political commentary, and fascinating features, sign up for the Marie Claire newsletter.
Celebrity news, beauty, fashion advice, and fascinating features, delivered straight to your inbox!
Jaimie Potters is the Commerce Content Manager at Hearst Magazines Digital Media, where she covers fashion, beauty, tech and more.