6 Fun Trips to Take With Your Best Friend
Party islands, desert towns, and everything in between: Try one of these hand-picked destinations for your next girls' getaway.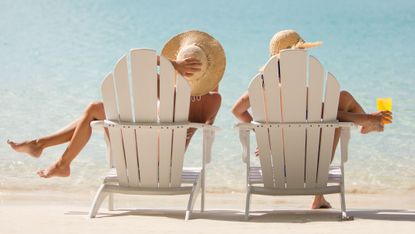 (Image credit: cdwheatley)
Marie Claire Newsletter
Celebrity news, beauty, fashion advice, and fascinating features, delivered straight to your inbox!
Thank you for signing up to Marie Claire. You will receive a verification email shortly.
There was a problem. Please refresh the page and try again.
Editor's note: As we continue to practice social distancing, we encourage our readers to check the Centers for Disease Control website for up-to-date information on how to safely travel during the COVID-19 pandemic.
The beauty of vacationing with your best friend is that you're effortlessly on the same wavelength; after all, so much of what makes for an easy trip is that baseline of compatibility. And now that more arms are getting shots and travel restrictions are beginning to ease, it's a perfect time for the two of you to start plotting your next escape.
Where to? We've rounded up six spots around the country that offer culture, adventure, and spectacular sites or scenery—basically, a foolproof formula for any twosome. (Bonus: If you sign up for the brand-new United Quest card from Chase, you can earn up to 100,000 bonus miles. Plus, get a $125 annual United purchase credit and two free checked bags for each of you, saving up to $280 right out of the gate.)
Palm Springs, California
Why go: Everywhere you turn in this desert town, there's something interesting to look at. Charming boutiques and galleries, pastel mid-century modern architecture, palm trees swaying in the breeze—it's no wonder aesthetes flock to the Coachella Valley for celebrated art and design festivals like Modernism Week and Desert X. And with Joshua Tree National Park less than an hour away, you can balance the urban cool with some off-grid adventure.
Where to stay: Les Cactus, which opened in February, may be a newcomer to Palm Springs, but the Airbnb-hotel hybrid is a total throwback—a revamped 1930s property renamed for a 1960s song by French rocker Jacques Dutronc. There are 27 airy, bungalow-style guest rooms, a hammock garden, an outdoor fire pit, and a cool pink exterior, all of which scream California eclectic.
What to do: Hit the Palm Springs Art Museum to admire works by Louise Bourgeois and Anish Kapoor, and book a day spa package at the newly opened Azure Palm Hot Springs Resort in Desert Hot Springs, where the geothermal mineral springs are naturally heated to 174 degrees and there's a Himalayan salt room for relaxing and detoxifying.
Later on, enjoy Hemingway daiquiris at the Cecil Beaton-inspired Bar Cecil, which opens in mid-April. Sacred Tahquitz Canyon has 60 miles of trails; one of the two-mile loops rewards hikers with ancient rock art and a 60-foot seasonal waterfall at its summit. And in 2022, be on the lookout for the opening of Agua Caliente Cultural Museum from the Agua Caliente Band of Cahuilla Indians. When the 5.8-acre center debuts, it'll be the largest Native American museum west of the Mississippi.
Austin, Texas
Why go: For pals who have cemented their sisterhood through food—tracking the latest restaurant openings, veering off the beaten path to hunt down delicious street eats—Austin is the buffet that just won't quit. There's famous Franklin Barbecue, of course, but also stellar breakfast tacos at Valentina's Tex Mex BBQ, matzo ball caldo at June's All Day, brisket bentos at Texan izakaya Kemuri Tatsu-ya, and the sunny wine patio at LºLº, where the only thing more hip than the bottles are the (masked) servers.
Where to stay: Even ATX hotels pride themselves on next-level fare. Carpenter Hotel, a stylish haunt in an old union hall, serves fresh-baked kolaches (pastry) in its café and innovative dishes like Tex Mez, a white bean hummus with pecan baba ganoush, golden beets, and feta, at its restaurant, Carpenters Hall. The 93-room inn, founded by alums of the Ace Hotel, hosts creative activities like sound bath meditations and textile marbling—though you and your better half may prefer to just decompress by the pool, Oaxacan Old Fashioneds in hand.
What to do: Dance up a storm at the tropical-themed Coconut Club; go for a splash at Barton Springs, a spring-fed emerald swimming pool in Zilker Park; catch a drive-in movie at The Blue Starlite; or browse the wild collection of rare motorcycles, souped-up hot rods, and movie cars (including one of three original Ghostbusters Ectomobiles!) at the Austin Rock & Roll Car Museum.
For a cool souvenir, book a portrait session with Lumiere Tintype, a photo studio pitched in the backyard of Justine's Brasserie. Photographer Adrian Whipp is a master of the wet plate collodion process and will capture your grinning mugs in a tintype as timeless as your friendship.
Punta de Mita, Mexico
Punta de Mita, Mexico
Why go: Friends who need a good re-centering after the challenges of the past year needn't look any farther than the Riviera Nayarit. Punta de Mita, in particular, is just 45 minutes from the airport in Puerto Vallarta but feels a world apart with its hidden beaches, consistent surf breaks, and varied wildlife.
Where to stay: For sunny-good vibes, W Punta de Mita is the perfect pick. Its infinity pool has a see-through wall and the "wet deck," a 'grammable million-tile mosaic walkway inspired by the artistry of Mexico's indigenous Huichol people. The spa has five private treatment rooms, plus a therapy pool equipped with hydro jets and a pressure shower. Yoga classes take place in the high season, with private Pilates and meditation sessions available upon request. The guest rooms are spirit-lifting too, splashed in bright colors like turquoise and magenta, some with deep soaking tubs and headboards made of punched tin. Best of all, you don't have to walk far to sample some of the peninsula's freshest fish. W's Chevycheria, a 1950s Chevrolet truck turned thatched-roof cevicheria and beach bar, specializes in regional varieties. Try the spicy Yucatán version with shrimp, scallops, and octopus.
What to do: Learn how to catch a wave with bilingual instructors from the esteemed Tranquilo Surf Adventures & Surf School. Their semi-private lessons, with two students per teacher, are ideal for friends. (If you two already know what you're doing and just want to rent boards or SUPs by the hour, Mita Surf Club can help.) Hop a private yacht to Islas Marietas, a national marine park and UNESCO Biosphere Reserve known for its humpback whales and blue-footed boobies. Punta Mita Expeditions will take care of all the details, leaving you to enjoy the snorkeling or diving.
Another day, shop the funky galleries and bohemian boutiques in nearby Sayulita, or hike up Monkey Mountain, a 4.6-mile trail near Bahía de Banderas. It's rocky and steep with an elevation gain of more than a thousand feet—but the sweeping views of the sparkling Pacific are worth it.
Mykonos, Greece
Why go: After a year of Zoom meetings and puttering around in sweatpants, doesn't it sound fun to dress up real nice and, like, hang out with strangers? Greece's most glamorous party island siren-calls with beautiful beaches by day and glittery nightlife from dusk till dawn. Notably, it's just a 40-minute flight or 2.5-hour high-speed ferry ride from Athens, so you can first cram in a little culture (Acropolis, Parthenon, etc.).
Where to stay: This sun-drenched Greek isle has no shortage of dreamy hotel suites, but many are aimed at honeymooners. Paradise View is unique because its light-flooded rooms, done up in dazzling white with pops of Aegean blue, include double beds with rainshower baths and terraces overlooking the sea. The helpful front desk staff can assist with bike and car rentals, and while it's just a five-minute stroll down to buzzy Paradise Beach, you might just find yourself spending most of your time lounging by the hotel's jewel box pool.
What to do: Tempting as it is to stake out a sunny strip of sand at tranquil Kapari Beach or spend every day lounging by your suite's private plunge pool, this is an island that rewards doers. Ask the Paradise View concierge about chartering a catamaran for a sunset cruise on the brilliant blue Aegean Sea or set off on foot to tour the très chic boutiques and ancestral chapels in labyrinthine Chora. Panagia Paraportiani, a whitewashed church dating back to the Byzantine era, is not to be missed.
When hunger strikes, make the schlep to Kiki's Taverna near buzzy Agios Sostis Beach. There's no sign, no phone, not even electricity, but the rustic cooking and utter simplicity of high-quality local ingredients makes it a fan favorite. As the sun sinks on the horizon, bound over to Paradise Beach to see what's hopping. Some of Mykonos' most storied EDM clubs (Cavo Paradiso, Paradise Beach Club) haven't fully reopened yet, but when they do, look out. Ibiza who?
Santa Fe, New Mexico
Why go: With its groovy mix of Native American arts and culture, to-die-for shopping, and striking high-desert vistas, the City Different really delivers. The downtown is walkable, but you'll need to rent a car if you want to explore the landscapes that gobsmacked Georgia O'Keeffe.
Where to stay: Plopped on an original stretch of Route 66, El Rey Court is a 1930s roadside motel filtered through a modern New Mexican lens. The five-acre campus, rehabbed by the co-owners of the cult-favorite olive oil and skincare brand Wonder Valley, features 86 trendily decorated rooms (some with kitchenettes and fireplaces) and an outdoor heated swimming pool. Conveniently, it's just a two-minute walk to the best Chimayo-smothered breakfast burrito of your life, courtesy of 1948 diner The Pantry.
What to do: Scoop up bundles of dried lavender and jars of green chile sauce at the colorful Santa Fe Farmers Market, then swing over to the edgy contemporary art museum SITE Santa Fe. A trippy, choose-your-own-adventure installation awaits at the House of Eternal Return, created by esoteric art collective Meow Wolf and Games of Thrones author George R.R. Martin.
After ogling the stunning—and stunningly expensive—Native American rugs, jewelry, and ceramics at Shiprock Santa Fe, shop for artisan-painted molcajete bowls from Michoacán at Heritage By Hand or rummage through racks of threadbare rock tees and retro aviators at Santa Fe Vintage, a by-appointment-only showroom on the outskirts of town. For a sweet memento, grab some small-batch bonbons from Kakawa Chocolate House, made with New Mexican ingredients like red chili and piñon, or a box of Southwesternized French macarons from Chainé in a fun flavor like churro (cinnamon meringue buttercream and dulce de leche).
Nashville, Tennessee
Why go: Maybe the reason they call it Music City is because everyone who visits Nashville sings its praises. Whether you're challenging your bestie to a Hot Ones-style hot chicken binge (heaven help your fire-breathing hearts if you order the "Shut the Cluck Up!!!" at Hattie B's) or you're going to see the next big country music star at the Grand Ole Opry, it's impossible not to have a grand ole time in the Tennessean capital.

Where to stay: From the genius duo behind Urban Cowboy in Brooklyn comes Urban Cowboy East Nashville, set in a rambling Victorian mansion. Eight suites, each with their own personalities, sport 14-foot ceilings, copper-leafed bathtubs, hip Pendleton bedding, and eye-popping Printsburgh wallpaper. There's even a music parlor, should the two of you feel the urge to burst into song on the upright piano.
What to do: After taking in the rhinestone getups and Elvis Presley's 1960 "Solid Gold" Cadillac at the Country Music Hall of Fame, bounce over to the new National Museum of African American Music, the only such museum devoted to preserving and celebrating the countless genres of music created and influenced by Black Americans. Nightfall begs adventurous types to cut a rug at the honky tonks of South Broadway (Tootsies Orchid Lounge and Robert's Western World are always a good time).
Come morning, you can start the day with a little indulgence: by chomping into an East Nasty buttermilk biscuit sandwich with fried chicken thigh at Biscuit Love or sipping frozen Aperol Spritzes under fringed magenta umbrellas at White Limozeen, the rooftop pool bar at Graduate Nashville. For a one-of-a-kind vacation keepsake, make a field trip to the novelty record booth at Jack White's Third Man Records. There you can record an acapella duet on a refurbished Voice-o-Graph machine, cutting a two-minute vinyl single that immortalizes your bad singing for generations to come.
Celebrity news, beauty, fashion advice, and fascinating features, delivered straight to your inbox!