The Instagram Guide to Copenhagen
Expect to eat well, bike a lot, and see some stunning sights in Denmark's capital.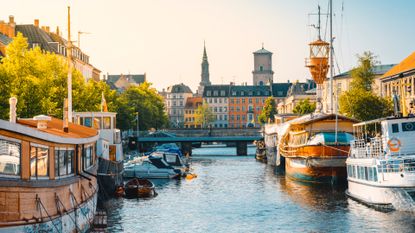 (Image credit: Getty Images)
Marie Claire Newsletter
Celebrity news, beauty, fashion advice, and fascinating features, delivered straight to your inbox!
Thank you for signing up to Marie Claire. You will receive a verification email shortly.
There was a problem. Please refresh the page and try again.
Maybe you've done the grand London–Paris–Rome travel loop. Great! For travelers interested in branching out from the well-trod travel path that many Americans take, may we suggest Copenhagen? Located a short plane ride away from London, Berlin, or Paris, it's the perfect add-on to any British or central Europe explorations. And once you've made it into the city limits, travel only gets easier. As one of the best biking cities in the world (no joke—it's estimated that locals bike a collective 900,000 miles every day), you can safely get anywhere on two wheels. That is, if you're not in the mood to use their abundant, and shockingly clean, public transit.
Since the city is home to Noma, aka the world's most famous restaurant, the culinary scene has been forever elevated by the institute's alumni. Translation: expect to eat well, even if the dollar to Danish Krone exchange rate means you'll be paying more for the honor. High-end burgers, pastries, and twists on traditional Nordic cuisine—you may be able to make the foodie in your life weep with a single weekend trip.
It's also a city for dreamers, and not just because in 1971 an artist collective said no to taxes and yes to self-government, creating Freetown Christiania, an "independent" nation that's still standing today. From Walt Disney getting big ideas from the local theme park (and borrowing other big story ideas from Danish dreamer Hans Christian Andersen), to bands like The Raveonettes, Mew, and MØ, chances are you already know and appreciate a few of the city's creative representatives. And if you don't, why not get acquainted via nearby festivals like Roskilde, Tinderbox, and Smukfest?
Curious? Cool, read on. Here's are just a few of the reasons to consider making Copenhagen your next international vacation spot.
Get an Eagle-Eye View
Wanna get above it all—or just see how cute Copenhagen's buildings look from the air? You've got plenty of viewing options, including The Round Tower, Maersk Tower, and (for those who prefer their views with a drink), TRIO Restaurant and Bar. But the bragging rights go to Church of Our Saviour. Climbing up the spire's 400 steps will give you a stunning 295 feet above ground view. Just be warned—when you hit the first outdoors viewing platform you're only two-thirds of the way through your Stairmaster-worthy workout. The last 150 steps lead up a twisted narrow walkway before deadening at the top of a spire. (Seriously, it's a tight squeeze.) So, while the viewing platform delivers one of the most stunning views of the city, this isn't a climb for the acrophobia-challenged.
Say Hi to a Local Celebrity
Created and installed in 1913, The Little Mermaid statue, located on the extremely walkable Langelinie promenade, has become the national symbol of Denmark. She's also the most photographed sculpture in the world and has even inspired a deconstructed version. Because she's such a high-profile resident, the bronze statue has also been targeted for vandalism, more than once, and has even lost her head. For additional fairytale monuments, be sure to visit Little Mermaid author Hans Christian Andersen, whose bronze tribute statue sits outside of Tivoli.
Do Your Best Walt Disney Impression
Speaking of Tivoli, it's worth visiting the world's second-oldest theme park, located just outside of the central station. (Fun fact: The world's oldest theme park is also located in Denmark.) The 20-acre garden, theme park, and food complex was a direct influence on the creation of Disneyland. While the rides are fun (which include a looped roller coaster for the daredevils and a tribute to Hans Christian Andersen for the history buffs), the real draw is the ambience. Catch a show at the world's only working pantomime theater, an elaborate cake at the Cakenhagen salon, or just wait in the garden for the nightly fireworks display.
Indulge Your Inner Bookworm
Okay maybe a library isn't your first stop on vacation—but hear me out, Copenhagen's Royal Library lives up to its "Black Diamond" nickname. Stop by the shiny black, treasure chest-shaped building to appreciate the extremely modern architecture (which looks super cool from the top floor for the airy eight-story atrium!), or peep some extremely rare books, which thanks to the country's egalitarian sprit, are always on display. And if your needs are more utilitarian, don't worry, they've got free bathrooms and—because Scandinavia—an outstanding coffee shop.
Take to the Water
You can't visit Copenhagen without noticing that the whole city sits on the water. Start your explorations at Nyhavn (literally translated "New Harbor") whose adorably colorful buildings grace pretty much every Copenhagen postcard and souvenir in existence. But to see the real city (a.k.a., the non-touristy bits) you'll have to get further out. Book a boat tour for an overview of the city (seriously just pick one—it's a saturated market, pun slightly intended.) Get your steps in by walking through waterfront neighborhoods like Christianshavn, Amager, and Nordhaven. Ready to take the plunge? (Yes it's clean!) Go ahead and jump in at the four approved harbor swimming areas, Islands Brygge, Kalvebod Brygge, Sluseholmen, and Fisketorvet.
Taste the Flavors of the City
Since you're going to be by the water anyway, grab lunch at Reffen. The mass of shipping containers turned street food market is located in the industrial district turned seaside neighborhood Refshaleøen. It also represents nearly every cuisine you could hope to sample. And bonus: everything from the buildings to food prep is done with an eye towards recycling, reducing, and reusing. Since it's only a 15-minute ride from the city center, apply that same ecological mindset to your transit, and grab a rental bike to work up an appetite.
Find an Eco-Friendly Ski or Hike
Among Copenhagen's many ecological and word-play wonders is Amager Bakke, otherwise known as Copenhill. Opened in 2018, Copenhill burns 400,000 tons of municipal solid waste, while also serving as a free local hiking trail. Huff and puff your way to the top through fields of wildflowers (yes, seriously!) and grab a drink as you overlook both Copenhagen and Sweden. Or for about twenty dollars an hour you can take a run at the year-round skiing and toboggan course.
Indulge in an Eco-Friendly Stay
Keep your visit in line with the ethos of the city by selecting an eco-friendly hotel like Axel Guldsmeden. Located in Vesterbro (a.k.a. the area around the central station that's blessed with lots of public transit options), the lush, Bali-inspired hotel features four-post beds, stone bathtubs, recycled towels, and linens, and (because the city has some of the cleanest water in the world, recyclable water bottles. Gorge yourself on an organic breakfast (with vegan options, of course), or take a beat to unwind in their vibey basement spa.
Celebrity news, beauty, fashion advice, and fascinating features, delivered straight to your inbox!