The 11 Best Weekender Bags for Women, According to Editors and Experts
In case you needed another reason to be pumped about your trip.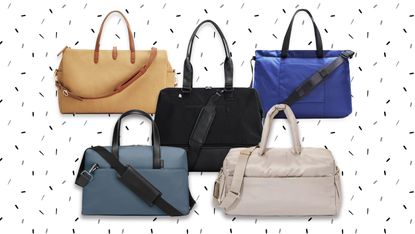 (Image credit: Future)
Fact: There's never a bad time to use up your hard-earned PTO by booking a quick trip. And unless you're a chronic over-packer like me, you'll need to find the best weekender travel bag for your next getaway. Weekender and overnight bags are basically like the smaller, cuter version of carry-on luggage and are perfect for carrying the essentials.
Traditionally, weekender bags were sold as a part of an entire luggage set. Now, however, they're sold on their own, giving you the perfect excuse to have a little more fun. And with quick trips becoming increasingly popular, it's about time for you to invest in one that can carry you through the seasons.
And if we're talking about the best weekender bags, there's no one more equipped to turn to for advice than two founders of the best luggage brands on the market: Karla Gallardo, Co-Founder and CEO of Cuyana, and Shay Mitchell, founder of BÉIS. In addition to being incredibly stylish and sleek, the best-selling weekender bags they design are some of the most functional suitcases around. Read on for their tips and recommendations, in addition to weekender bags tested by the very well-traveled editorial team here at Marie Claire.
How We Chose the Best Weekender Bags
We know that there are plenty of weekender bags for you to choose from. Every weekender and travel bag on this has been specifically chosen by Marie Claire's E-Commerce Editor, Julia Marzovila (a.k.a. me!), our Fashion Director Sara Holzman, Style Editor Emma Childs, and the rest of our editorial team. Each has been either tested for its size and durability or has been recommended from an expert we trust. These are the details we looked for when putting this list together:
Functional Design Features: "Thoughtful function," says Mitchell, is the most significant aspect to consider when shopping (and designing!) weekender bags. "A lot of times people are so focused on the way a bag looks that they can forget the very important consideration of how the bag is going to serve the person carrying it."
A Good Look: Function is important, but aesthetics are, too. "I recommend looking for a bag that is spacious, durable, and beautiful," Gallardo shares. "It's important to ensure that the bag you invest in has an aesthetic that you are confident will stand the test of time. I personally prefer a darker color, so it doesn't show any dirt—travel can get messy!"
Organization: "You want something that is going to carry your essentials seamlessly from one destination to the next," explains Gallardo. "I suggest a piece that has multiple compartments, allowing you to maximize your organization when packing." Mitchell agrees with Gallardo, saying organizational ease is top of mind when she's designing weekender styles. "Most of us have similar things we need to carry with us—phones, wallets, cards, passports, water bottles—so when we design we always think of an organization that will accommodate all of the things people need while still being something they feel cute carrying."
High-Quality Materials: "You want to ensure your weekender bag is made of quality materials—especially zippers—that are built to last," advises Gallardo. Look for styles made of sturdy materials like nylon, leather, and polyester (ideally recycled), and bonus if the materials are water-resistant or waterproof, as that will help to extend the lifetime of your bag.
Deals on Weekender and Overnight Bags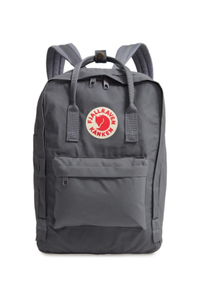 Fjällräven Kånken 15-Inch Laptop Backpack, $102 at Amazon
This best-in-class backpack, which retailed for $120, is perfect for those of us who pack light. The bags last forever, for one, and are great also if you're going on a more rugged weekend trip, like hiking or camping. They're lightweight and sturdy.
The Best Weekender Bags
Best Overall Weekender Bag
"Listen, I love all my babies equally, but The Weekender is my tried and true," Mitchell says about BEIS' best-selling, affordable weekender bag. "This bag looks badass, has amazing structure, maximizes space with creative organization, and is the most ideal size. We love to offer consumers compartments, pockets, and spaces that can be used for a variety of reasons…whatever they feel is best for keeping them organized on the go." Plus, it's super versatile. "I always use the bottom of The Weekender for my shoes, for example, but my mom uses it for her cosmetic and bathroom items, and my friend uses it for all her baby's stuff," she says.
Pros: Plenty of compartments; Under $100; Top-rated; Comes in five colors
Con: Some colors can sell out
Customer Review: "The king of weekender bags. Dedicated compartments, lots of space, and comfy as heck on the shoulder. Added bonus if you have a roller suitcase because [it has] roller handle slots for baggage togetherness."— Revolve
Best Versatile Weekend Bag
Everlane The ReNew Transit Weekender
This versatile weekender bag from Everlane is what Style Editor Emma Childs calls a "life-changer." It includes a padded laptop sleeve, two water bottle holders, zipper pockets on the outside, and a removable shoulder strap, proving that it's the one bag that can take you just about everywhere. "I call on this nylon number for quick trips out of the city and occasionally use it as my in-office work bag if I have a busy day ahead," Childs describes of her well-loved black bag. "Plus," the fashion girl on the go adds, "it's easy to style and sleek by design, so it never clashes with my outfit."
Pros: Can safely hold your laptop; Can do double-duty for work; Sustainably made; Lightweight; Comes either with or without the Everlane label.
Cons: Some reviewers say the nylon straps can cut into your shoulders.
Customer Review: "This bag is IT! It's so roomy— perfect for carrying a laptop and whatever else you need to fit for any kind of travel. Carry it on your shoulder as a crossbody, or slip it over the handle of your suitcase with an outer sleeve. Great price and very well made."—Everlane
Best Expandable Weekender Bag
Longchamp Le Pliage 21-Inch Expandable Travel Bag
"This water-resistant nylon-and-leather overnight and weekender bag from Longchamp (another favorite brand of team Marie Claire) is great for longer trips because it's actually expandable courtesy of a zip insert," Style Editor Emma Childs shares. "Plus, it folds down to lay flat, which makes it great for trips where you expect to shop or are planning to come home with more items than you left with—a.k.a. every vacation I've ever been on. Plus, it's still eligible to be a carry-on, even if it's fully-expanded," she explains.
Pros: Water-resistant; Has a removable shoulder strap; Expandable design; Comes in several colors
Cons: Costs over $200; Has one interior side pocket.
Customer Review: "This bag is like the Mary Poppins bag because you can store soo much in it, and there is even an expandable zipper on it. It was able to sit on my suitcase while traveling due to the short straps not letting it go anywhere. I love Longchamp because the materials last forever. Definitely worth the money for such a cute, durable, and large bag."—Nordstrom
Most Streamlined Weekender Bag
"I haven't met a CALPAK product I didn't love, but their classic duffel is perhaps my favorite of them all," gushes Lucia Tonelli, Social Media Editor. "Aside from it being an objectively attractive weekender bag, the Luka's streamlined design doesn't come at the expense of practical features. With a bottom compartment for shoes (one of nine (9!) pockets in total), a slit for sliding the bag over the handle of rolling luggage (for quick sprints through the airport or trudging along city streets), and a plush, lightweight, comfortable design, it's everything you could want in a bag—and then some."
Pros: Under $200; Seven colorways; Nine total pockets for organization; Water-resistant exterior; Shoe and water bottle compartments.
Cons: Some customers report that the straps fall off the wearer's shoulder and that it reflects wear after a few uses.
Customer Review: "Love this new bag!! So many pockets to keep my things organized. And the sleeve for the luggage handle is a game changer because I don't have to worry about holding my bag to ensure it doesn't tip over when it's on top of my luggage."—CALPAK
Best Expert-Approved for Weekend Getaways
"Our Large Travel Bag is my current favorite for many reasons," raves Karla Gallardo of Cuyana. "It's a beautiful piece, but also checks every box that you should be looking for when investing in a travel bag. It's incredibly spacious, with three large compartments for organization, metal feet for protection, and a wide crossbody strap that allows you to carry the bag however you wish. Plus," she adds, "it's made from 100% GRS-Certified Plastic and is machine washable, making it a truly incredible, sustainable piece that stands apart from many travel bags on the market."
Pros: Adjustable shoulder strap; Two exterior pockets; Three interior pockets; Machine washable (delicate cycle only); Comes in two colors; Comes in two sizes.
Cons: Over $200.
Cuyana's Co-Founder and CEO Favorite Aspect: "My favorite part of this bag is the luggage sleeve, which seamlessly and securely attaches my bag to my suitcase handle, making walking around the airport so much easier."
Best Sustainable Weekender Bag
"I tend to overpack when going out of town for the weekend, but this weekend tote is ultra roomy," describes Style Director Sara Holzman, of this sleek 15" x 15" x 8" option from sustainable luggage brand Paravel. "Deep interior pockets mean I don't have to choose between my hair dryer and a pair of shoes—they're both coming with me. Plus, I feel good about using it because this bag is constructed from 12 upcycled water bottles." Oh, and if you like all your belongings to have a personal touch, opt to get this weekender monogrammed for $65.
Pros: One interior zippered pocket, two interior slip pockets, and one exterior slip pocket; Option for personalized monogram; Trolley handle straps; Made of recycled plastic.
Cons: Over $200; Some reviewers say they wish it was slightly larger.
Customer Review: "Such a cute bag [that] makes solo travel infinitely easier! I love that it can be strapped onto my carry-on bag. The two interior pockets are great for things like my phone and passport while still having enough room in the interior of the bag for my laptop and things I want to be able to grab in-flight. Perfect!"—Paravel
Best Classic Weekender Bag
Herschel Supply Co. Novel Duffle Bag
"If you're looking for a no-frills weekender bag, this one (which costs under $100!) from Herschel Supply Co. is for you," suggests E-Commerce Editor Julia Marzovilla. "It comes in four easy-to-style colors, including dark green and navy blue, has a double-zip design at the top for extra security, and an adjustable shoulder strap in addition to two straps on the top. There's even a mesh pocket on the inside for extra storage, plus a zippered pocket on the exterior for the things you frequently reach for," the shopping expert explains.
Pros: Costs under $100; Has an interior pocket and an exterior pocket; has an adjustable shoulder strap; comes in multiple colors.
Cons: Some reviewers note that having one pair of shoes in the bag takes up lots of space.
Customer Review: "Used this as a weekend bag and it fit everything I needed. It's a lot bigger than you'd think and it's not bulky or cumbersome to get into an airplane overhead."—Nordstrom
Best Leather Weekender Bag
"This bag has been everywhere with me," says Julia Marzovilla, E-Commerce Editor, on this easy-to-carry style from cult-favorite luggage brand Away. "It's lightweight, has an adjustable shoulder strap as well as a top handle, and has interior pockets so that all my stuff stays organized. Great for a quick trip, this weekender bag is just big enough to fit a few changes of clothes and two pairs of shoes at most," the shopping expert details, adding that this style will curb any over-packer's excessive habit.
Pros: Under $200; Water resistant; Trolley sleeve; Detachable padded shoulder strap; A padded 15" laptop pocket; Five colorways.
Cons: Some reviewers note the stiff handles can be uncomfortable and bulky.
Customer Review: "This bag exceeded all my expectations. It held everything I needed for my flight, including my laptop and tablet, personal items, and snacks, all within easy reach and nicely organized and accessible under my seat. This bag comes closer to perfect than any other I've had."— Away
Best Waterproof Weekender Bag
"This sleek weekend bag from Rains is how you look chic when Mother Nature decides to act up while you're traveling," says Emma Childs. "It's made from a shiny coated polyurethane that literally wicks away moisture and rain to guarantee that your belongings stay dry all day long. And when it comes to its design, this one's a winner: It has a structured silhouette and flat base to ensure the bag stays upright. Oh, and there are detachable handle grips with slider buckles on the side to keep everything secure," explains the Style Editor.
Pros: Costs less than $200; Water-resistant design; Has removable handles; Has an adjustable shoulder strap.
Cons: Only has one large interior pocket.
Customer Review: "The bag's size was perfect, as its volume was big enough for both a two-night stay's worth of clothes and essentials. The light drizzle and the wet ferry rides alike tested its waterproof zipper and construction, and everything remained dry inside. Overall a sleek and great bag!"—Nordstrom