The 13 Best Overnight and Weekender Bags for Women in 2022
In case you needed another reason to be pumped about your trip.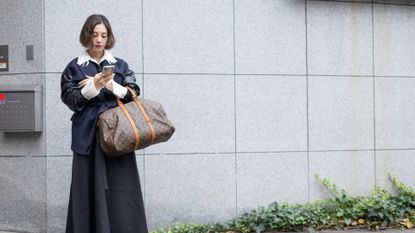 (Image credit: Matthew Sperzel/Getty Images)
Fact: There's never a bad time to use up your hard-earned PTO by booking a quick trip. And unless you're a chronic over-packer like myself, you'll need to find the best weekender or overnight bag for your next getaway. Weekender and overnight bags are basically like the smaller, cuter version of carry-on luggage, and perfect for carrying the essentials.
Traditionally, weekend bags were sold as a part of an entire luggage set. Now, however, they're sold on their own, giving you the perfect excuse to have a little more fun. And with quick trips becoming increasingly popular, it's about time for you to invest in one that can carry you through the seasons.
And if we're talking about the best weekender bags, there's no one more equipped to turn to for advice than Shay Mitchell. The actress and mother founded her luggage brand BÉIS in 2018 to create bags that take you from the gym to the plane without compromising on style. But aside from being stylish, her bags are some of the most functional suitcases on the market. Ahead, Mitchell breaks down what to look for when shopping for a weekender bags. Read on to shop her favorites, and those of the very well-traveled team here at Marie Claire.
Best Deals on Weekender Bags
What Is a Weekender Bag?
Not just any slightly larger tote bag can be considered a weekender bag, so it's important to know what you're looking for when you're shopping, especially if you're shopping online. "I'd define a weekender as a bag that is big enough to fit every single thing that you need, and small enough to sling over your shoulder and be your tagalong for a quick jaunt," Mitchell says in an email.
What to Look For
"I honestly don't think I can narrow it down to just ONE single thing on The Weekender, but if I have to I will *cheat* and say 'thoughtful function,'" Mitchell says about what she looks for when shopping (and designing!) a weekender bag. "I think a lot of times people are so focused on the way a bag looks that they can forget the very important consideration of how the bag is going to serve the person carrying it."
"Most of us have similar things we need to carry with us—phones, wallets, cards, passports, water bottles—so when we design we always think of organization that will accommodate all of the things people need while still being something they feel cute carrying," she adds.
The Best Weekender Bags
Meet The Expert