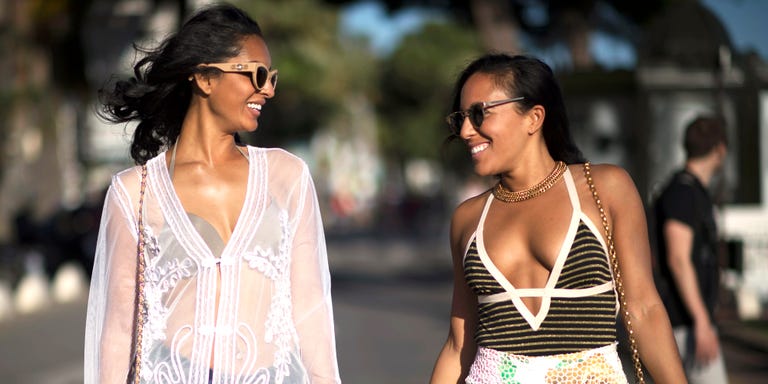 So, you've taken the first step and planned out your summer vacation days (I'm giving you a digital high-five). Up next: finding the must-haves to stash in your bag (and later asking yourself why you packed so much). Ahead, the best accessories to bring on your next beach vacation.
Bando, $40
Avoid the nightmare of trying to find your towel ("Did someone steal it?? Did my friends move without telling me??") with this soft "Wish You Were Here" terrycloth pick.
The Beach People, $40
The definition of boujee: beach edition—a towel carrier that comes in handy when you don't feel like schlepping a heavy bag with you through the sand.
Las Bayadas, $68
Pro tip: Use the towel as a pillow, and the blanket to expertly avoid the hot sand underneath.
Ultimate Ears, $100
When you're lounging and decide you've had enough alone time with your thoughts, whip out this portable waterproof speaker that lasts up to 10 hours.
J.Crew, $40
Books? ✓ Snacks? ✓ Towel? ✓ A tote that fits all of the essentials? ✓
Melissa Odabash, $167
Beach cover-up or happy hour outfit? Condense your packing list with this two-for-one crocheted maxi dress.
Caslon, $39
Attention pale people with burn-prone skin (a.k.a. me): Here's one of many sun hat options—from gingham baseball caps to straw boaters—that keep your head covered and easily fit in your bag.
Ouai, $28
A hydrating oil that protects color-treated hair from sun exposure and nourishes salt-stiffened strands.
Canon, $130
Take pictures on your iPhone like you normally would, connect the bluetooth-equipped mini printer, hit print, and voilà you now have your vacation memories in real-time.
Marc Fisher, $160
Grab these blister-free espadrille platform sandals for lunch on the water (piña colada in hand) or dinner and drinks in the evening.
Amazon, $16
Summer: the one time of the year I get to catch up on the 10 books I have piling up in the corner of my room. Bring along an uplifting read like Cleo Wade's collection of poems, Heart Talk.
Neutrogena, $16
The most obvious yet most important item on the list: sunscreen. Choose a brand like Neutrogena's ultrasheer dry-touch. It's lightweight, and lasts long enough for you to take a dip in the water then re-apply. Thank us later.