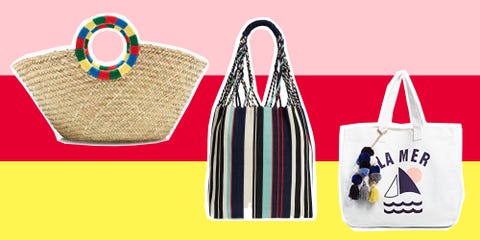 Design by Morgan McMullen
The struggle to find a beach bag that's cute and functional is real. Though there are a lot of options on the market (woven baskets, canvas totes, knit backpacks, etc.), only the best beach bags will hold an oversized towel, a waterproof speaker, and a change of clothes for a full day near the water. Luckily, these 12, below, (all under $100!) tick all those boxes while looking super stylish, too. You'll want to carry them around all summer long—even when you're not dozing off under an umbrella.
Free People, $28
Sure you may get a little sand in there, but this jelly tote was made for summer with its geometric cut-outs and easy-to-carry handles. Consider it the chic option for those who want a bag to bring to the beach that doesn't actually look like a beach bag.
Nannacay, $77
This handcrafted woven basket is as fun as it is cool. Use it to get the hot lifeguard's attention.
Shiraleah, $53
A tassle-trimmed tote like this one deserves space in your suitcase on your next trip to the Amalfi Coast—or, you know, the local beach. (We can't all be Natasha Oakley.)
Free People, $98
It's not summer without a good ol' straw bag (perfected with leather handles). This one looks smaller than it really is; in fact, it has room enough for your towel, change of clothes, and the essentials, like your sunscreen, book, and speaker.
5
Nobody Likes a Shady Beach
Fallon & Royce, $88
Couldn't have said it better myself.
Ban.do, $34
Oh my god, it's a cooler. Yes—an insulated bag to protect your seltzer and snacks from the heat. Wish it was here right now.
J.Crew, $98
The colorful ring handles on this classic straw bag will instantly transport you to the '80s. Plus, it's on sale!
Mercado Global, $78
This braided canvas tote belongs on your arm all summer—whether you're at the beach or doing some shopping on the weekend.
Zara, $46
This basket/crossbody hybrid bag has just the right amount of room to stash your phone, wallet, sunscreen, and towel. Plus, the hands-free strap allows your body to save your sweat for the sand.
Sundry, $96
Look up "beach bag" in the dictionary and you'll find this canvas tote made for a casual trip to the water with friends.