The 17 Best Beach Bags and Totes for Summer 2023
"The perfect beach bag doesn't exi—"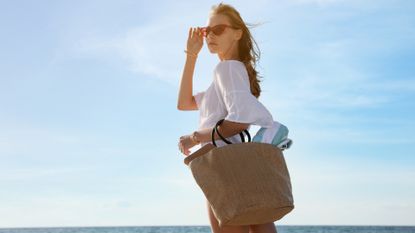 (Image credit: Getty Images)
Now that we're officially approaching the dog days of summer, a trip to the beach has never felt more necessary. Between the incessant heat, sticky humidity, and cramped feeling we're all experiencing in our tiny apartments, the beach seems like a welcome escape–which means that finding the best beach bag, one that can hold all your oceanside essentials while looking stylish, has never been more important.
Team Marie Claire has a penchant for finding the best bags for summer. Case in point: We've already uncovered the best basket bags and the best net bags. Naturally, finding a great beach bag was next up on our to-do list. Our picks run the gamut when it comes to style and substance. Some are made of raffia, while others are made from recycled cotton or sturdy canvas. Some of the beach bags on this list are foldable for easy storage in your closet, while some are great for sportier beach days that may or may not include a hike. These beach bags and totes will hold everything you need and keep your most prized possessions safe while you dip in the pool, courtesy of inner pockets and hidden pouches.
So, pull out your cutest bikini or one-piece swimsuit, find your favorite pair of sandals in your collection, grab your best sunglasses from their case, and submit an official out-of-office request: it's time for a beach day. Or, if you can't get to the beach right now, feel free to settle for your nearest pool (just don't forget your sunscreen).
What to Look For in Beach Bags
"The ultimate beach bag needs to be two things: fun and practical," says Rickie De Sole, the Women's Fashion Director at Nordstrom.
"A day at the beach under the warm sun calls for color," de Sole says. The Nordstrom fashion expert encourages you to seek out playful design details like crochet, embroidery, woven straw fabrications, striking patterns, and trendy color palettes. "I love a brightly-printed tote or a raffia bag with vibrant trim," she specifically shouts out.
"Beach bags, by nature, need to hold lots of stuff: suntan lotion, books, magazines, sunglasses, water bottles, towels—the list goes on! You'll want to look for something roomy that you can pile your belongings into," explains the Nordstrom fashion expert. "I look for totes that have pockets inside or a coordinating pouch to keep important items like my wallet secure."
The Best Beach Bags