The Instagram Guide to Glasgow
The Scottish city has plenty of sights, eats, and experiences to offer.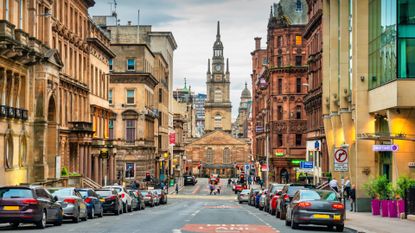 (Image credit: Getty Images)
Marie Claire Newsletter
Celebrity news, beauty, fashion advice, and fascinating features, delivered straight to your inbox!
Thank you for signing up to Marie Claire. You will receive a verification email shortly.
There was a problem. Please refresh the page and try again.
It's no wonder the national animal is the unicorn—Scotland's largest city Glasgow feels like a rarefied beast. Despite only having a population of 635,640, there's a shockingly large amount of ground to cover, from trees older than dinosaurs (find them in Fossil Grove) to the birthplace of chicken tikka masala (sample some at Shish Mahal Restaurant). And whether you're there to explore historic buildings like the stately Glasgow Cathedral, or to see a show at Barrowlands, a local venue that helped launch the careers of Scottish favorites CHVRCHES, Camera Obscura, Franz Ferdinand, and Belle and Sebastian—Glasgow has you covered.
Do we have your attention? Great, read on for a brief overview of what you have to look forward to on your next visit to Scotland's cultural capital.
Visit the Duke of Wellington
Yes, it's a statue of the Duke of Wellington, who served as the prime minister of England for two separate terms. But since the 1980s it's been a tribute to entropy, as the city decided the traffic cone that kept appearing on its head was art. (It doesn't hurt the station is right outside of GoMA, also home to plenty of experimental art.) While the public has been asked not to change the cones and risk damaging the statue, the Duke and horse's headgear is regularly swapped out depending on the season.
Go See the Doctor
As sci-fi aficionados probably already know, later this year Ncuti Gatwa will become the first Black actor to take on the lead role in Doctor Who. The Sex Education actor also happens to be Scottish. Celebrate his accomplishment (along with other Scottish Doctors, Sylvester McCoy, David Tennant, and Peter Capaldi) with a TARDIS-based walking tour of the city. That's right, those large blue police boxes you see scattered around the city might be secret alien spaceships. Or just photo ops celebrating the longest-running sci-fi show of all time.
Get Your Art On
Even if you're not normally an art snob, Kelvingrove Art Gallery and Museum is worth a visit—and not just because it's an opportunity to explore a building that you'll have to evoke Harry Potter to describe. (And bonus—it's free!) Stroll through the building's 22 galleries for an art history lesson ranging from Ancient Egypt to modern masters. Or you can just hang out in the atrium where Sophie Cave's floating heads smile, frown, grimace, and laugh under dramatically shifting lights.
Oh Hey—More Art!
Glasgow is also a great city for those who prefer their art more free-range. It can seem like nearly every wall in the city center is covered with murals, transforming a stroll through the city center into the best kind of treasure hunt. For an overview, be sure to consult The Glasgow Mural Trail, which will give you the name and location of some of the city's most colorful residents, like Smug's St. Enoch and Child (pictured above).
Go Green
Botanical gardens are great places for plant-gifted people to get ideas, and for non green-thumbed people to simply be near nature without killing it. Regardless of which camp you fall into, Glasgow's Botanical Gardens is a needed stop. (It's also free!) Founded in 1817, the grounds feature a gorgeous glasshouse designed by John Kibble (be sure to peep the spiral staircase!), a cowrie of classically-inspired statues that may or may not be haunted, and strong sampling of flora from around the world.
Eat Dessert for Lunch
Sometimes, the best part of traveling is giving dietary conventions the finger and having dessert for lunch. (Of course, if you're determined to go savory before sweet, you can always get a great meal at Mowgli Street Food, Gost, or Ardnamurchan—which serves vegan haggis.) Find the best in vegan cakes at Rawnchy. Sample hand-made gelato at Ginesi's Artisan Gelato. Or get an aesthetically pleasing bite at Tantrum Donuts (pictured.) Just remember: you're on vacation—so if you've got a sweet tooth, leave the rules at home.
Take Tea
Since the British drink tea like it's a sport, it would be a wrong to not stop for a pot of the good stuff while anywhere in the UK. Besides, who doesn't love having an excuse to consume an entire meal made up of sugar and caffeine? For a bit of atmosphere along with your sips, you can't go wrong with Mackintosh at the Willow. Originally opened in 1903 this is a truly historical dining experience, right down to their swirly blue and white plates, replicates of the pattern originally used. However, their menu, which changes every 6-8 weeks, features playful takes on tea-time snacks from around the world.
Sleep in the Lap of Luxury
Given that you're in a city known for its buildings, it's worth splashing out to stay in a hotel that matches the vibe. Literally located in Grand Central Station, VOCO is an exercise in architectural opulence that everyone from Winston Churchill to Frank Sinatra have enjoyed. And even if the champagne bar and lobby chandeliers aren't your bag, the hotel's modern amenities (sup, bedside charging ports?) absolutely will be.
Celebrity news, beauty, fashion advice, and fascinating features, delivered straight to your inbox!