The Ultimate Guide to Mexico City
This cultural epicenter of art, history, and food should be on every culture enthusiast's bucket list.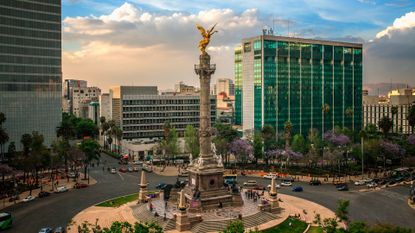 (Image credit: Getty)
Mexico City has long been at the top of my travel bucket list. From food to culture to history, the city checks every box—and then some—of qualities I look for when I'm about to embark on a new adventure. It even scratches my artistic and cinematic itches, boasting the home of Frida Kahlo and Diego Rivera along with iconic filming locations for films by directors like Alfonso Cuarón and Alejandro González Iñárritu. Plus, I knew that the city boasted an incomparable gastronomic scene, from street food to beverages to gourmet meals.
However, when traveling anywhere for the first time, it's hard to know where to go and what to do. So, I've distilled countless nuggets of knowledge from local tips, online research, and personal experiences to flesh out a guide of the best places to stay, eat, drink, and play in this vibrant, historic city.
Where to Stay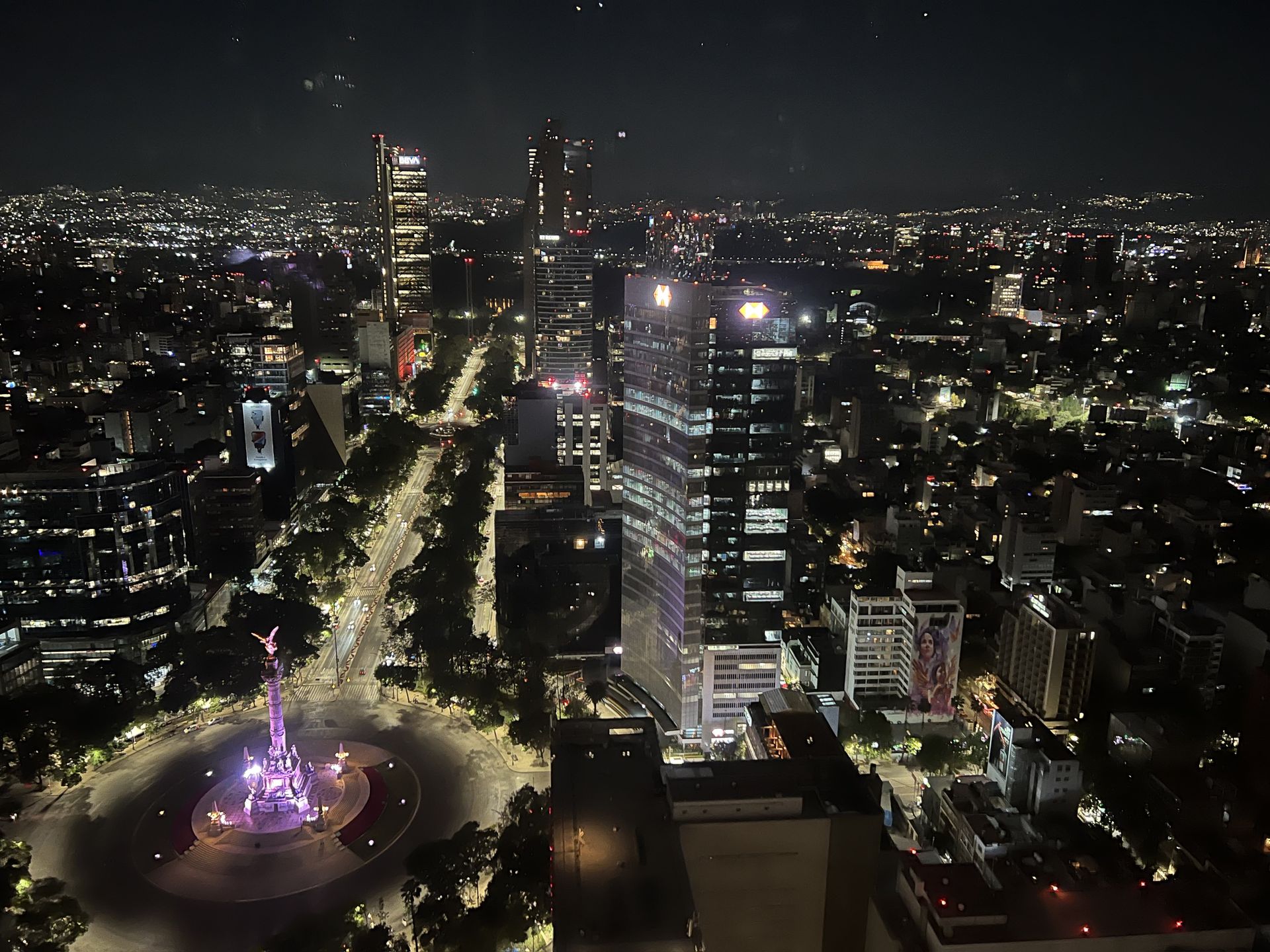 Mexico City boasts a number of beautiful hotels, many of which are located around the Juarez and Colonia Cuauhtémoc neighborhoods. This area is ideal if you're looking for easy access to some of the best Mexico City has to offer in terms of food, nightlife, landmarks, and activities. Plus, this neighborhood is a short walk away from Mexico City's famous La Condesa quarter, which is filled with tree-lined street, art nouveau style mansions, and stylish bars and clubs.
For many visitors, the Four Seasons is a must. In addition to its worldwide reputation of comfort of sophistication, its Mexico City location boasts one of the most popular bars in the city, with locals and visitors alike immediately citing it as an essential stop on an elevated night out. Just be sure to call ahead and book a reservation if you're planning on going, because they book up quickly—a lesson that I, unfortunately, learned the hard way.
Another comparable option is the Sofitel Mexico City Reforma, a five-star hotel located a short walk from the Four Seasons. This French hotel chain prioritizes luxury, with plush, generously-sized rooms, a decadent breakfast menu (including both buffet and à la carte options), and five different bars and restaurants within the hotel itself. Its rooftop bar, in particular, is worth checking out: From the bar (and from many of the rooms in the hotel), you can enjoy an incomparable view of the Mexico City skyline. The city is, after all, built within a valley, and is flanked on all sides by the mountains and volcanoes of the Sierra Madre mountain range. Thus, when looking out across the city from above, one can enjoy a one-of-a-kind juxtaposition between the region's natural beauty and the city's unique architecture, both modern and traditional.
Finally, for those in search of a particularly cozy stay, look no further than the Hotel Geneve. This historic hotel, located in the Zona Rosa district, was founded in 1907, and has been the go-to accommodation for celebrities, politicians, and Mexican presidents. Plus, it was the first hotel in Mexico to allow women traveling alone, and the first establishment in Mexico to ever serve a sandwich, making it iconic in two of my all-time favorite spheres of interest: feminism and food.
But perhaps the best part of the Hotel Geneve is the unique bar on its first floor. Known as the Phone Bar, this iconic local gem is decorated with antique phones, including a 1960s style London phone booth that sits in the center of the room. Enjoy a craft cocktail or a relaxing glass of wine or beer in this subdued atmosphere before stepping back out into the antique opulence of the main lobby.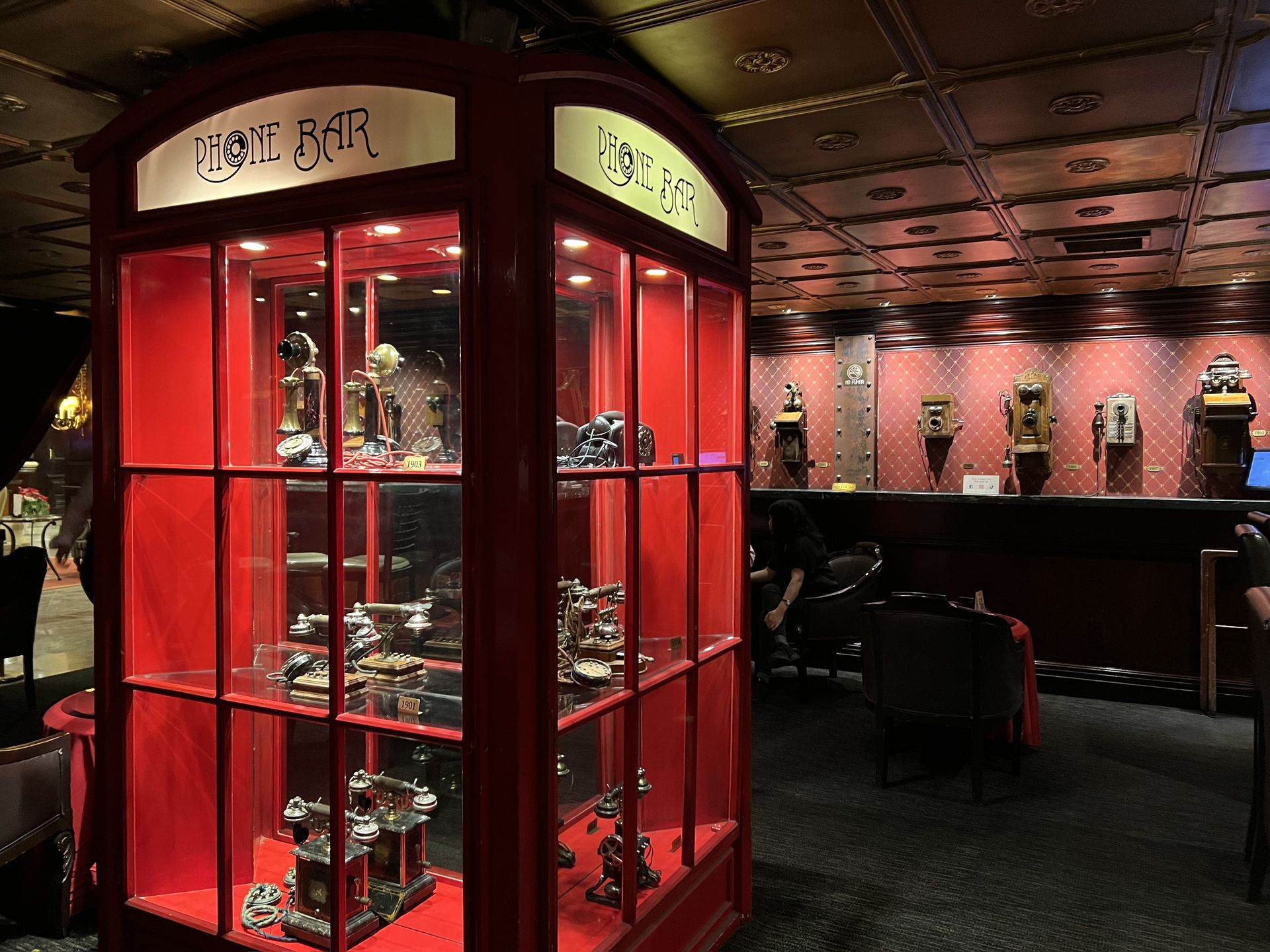 Where to Eat and Drink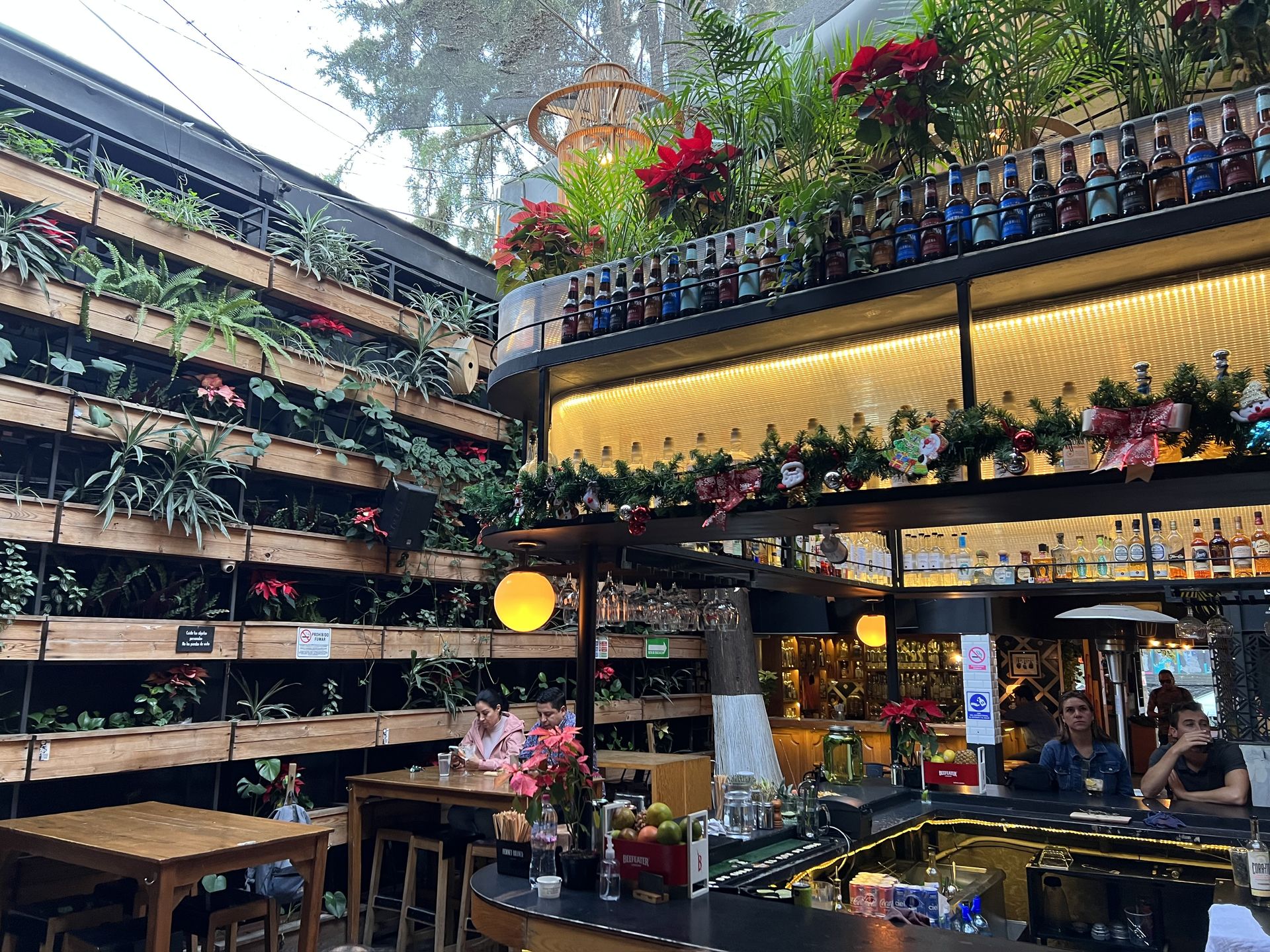 While the hotel bars and restaurants in Mexico City are among the best and most original I've ever experienced, you simply cannot visit this gastronomic hot spot of city without enjoying the more authentic local cuisine.
If you're staying in one of the aforementioned hotels, your first stop should be Taquería Orinoco, which has seven location throughout the city, but its Zona Rosa location is a short walk from the Four Seasons, Sofitel, and Hotel Geneve. There, you can enjoy a variety of fresh tacos, quesadillas, and more at an incredibly low price. Plus, it's open until 3 AM most nights, making it beloved by tourists and locals alike for a quick lunch or a late-night bite.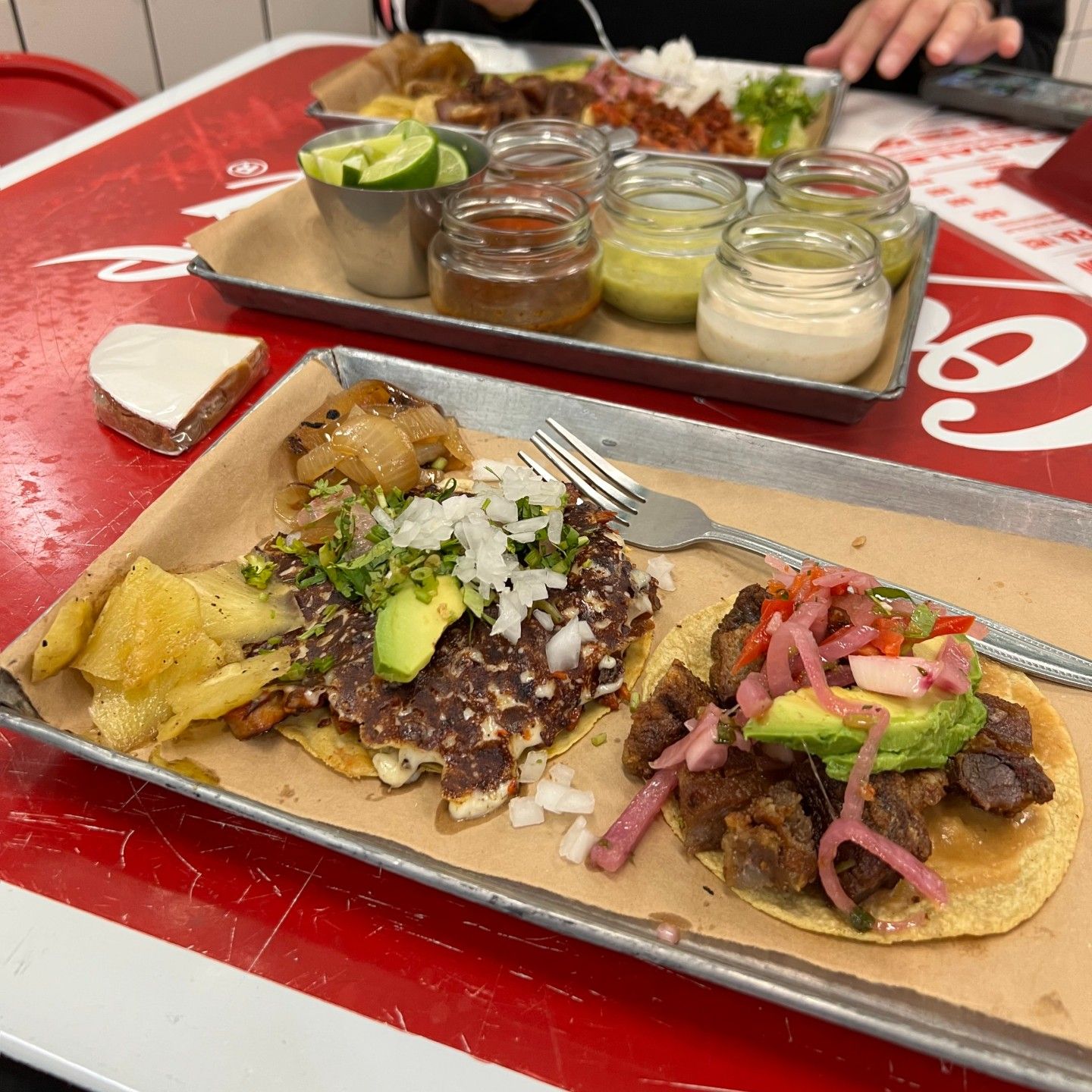 If you love Mexican food or if you're to explore the local gastronomy as much as possible, head over to a food market. In particular, I recommend the Mercado de Coyoacán, which is close to tourist destinations like the Frida Kahlo House and the Parroquia San Juan Bautista cathedral. Plus, the Mercado is filled with stalls selling locally made crafts and souvenirs, liquors, and, of course, food. My favorite food stalls include Cokteleando, which sells sandwiches as well as traditional Mexican drinks like aguas frescas (refreshing juices made from locally sourced ingredients like hibiscus, hierba buena, strawberry, and more). I also loved Oaxaca Raíz y Sabor, a food stall specializing in Oaxacan food items that are difficult to find in the U.S., like mole (a traditional sauce based in chocolate, chile, and chicken broth) and chapulines (grasshoppers).
Another essential food stop in the Coyoacán area is Amatista Tostadas, a local, woman-owned restaurant that serves made-to-order tostadas, ceviches, and Japanese-Mexican fusion, sushi-inspired creations. They also make some of the best mole I've ever had.
And if all of that walking and eating leaves you feeling parched, check out the Jupiter Cervecería, located right down the road from Amatista Tostadas and from the historic Fuente de Los Coyotes public fountain in Coyoacán. This cervecería, or brewery, has a lush, laid-back vibe that feels more like the interior of a restaurant in Williamsburg than it does Mexico City. The establishment serves a wide variety of Mexican beers, from popular lagers like Modelo and Corona to other, lesser-known craft options like Allende, Charro, Piedra Lisa, Perro del Mar, and more. Whether you enjoy lagers, pilsners, stouts, or IPAs—or even if only a cocktail will do—this spot is equipped to serve up everything you want and more. Plus, they serve mouth-watering snacks and meals, including the hands-down best taco I had during my time in Mexico (a pork belly taco topped with crunchy, salted chapulines).
If, like me, you have a culinary sense of adventure and find yourself enjoying insect-based fare (insects have, after all, been cited as "protein of the future" and an oft-neglected "protein-rich superfood"), make your way over to El Gran Cazador, which sells chapulines in addition to ants, spider, and escamol (colloquially known as Mexican caviar), along with more traditional fare like pork, beef, chicken, and, of course, vegetarian-friendly options.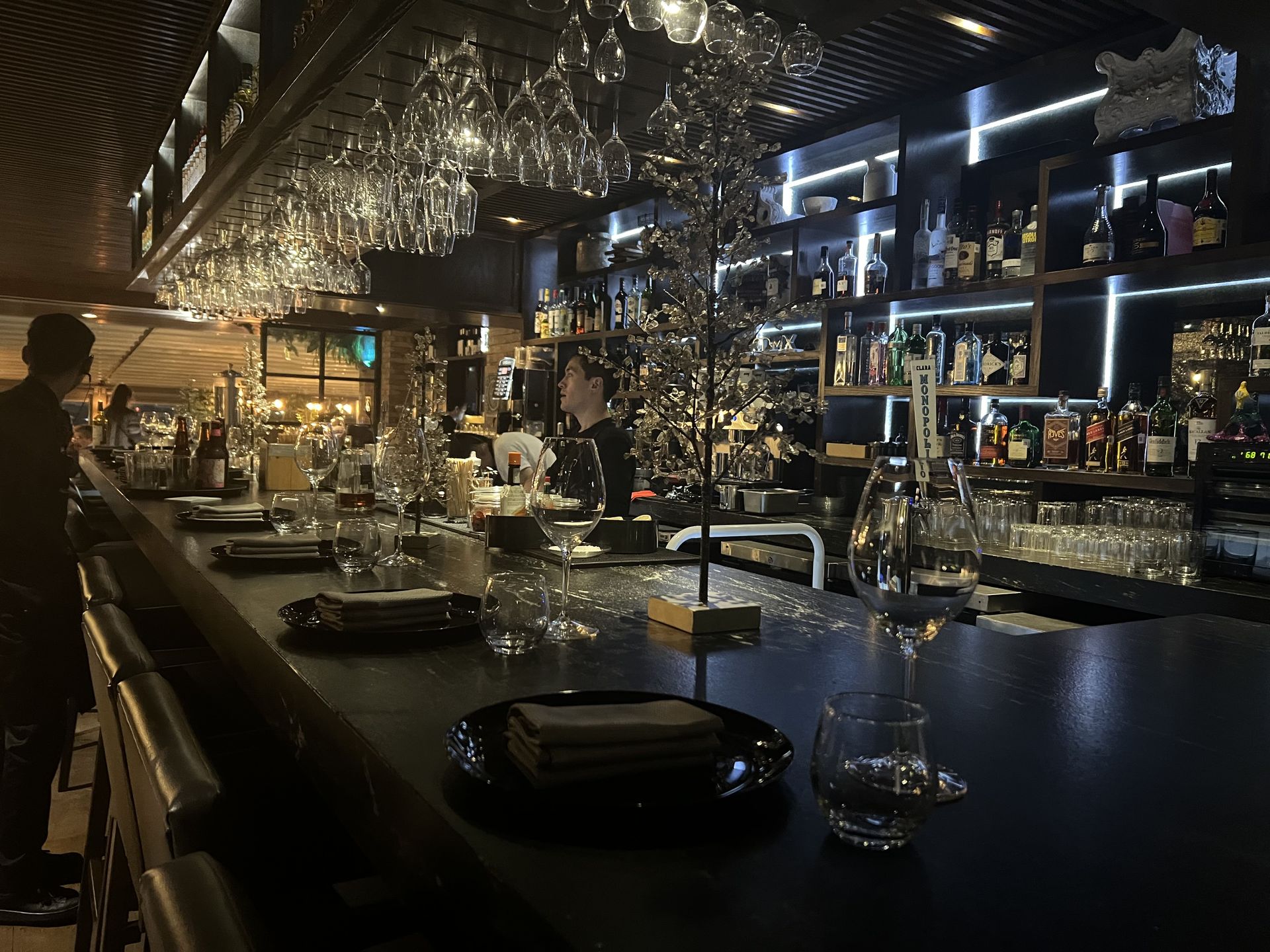 Finally, if you're in the mood to dress up and indulge in a more traditionally luxurious dining experience, the Balcón del Zócalo is a must. Its menu is rife with modern, gourmet interpretations of traditional Mexican fare, and its drink menu includes rare tequilas, mezcals, and herbal aperitifs, along with high-end beers, wines, and spirits from around the world. Plus, per its name, its balcony overlooks the Zócalo, or main town square, of Mexico City, which is located on the site of the primary ceremonial center of the Aztec city Tenochtitlan.
Looking for something different? Another gourmet option in Mexico City is Ling Ling by Hakkasan, an Asian-inspired restaurant located within the Ritz-Carlton. Tourists and locals alike flock here for ceviches, tacos, and more with a Japanese twist, and for the stunning view of the city from inside the restaurant.
What to Do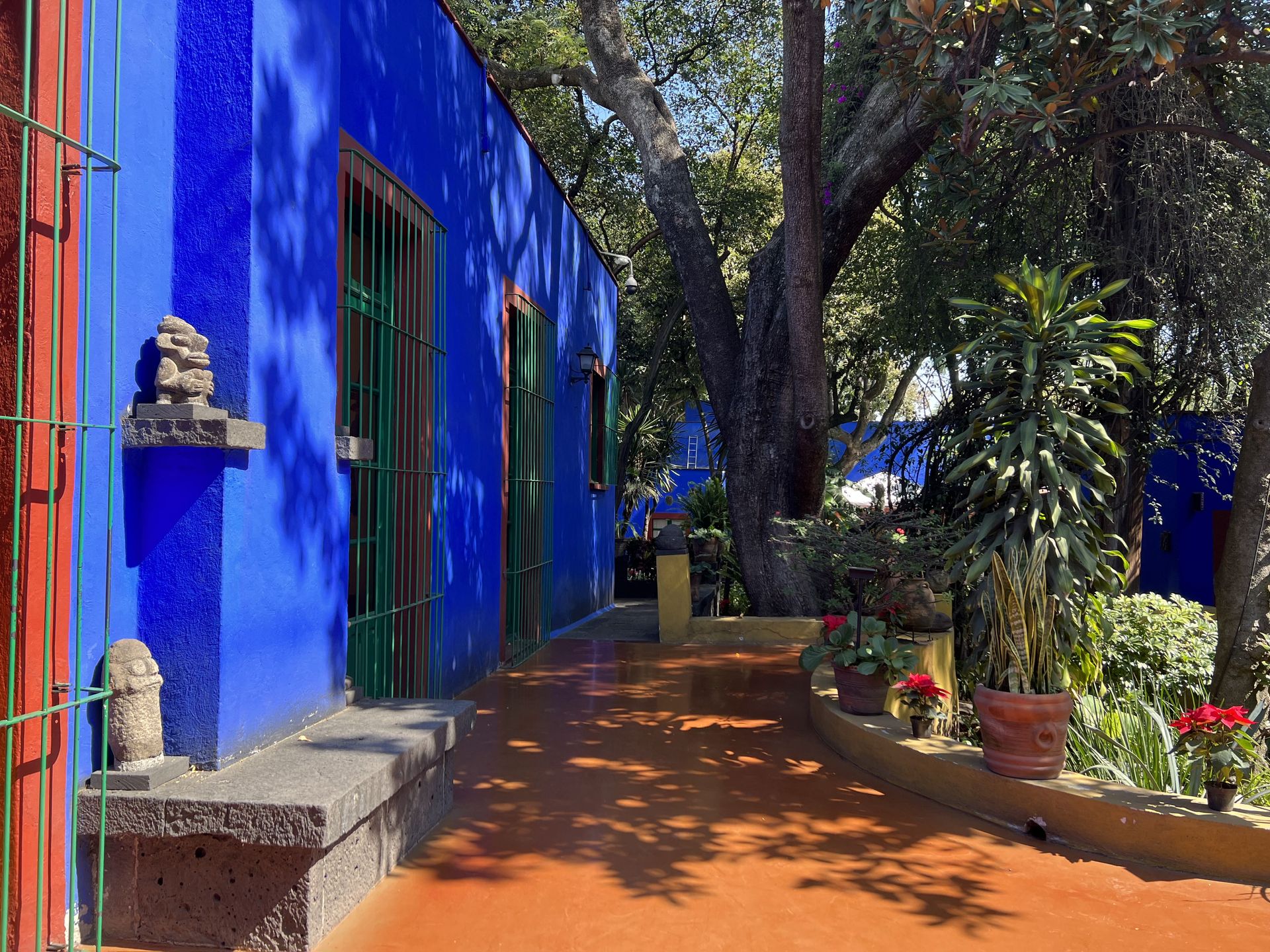 Mexico City is filled with tourist attractions ideal for any visitor, whether you're interested in history, art, culture, or nature. If you're staying in any of the aforementioned hotels, you're in close proximity to the Ángel de la Independencia, or Independence Angel monument. Located along the Paseo de Reforma, it was built in 1910 to commemorate the centennial of the Mexican War for Independence and has since been turned into a mausoleum for select martyrs of the Revolution. It lights up at night, and is mere steps away from some of the city's most exciting bars, restaurants, and shops.
One of these shops is Bukowski's Bar, a two-story bookshop that doubles as a bar and restaurant. In addition to Spanish-language books, the shop also carries editions in English, French, and other languages, in addition to vinyl records, games, souvenirs, and literary memorabilia. Seeing as temperatures tend to drop in the city at night, this establishment is the perfect spot to cozy up with a book while sipping a mulled wine or cocktail (the drinks are delightfully named after famous authors) from the second floor, which opens up into a balcony overlooking the bustling street.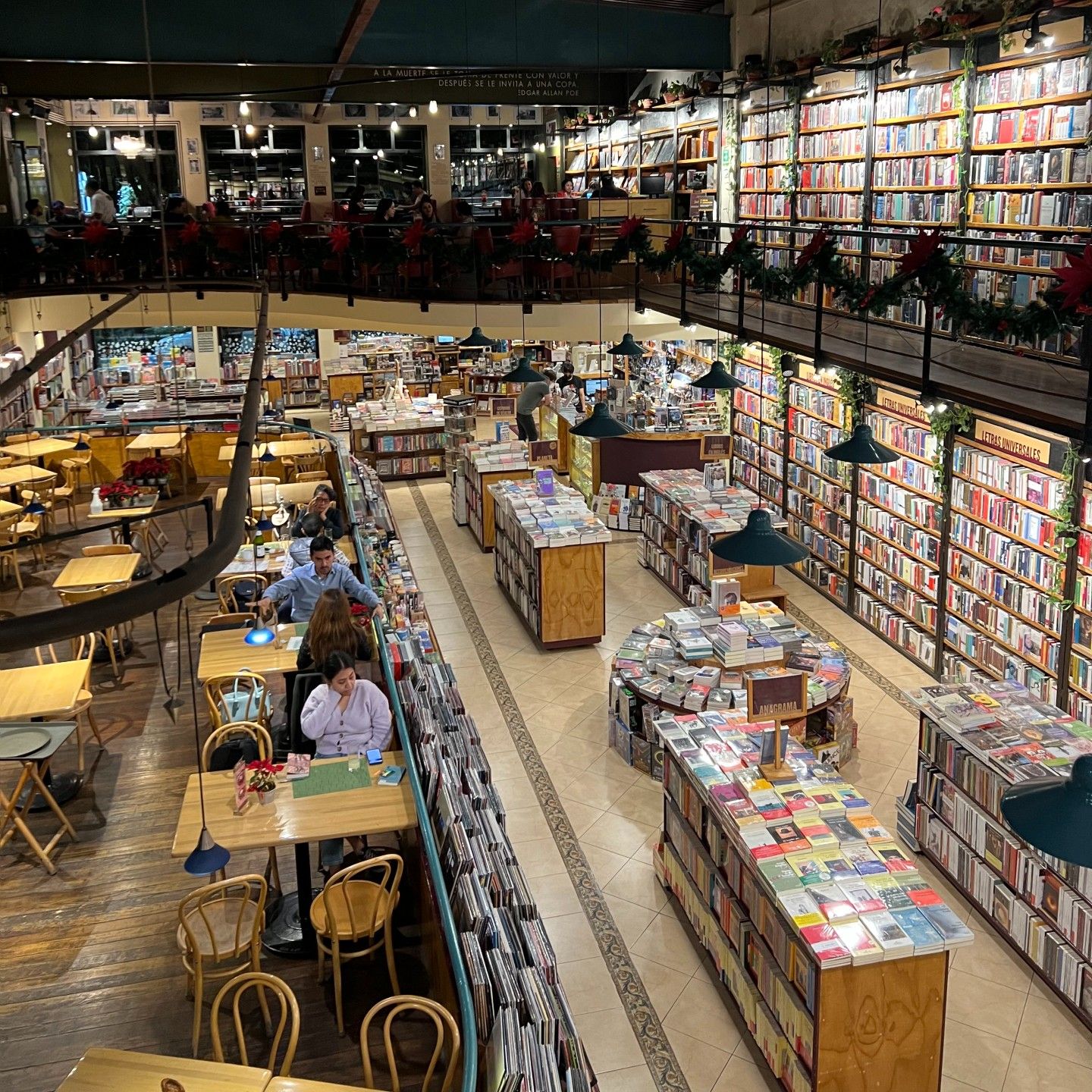 During the day, I recommend exploring the Frida Kahlo Museum in Coyoacán. The museum is located in the bright blue house that Kahlo was born in, lived in with her husband Diego Rivera, and ultimately died in. It includes original paintings and drawings by Kahlo and Rivera, items they owned throughout their lives, and tributes that have been made since in honor of Kahlo's legacy. You can wander each and every room within the house as well as the lush courtyard in which she was frequently photographed, and many of the rooms have been painstakingly preserved or recreated in order to resemble how they looked during Kahlo's life.
For those interested in the natural world, consider visiting the Parque Ecológico de Xochimilco, a nature preserve in which you can view native flora and fauna along with local wildlife like turtles, snakes, waterbirds, and even axolotls. You can also ride a trajinera, or river boat, through the park. Fun fact: Frida Kahlo herself visited Xochimilco as a child, and the Frida Kahlo Museum displays a photo of her riding in trajinera!
Another fabulous option for nature lovers visiting Mexico City is the Bosque De Chapultepec, often referred to as the Central Park of Mexico City, though it is more than double the size of the latter. This enormous public park is filled with tree-lined paths for walking and biking, and in the middle of it sits Chapultepec Castle. This decadent mansion has been a military academy, home to leaders of puppet governments instituted by invading forces, and home to Mexican presidents. Now, it serves as the National Museum of Cultures and is well worth the visit: The castle is so grandiose and stunning that it's been used as a filming location by the likes of Baz Luhrmann and Robert Aldrich.
Finally, for those who, like me, are particularly interested in indigenous culture, the Museo Fuego Nuevo is a must. Shaped like a pre-Columbian pyramid, the museum holds over 500 artifacts including sculptures, maps, calendars, and manuscripts. You can also step outside and view Aztec carvings embedded in the rocks around the museum. It is, however, a Spanish-language museum located on the outskirts of the city, so I recommend signing up for a tour or hiring a tour guide in order to get the most out of your experience.
Celebrity news, beauty, fashion advice, and fascinating features, delivered straight to your inbox!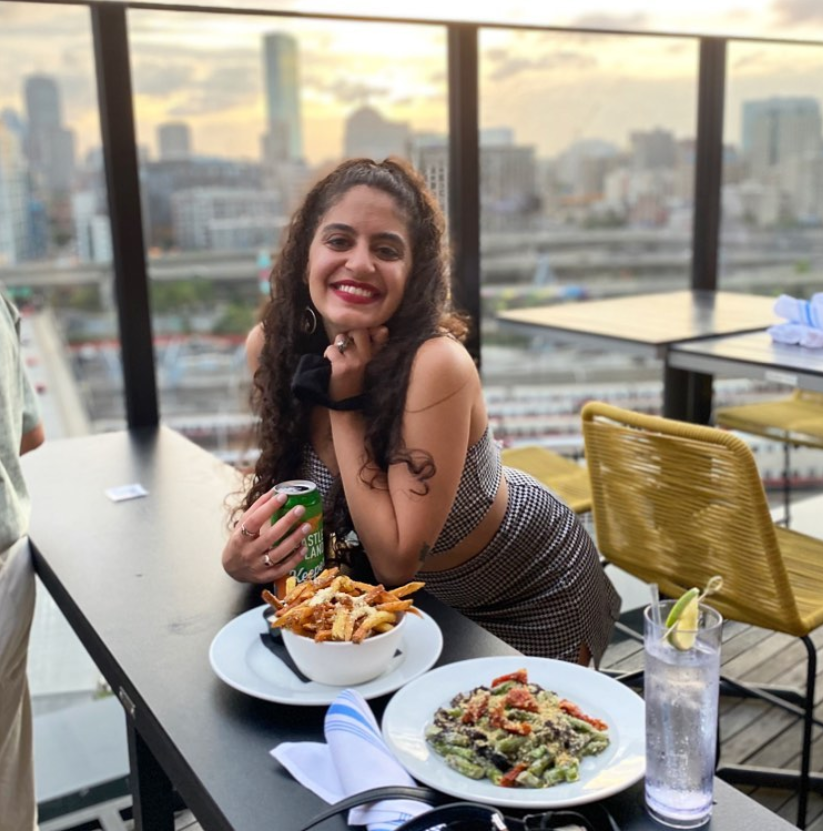 Gabrielle Ulubay is an E-Commerce Writer at Marie Claire and writes about all things beauty, sexual wellness, and fashion. She's also written about sex, gender, and politics for publications like The New York Times, Bustle, and HuffPost Personal since 2018. She has worked extensively in the e-commerce and sales spaces since 2020, including two years at Drizly, where she developed an expertise in finding the best, highest quality goods and experiences money can buy. As a film school graduate, she loves all things media and can be found making art when she's not busy writing.