Why Your Next Weekend Away Should Be to *This* Secret Caribbean Island
The greatest escape that a long weekend can buy you.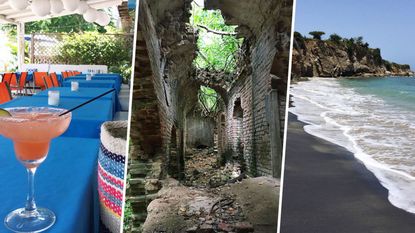 (Image credit: Marie Claire)
Marie Claire Newsletter
Celebrity news, beauty, fashion advice, and fascinating features, delivered straight to your inbox!
Thank you for signing up to Marie Claire. You will receive a verification email shortly.
There was a problem. Please refresh the page and try again.
When it comes to choosing a long weekend destination in the U.S., the Caribbean is often overlooked for a quick jaunt. But having recently traveled from New York to Vieques Island, just off the coast of Puerto Rico, I've come to the realization it's a much easier trip than one might expect. Not to mention, the greatest escape that a few days can buy you.
Having served as a testing site for the United States Navy from the 1940's until 2003, Vieques Island is one of the most undeveloped islands in the Caribbean, and that is the crux of its charm. Enter: Wild horses roaming free, a world-famous bioluminescent bay, and some of the most swooned-over beaches in the world.
Here, a quick and handy guide to making the most of a jaunt to Vieques Island.
How to Get There
From NYC, my flight to San Juan International Airport was four hours, which is shorter than a trip from the East Coast to West Coast, and vice versa. Once you've arrived, you can take a 20-minute flight to Vieques in a small airplane. And let me tell you, from the sweeping bird's eye views of San Juan and Vieques, to the butterflies-in-your-stomach landing, it truly is half the fun.
Where to Stay
The W Retreat and Spa - Vieques Island is, without question, the digs of choice in Vieques. Nestled on a cliff in a shoreside cocoon of the island, the 157-room spread strikes the perfect balance between being a luxury beach-style outpost, with breezy tropical decor and an Instagram-catnip infinity pool, while making you feel at one with the wilderness of the island. It also attracts a stylish, yet delightfully unpretentious crowd.
My visit coincided with the first annual Vieques Swimsuit Fashion Week, which showcased a slew of emerging local designers and turned a few of the W's pools and interiors into wet and dry catwalks.
My room inside of one of the resort's oceanside villas was the picture of relaxation, from the hammock-adorned porch's panoramic views to the oversized painted steel tub I would retire to after a day of seaside yoga and beach-ing.
What to Do
Pose in front of the Ceiba Tree
One of my first stops on the island was the Ceiba Tree, which is over 300 years old and has served as a sacred landmark of the island. Situated in a pasture surrounded by wild horses, she's a sight to behold with her towering height, cascade of roots, and thorny texture. Fun fact: The indigenous people of Vieques would use her wood to build canoes.
Grab a drink in Esperanza
You'll find the most concentrated hub of attractions in Esperanza, Vieques' charming little fisherman town. From El Malecon, AKA "The Strip," you'll overlook the colorful-boat-spangled ocean and have a killer view of Monte Pirata, the tallest peak of the island. During high season or holiday weekends, it's an excellent sprawl for bar hopping and dancing.
Go on a beach tour
It's kind of impossible to be a beach bum on Vieques because there are so many different beaches to visit. From Playa Negra, a black sand beach that's far off the beaten path, to La Chiva Beach (it's military name is "Blue Beach") with its crystal blue waters perfect for snorkeling in, it can be overwhelming. One of the biggest local spots was Sun Bay Beach (that's "Sombe" for the locals) where you can set up picnic tables and even camp next to the white, crescent-shaped beach with tranquil azure waters that are basically nature's answer to the hot tub.
Find the Central Playa Grande Sugar Mill
From the 1800's to the 1920's, the sugar industry thrived in Vieques, but by 1942 the epicenter of production, the Central Playa Grande Sugar Mill, was abandoned. Today its crumbling ruins are a must see for those who love a little adventure and want to learn more about the history of Vieques. To get to the ruins, we tromped through a few unmarked footpaths in the woods.
Get lit in the bio bay
You know that scene in Life of Pi where Pi paddles through an ocean filled with soft-focus lights and a glow-in-the-dark whale? I experienced that, sans whale, when I went on a nighttime kayak tour of Puerto Mosquito (Mosquito Bay) on the southern shore of the island with Black Beard Sports.
It's kind of hard to wrap your head around the notion without experiencing it firsthand, but essentially it's one of the few places on earth where there's a large concentration of organisms called Pyrodinium Bahamense, AKA Dinoflagellates or dinos that emit bright light when they come in contact with another organism or movement. When you stroke your paddle through the water it's like a light saber and when you splash the water your hand glistens. It's truly mesmerizing and also: so hard to photograph. On one hand this made my slave-to-Instagram-soul sad, and on the other a little relieved that I could just live in the moment and not worry about dropping my iPhone in the bay.
What to Eat/Drink
Considering how small it is, Vieques has an impressive variety of bars, restaurants, and food trucks. I ate a good portion of my meals at the W's Sorcé, whose menu is heavily informed by what can be locally sourced and the in-season ingredients of the island. Whether you're looking for a great stuffed lobster to wash down with a rum cocktail or want to eat like a local with hot-off-the-frying-pan Puerto Rican mofongo (fried plantains), you're covered.
One of the coolest things about Vieques was the food truck scene, which has all the mouth-watering Caribbean and Puerto Rican dishes you never knew you needed. One of my favorite spots was Sol Food. Housed in a blue-sky-and-cloud-painted truck, it offers fresh empanadas and sandwiches, like the Roast Pork with Psychedelic Purple Slaw. I mean, the picture speaks for itself...
As far as drinks go, I had one of the greatest margaritas of my life at Bili, a restaurant on the Malecon that was recommended to me by several locals. Sipping their Guava Jalapeño Margarita while overlooking the waterfront and exchanging stories with a fellow patron who too was traveling alone was, in a word, perfect.
Helpful Tips:
1. Don't be afraid of Zika! Just take precaution. When the opportunity first arose to go to Vieques Island, I was nervous as it was under the "Alert - Level 2" classification by the Centers for Disease Control. But to think that I even entertained the idea of not going out of fear was crazy. While I can't speak to other places effected by Zika, the reality on Vieques was that people were aware and being careful, but from the locals to tourists, it wasn't something hanging over people's heads. I used bug spray at all times and did not see a single mosquito.
2. Rent a car or hire a tour guide so you can see as much of the island as possible. It's the easiest, most economical way to get around as cabs can get pricey if you're looking to cover a lot of ground. Because I don't have a license and was traveling alone, I decided to hire a tour guide and am *so* thankful I did. It not only allowed be to get a true taste of the local perspective and island's history, but I was able to see all the different beaches and more lowkey locales.
3. The Bio Bay is not to be missed. It's said to be the brightest in the world, so I really can't emphasize this enough. The only thing to be weary of is that it'll be harder to get the full bio bay experience if it's a full moon, or close to it, as there's too much light. Ideally, you're venturing out on a cloudy, moonless night.
Where would you like to see next? Let us know!
Follow Marie Claire on Facebook for the latest celeb news, beauty tips, fascinating reads, livestream video, and more.
Celebrity news, beauty, fashion advice, and fascinating features, delivered straight to your inbox!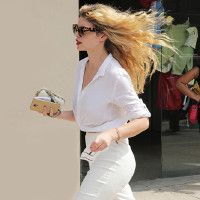 Lauren is the former beauty editor at Marie Claire. She love to while away the hours at coffee shops, hunt for vintage clothes, and bask in the rough-and-tumble beauty of NYC. She firmly believes that solitude can be a luxury if you've got the right soundtrack—that being the Rolling Stones, of course.