The Spirit of Activism Starts with an Education
Odunola Ojewumi, a college student who won UNFPA's Student Award, journeys to Central America to learn about women's issues.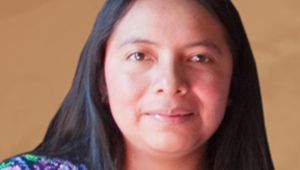 (Image credit: UNFPA)
Odunola Ojewumi is the Marie Claire and United Nations Population Fund winner of the fourth annual Americans for UNFPA Student Award for the Health and Dignity of Women. Ola, a sophomore from the University of Maryland College Park, is blogging directly from her weeklong visit to Guatemala.
We are leaving Guatemala tomorrow, and I really wish I could have gotten to know some of the girls at Abriendos Oportunidades (opens in new tab) on a deeper level. Each of them has a unique story to tell, different insights to share, and so much ability to inspire! To make sure their stories get told, I asked some of the youth mentors to complete Lifeline (opens in new tab) forms. Lifelines (opens in new tab) is a place to write about how your own life journey has shaped you and made you who you are today. It was created for women around the world to share their stories, be inspired by, and gain strength from women worldwide.
When talking together about our lives, the girls asked me what my biggest dream is. I told them I want to be a Congresswoman so I can implement policies to improve the lives of women. Their eyes grew wide with excitement because there are so few women in a position of political power in Guatemala.
To put things in perspective, Guatemala is home to 11.1 million people, and only one percent of them graduate from college. In America, a college degree is an attainable reality for many girls, but in Guatemala, it is a near impossibility. What people fail to realize is that the lack of education for women is directly linked to poverty.
I met two similar young women on my trip: Rosa and Elvia (pictured). Each of them comes from a family of eight children and they were both forced to drop out of school to take care of their siblings. Had it not been for the intervention of Dr. Ruiz (opens in new tab) and Abriendo Oportunidades, both Rosa and Elvia would never have become the women they are today. Thanks to the program, Rosa finished school and is now taking classes to start her own business. Elvia applied for the initial pilot program and has never looked back — she continues on the path to success by being the first person in her family to enter college. Elvia continues to lead by example and is determined to pass on the message of self-worth and empowerment to the group of younger girls that she mentors.
What excites me the most is that the women who have access to education are dedicated to ensuring the success of the next generation of women at Abriendo Oportunidades. So much like the name of the program, they continue to open the door of opportunity for generations to come.
While our lives differ greatly, Rosa's and Elvia's aspirations and hopes for the future are no different than those of American college students. They have just had to face a much tougher reality to reach their goals, and this is where the problem lies. As Americans, we have the option of turning a blind eye to the obstacles these women face and stay silent. Alternatively, we can choose to empower them. Along with organizations like Americans for UNFPA (opens in new tab), I choose not to be silent. What will you choose?
Pledge your support by taking action today (opens in new tab).
Read all of Ola's blog posts:
Seeking Inspiration from Maryland to Guatemala City (opens in new tab)
Exhausted in Antigua, the Land of Eternal Spring (opens in new tab)
Meeting the Guatemalan Girls of Abriendo Oportunidades (opens in new tab)
Discovering Women's "Safe Space" in Guatemala (opens in new tab)
One Woman Opens Doors for Generation of Girls (opens in new tab)
Putting an End to Global Violence Against Women (opens in new tab)