The Instagram Guide to Oslo
Norway's capital city hosts major players in the worlds of art, music, and culture.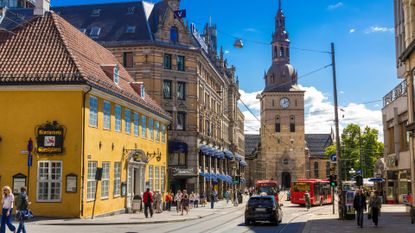 (Image credit: Alamy Stock Photo )
Marie Claire Newsletter
Celebrity news, beauty, fashion advice, and fascinating features, delivered straight to your inbox!
Thank you for signing up to Marie Claire. You will receive a verification email shortly.
There was a problem. Please refresh the page and try again.
Maybe what your European plans need is some time up north. Specifically, a trip to Oslo. Although smaller than many major metropolises, Norway's capital city is big enough to host major players in the worlds of art, music, and culture—but still small enough that you can literally take the subway to go skiing. (Yes, really!) An emphasis on ecology and renewable energy has made the city relatively trash free. And thanks to a national love affair with coffee, you're never far away from the good stuff.
Curious? Read on. While obviously not an exhaustive list, we've done our best to round up a proper introduction to some of the city's most interesting, Instagrammable, and just straight-up cool locations.
Munchmuseet
Sure, you probably know Munch's The Scream—the scarlet-hued painting of a ghostly man with his hands on his face letting out a guttural shriek has been enshrined in nearly every form of pop culture. But now, Norway's most famous painting has a brand-new home at the newly opened Munchmuseet. Now, visitors can explore a deep-bench selection of Edvard Munch's ghostly works across thirteen floors, along with special exhibitions that explore his legacy and influence on other artists. And don't worry, The Scream—all three versions—are alive and well in a special gallery where every hour a new one is displayed while the other two "rest in darkness."
Vigeland Park
Unless you're Norwegian, or an art history major, you probably haven't heard the name Gustav Vigeland. All the more reason to visit the public park where 200 of his otherworldly sculptures live. No two busts are the same, so enjoy your stroll as his characters tear at their hair, make out, form a creepy human oblique, or in the case of his locally famous baby, throw a world class tantrum.
Øya Festival
Think of it like Coachella for the Nordic set. Every year in August, Øya Festival invites the biggest names in music (this year's headliners: Lorde, Boygenius, and Blur), along with upcoming local acts for four days of music you're unlikely to experience anywhere else. And even better yet, it's one of the world's greenest festivals, with zero single-use plastics, no diesel generators, and an abundance of plant-based food options.
Oslo Opera House
Oslo Opera House is located in Bjørvika (aka the area just outside of the central train station). The building, which is home to the Norwegian National Opera & Ballet is also an architectural delight—its sloped roof is an open invitation for visitors to get their steps in by climbing to the top or just sunbathe on the white stones. The lobby is open 24 hours, so stop by at any time to appreciate the wood paneling (a nod to Norwegian forests), and the odd and wonderful tiling near the bathrooms, designed by Icelandic-Danish artist, Olafur Eliasson.
Damstredet
Oslo is an extremely cool-looking city—there's a reason why people talk about Scandinavian design. However, Damstredet offers a different view of the city's past. 18th-century wooden homes line the cobbled street, offering up all the quaint you could possibly need. Top off the exercise in charm with a waffle from Haralds.
Korketrekkeren
If you're in the city during the winter, it's worth taking a trip to Korketrekkeren, a nearby sledding hill that's accessible from the subway. The former Olympic bobsledding track has been leveled just enough that beginners can play too, and the 10 minute downhill runs, framed by pine trees and postcard-worthy views are the stuff of legend—even if you're not competing for a medal.
Kollensvevet
If you're not a skier, chances are you'll be low-key horrified at the height of Kollensvevet, the ski jump built for the 1952 Winter Games. It's not exactly a run that even the most ardent of skiers will ever take. But during the warmer months, you can still take flight from the top, thanks to the 1184-foot-long zip line that offers some of the most intense thrills and best views of the city.
Oslo Street Food
Oslo Street Food is the perfect way to shut down any "what should we have for dinner" arguments. Featuring all local venders there's something for the majority of humans with taste buds, whether you're after ramen, tacos, or wings. Crowded most nights of the week? Absolutely. Aesthetically pleasing even in the rush? Absolutely.
Oslo City Box
Real talk: Oslo is very fun to visit, but also very expensive. Given that, it's worth staying somewhere that will help you stretch your budget. Not only is Oslo City Box is located a hiccup away from the central station—meaning you don't have to sacrifice location for price—you get to stay in an ornate building. The rooms themselves are more about function than form (with private bathrooms!) but the lobby features plenty of colorful nooks, meaning you won't walk away without a happy snappy for the grid.
Celebrity news, beauty, fashion advice, and fascinating features, delivered straight to your inbox!