I'm a Travel Writer—I Don't Go Anywhere Without These 10 Items
From suitcases to sneakers, the go-to essentials when you're always on the go.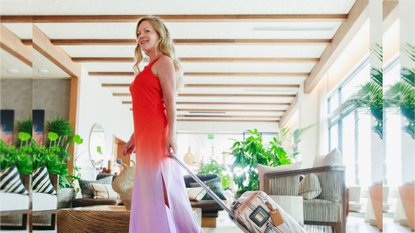 (Image credit: Avery Kwong at Mission Pacific Hotel)
Marie Claire Newsletter
Celebrity news, beauty, fashion advice, and fascinating features, delivered straight to your inbox!
Thank you for signing up to Marie Claire. You will receive a verification email shortly.
There was a problem. Please refresh the page and try again.
I've traveled to more than 40 countries in the past 20 years, visiting every continent except Antarctica (which is still on my bucket list!). From jetting off on far-flung adventures in Iceland to quick road trips to Palm Springs, I've made my fair share of packing mistakes—and I've learned from them. Now, whether I'm sipping Champagne in the French countryside or going on safari in Africa, here are the must-haves I don't leave home without.
When you're flying thousands of miles every month, TUMI luggage is well worth the splurge. Its timeless design and top-tier functionality makes it a favorite of travel writers and jet-setters. The 19 Degree 22-inch carry-on is just as beautiful as it is durable and the smooth glide of double spinner wheels make it effortless to cruise through the airport. Opt for an aluminum hard-sided suitcase so you aren't tempted to try to overstuff it, and organize your must-haves into packing cubes.
Insanely Comfortable White Sneakers
While it's true that at most destinations, you can buy pretty much anything you didn't pack, the one exception is really, really comfortable shoes. Since shoes are fairly heavy and take up a decent amount of space, packing just two to three versatile styles is key. No matter the destination, a timeless white sneaker is my first pick while packing. My Joyasol Paisley sneakers come with memory foam insoles that mold to your feet and are made from a luxe leather that can be dressed up or down.
Black Tape
I first started carrying around black duct tape to cover up those pesky little lights that are constantly glowing in hotel rooms. As a light sleeper, getting a room truly blacked out is the best way for me to ensure a good night's sleep. Soon, though, I started realizing how often tape came in handy for other issues: creating a temporary fix for a broken backpack strap, helping secure curtains that don't fully close, or sealing up a crack in my hiking boots.
A Cozy Sweatshirt
The one item I wear more than any other on a trip is my go-to sweatshirt. Even in tropical climates, I end up cozying up with it on flights and the inevitable spots where the A/C has been cranked up. While it's easy to get more excited about the fashion-forward looks you'll be packing, there is always a spot in my go-bag for a great sweatshirt or hoodie.
Effortless Sunscreen
Almost any trip will entail far more time outside than I usually spend at home, even when I'm not at the beach. When I'm exploring the city instead of laying by the pool, it can be easy to forget to lather up with sunscreen or put on a hat. The Invisible Shield SPF 35 by Glossier applies like a serum, so it's effortless to add to my morning routine when traveling. And since it's only 1 fl. oz., it tucks it into your carry-on within the TSA liquid requirements.
Well-Stocked Medicine Kit
You can get basic medications from nearly any city in the world, but when you're sick or hurt, you don't want to have to trek to a drugstore. My essentials are Pepto Bismol, ibuprofen, Zicam, pseudoephedrine, antiseptic ointment, and bandages. I also swear by hemp CBD to help with sleep, sore muscles, and other typical travel ailments—High Falls Hemp has a great travel pack of tinctures.
Spare Sunglasses
The only item I lose more often than my phone charger when I'm traveling? Mysunglasses. (Pro tip: if you need a spare charger, ask at lost and found—they usually have a box full of forgotten chargers from past guests!) Now, I travel with an extra pair or two of folding sunglasses tucked away—they fold up super compact so they can fit into a small pocket. Keep them handy when getting off a red-eye to avoid the too-early glare of the sun off the tarmac.
Smartwatch or Fitness Tracker
Some travelers swear by a smartwatch to help them keep their cell phones out of sight while on vacation—but I use it to track my health stats so I know when to rest and when to adventure. I used to come back from a trip feeling like I needed a vacation to recover. Now, my watch can tell me if my night's sleep was disrupted so I can schedule an afternoon siesta. It tracks my Daily Readiness Score to let me know before I get worn out (or fighting off a cold!) so I can take an extra day of pure R&R… as if I need an excuse to lounge in a poolside cabana all day!
Versatile Shirt Dress
A classic cotton shirt dress is one of the most versatile items of vacation wardrobe since it can be styled so many different ways. Dress it up with statement jewelry, go casual with a denim jacket, or wear it open over a swimsuit as a cover-up.
Celebrity news, beauty, fashion advice, and fascinating features, delivered straight to your inbox!
Michelle Stansbury is a San Diego-based freelance writer who writes about travel, food, cannabis, and relationships. Misuse of the word "literally" drives her figuratively insane.