The Weekend Guide to Las Catalinas, Costa Rica
Exactly what to eat, see, and do in the country's best beach town.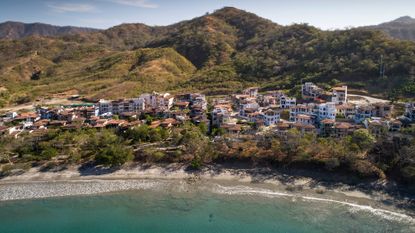 (Image credit: Courtesy of Las Catalinas)
Marie Claire Newsletter
Celebrity news, beauty, fashion advice, and fascinating features, delivered straight to your inbox!
Thank you for signing up to Marie Claire. You will receive a verification email shortly.
There was a problem. Please refresh the page and try again.
Though we live in slushy New York City, my partner Julia and I are both allergic to cold weather, so we jumped at the chance to pack our bags for Costa Rica and visit Las Catalinas, a two-square-mile eco-community founded in 2006, along the Pacific coast. I felt like everyone I knew was planning a trip to the country: Forbes recently named it one of the 10 best places to travel in Latin America in 2023, and data shows that tourism to the country in 2021 was up 64 percent over 2019. Las Catalinas in particular is becoming a must-visit for good reason: It boasts pristine beaches, travel-worthy diving, snorkeling, and fishing, and world-class mountain hiking and biking trails—not to mention zero cars or chain restaurants.
I'd never visited Costa Rica before, but my mental associations were all hippie tie-dye technicolor and yoga-studio vibes—soft palettes, tinkling wind chimes, dreamcatchers swaying in the breeze. So I was a bit shocked to arrive at Las Catalinas and discover a walkable town marked by grown-up, industrial-tinged minimalism. Coastal accents and natural touches made the entire community feel elegant and cool to the touch—even in the heat of the Central American sun. So if you're dreaming of palm trees and sandy beaches minus the squee spring-break vibes, this might just be the perfect destination.
Here's exactly how to spend a sunny weekend in the most grown-up, visitor-friendly spring-break destination out there.
Where to Stay
Las Catalinas is blanketed with lovely vacation homes, which are available for rent whenever the owners are out of town. We stayed in a luxe one-bedroom where we could cook in the kitchen and eat dinner on the patio while the sky lit up—Las Catalinas is Costa Rica's westernmost point, so the sunsets are consistently jaw-dropping. No two buildings (hell, no two front doors) at Las Catalinas are alike, thanks to made-onsite tiles and materials and the vision of the town's head architectural consultant Adrina Fonseca, a native Costa Rican who—fun fact!—designed the first Apple stores directly with Steve Jobs.
For those who prefer a more traditional experience, the Santarena Hotel has 45 thoughtfully designed rooms and suites in the heart of the town. The boutique hotel, infused with a chic modern-tropical aesthetic, features a rooftop terrace with an infinity pool overlooking the ocean (just picture the 'grams!), a state-of-the-art fitness center, and a Mediterranean-leaning restaurant with locally sourced ingredients.
Where to Eat and Drink
The dinner we can't stop talking about was at Sentido Norte, a hilltop restaurant with a stunning outdoor terrace that gives you a front-row view of the setting sun. Creative cocktails and a Latin American-leaning menu make this spot perfect for a date night. Pascual, a newish, open-air tapas bar, has relaxed vibes and to-die-for share plates, including paella, gazpacho, and ham croquettes, not to mention weekly mixology classes.
We can only handle so many fancy restaurant meals on vacation, so we appreciated Las Catalina's array of casual options, too. A new beachside watering hole, Papagayo Brew House, serves ice-cold draughts and bar bites. Pots & Bowls is a perma-parked food truck slinging (alleluia!) homemade veggie burgers, smoothies, breakfast bowls, and more, and Coquelicot is the brand-new waffle stand we didn't know we needed. Oh, and cooking at home or stocking up on rosé is easy thanks to Copper & Stone, a gourmet supermarket with a cute little deli and regular wine tasting.
What to Do
Much as we love loafing around, Julia and I both feel better (and are much kinder to each other) when we can move our bodies while traveling. Luckily, Las Catalinas is nestled inside leafy mountains that are laced with more than 25 miles of hiking and biking trails, which means there are tons of great lookout points where you can get epic birds-eye shots of the entire town below. And if you're into mountain biking but, uh, failed to pack your wheels, fear not—you can rent a bike at Pura Vida Ride.
When I wasn't splashing in the ocean, I swam laps at the turquoise pool at the classy beach club. And while I'm not normally one to beeline for the resort gym, I loved taking classes and lifting weights at CORE by Chakfitness—a fully absurd outdoor fitness center with custom-built workout machines and weights made from local (gorgeous!) Guanacaste wood and organic materials. Think: a lat pull-down where you yank a rope over a pulley to lift a basket of rocks. Very Flintstones-chic.
Responsible tourists, take note: ConnectOcean, a sustainable consulting firm, has offices in Las Catalinas that help visitors combat environmental threats, while having a good time. Recognizing that overfishing is a huge problem in Costa Rica and worldwide—scientists predict that, at current catch rates, by 2048 there will be no more wild fish in the ocean—the founders launched boating and diving excursions that benefit local fishers and the aquatic ecosystem. Sign up for an "Ocean to Table" fishing excursion to spend the morning on the water with a fisherman; you'll learn about sustainable seafood sourcing and finish with lunch at a local restaurant, eating what you caught. ConnectOcean also offers Citizen Science dives, where they teach tourists to ID, measure, and report underwater species via their own mobile app.
No vacation is complete without a little self-care and Las Catalinas has got you covered: You can enjoy a Reiki treatment or sound bath at the wonderfully named Center of Joy or book a massage or facial at Wake Day Spa. You can also return home with a heavier suitcase thanks to Chunches Consignment (hi, fancy people who own vacation homes on the Costa Rican coast have the best castoffs).
Celebrity news, beauty, fashion advice, and fascinating features, delivered straight to your inbox!
Andrea is a Brooklyn-based wordsmith and author of WE WERE NEVER HERE, THE HERD, and THE LOST NIGHT.