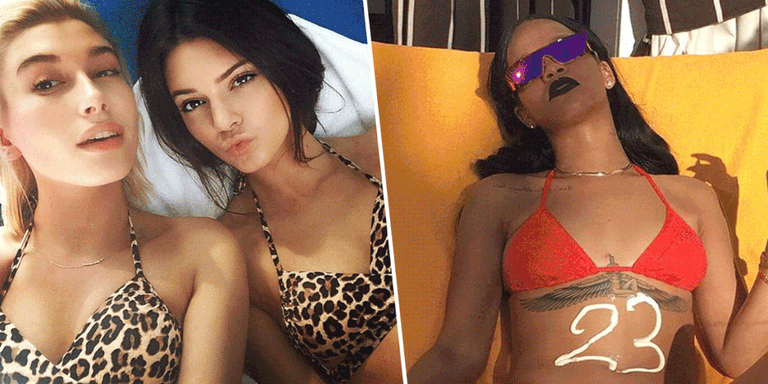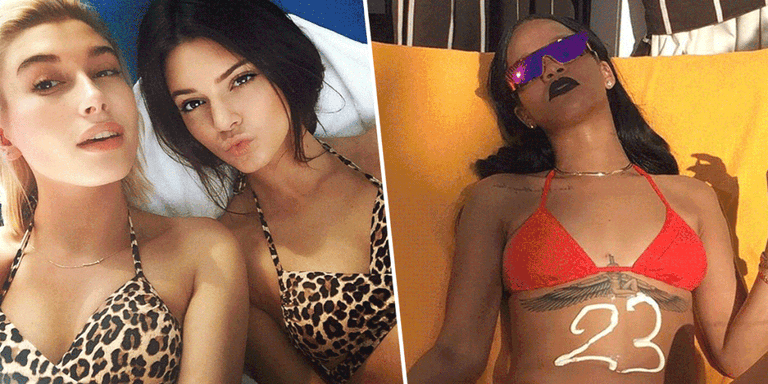 Much less murder-y and starvation-y than either Survivor or Lord of the Flies, two beauty camps have emerged this summer. See what—and which celebrities—define each below, and decide which one you'll join. The good news is you can belong to both.
If popularity matters, this contingent clearly wins, probably because wearing much makeup to the beach or pool seems kind of futile. (More on that later.) That doesn't mean *completely* bare-faced, though—perfected skin, full brows, and subtly enhanced beach waves still fall within this category. (Here, Hailey Baldwin and Kendall Jenner show us how it's done.)
With the sun to even your skin tone, who even needs concealer?
The very definition of "beach waves."
Candice is all "I'm just wearing lip balm ::hair flip::"
Or one that covers most of your face.
I spy some mascara, but we'll give that a pass.
Here, we've got the high-glam girls, whose looks are more "here to be seen" than "here to frolic on the open seas." Take Rihanna's deep black lip and long nails or Selena's tight-lined eyes.
Maybe she was born with it. Maybe it's eyelash extensions.
Probably extensions. Definitely contouring.
But which waterproof formula is she wearing?
Told you you can do both.