The 24 Best Tinted Moisturizers With SPF
Get up and glow.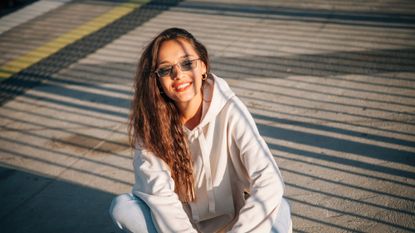 (Image credit: Getty Images/Nevena1987)
I don't need to take you back to sunscreen school, because you're a smart human who knows how crucial is it to apply sunscreen every single day. Even on rainy days, the sun is still projecting rays that can damage the fragile skin on your face. But it's fair if layering sunscreen—which can be thick, chalky, or even cause breakouts—isn't the most appealing part of your daily routine. That's where tinted sunscreens and tinted moisturizers with SPF come in. For starters, it's two birds with one stone—less steps, less gunk on your face—not to mention the sheer coverage and UVA and UVB protection. But also, the more elegant formulations allow for greater compliance, meaning you'll actually remember—nay, want—to apply it each day, and your makeup will look all the better for it.
What's the difference between sunscreen and tinted moisturizer?
Imagine if sunscreen and lightweight foundation had a baby. That's the idea behind the best SPF-infused tinted moisturizers. They're ideal if you're into the effortless approach to the whole makeup thing, and really care about your skin's health. And I think we can all agree that the more weightless, the better—no matter what time of year. Here, our favorites.
Maya Allen is the former Digital Beauty Editor at MarieClaire.com where she covered makeup, skincare, haircare, wellness, you name it! She has a 15-step skincare routine, owns over 200 red lipsticks, and enjoys testing the latest and greatest in beauty. On most weekends, you can find her at her happy place, which is her makeup vanity. There, she's usually blasting her speakers while singing along to lyrics at the top of her lungs, and making sure her highlighter is on point.