The 16 Best Tinted Moisturizers With SPF, According to Experts and Editors
Get up and glow.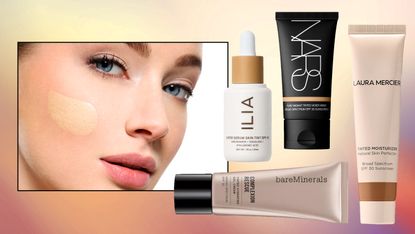 (Image credit: Future)
I don't need to take you back to sunscreen school, because you're a smart human who knows how crucial is it to apply sunscreen every single day. Even on rainy days, the sun is still projecting rays that can damage the fragile skin on your face. But it's fair if layering sunscreen—which can be thick, chalky, or even cause breakouts—isn't the most appealing part of your daily routine. That's where tinted moisturizers with SPF come in. For starters, it kills two birds with one stone—less steps, less gunk on your face—not to mention the sheer coverage and UVA and UVB protection. But also, the more elegant formulations allow for greater compliance, meaning you'll actually remember—nay, want—to apply it each day, and your makeup will look all the better for it.
If you're wondering what makes a tinted moisturizer different from its tinted sunscreen counterpart, it's all in its multitasking abilities. "A tinted moisturizer will provide hydration, skincare benefits, and a small amount of coverage," explains pro makeup artist Mia Dondero. "Whereas foundation is used purposefully for coverage, but doesn't always offer the same hydrating benefits." And because we could all use as much sun protection as we can get, a tinted moisturizer with SPF is basically the makeup/skincare trifecta in one product.
As editors who use tinted moisturizer with SPF almost every day, we know what makes one noteworthy: It has to be lightweight, actually moisturizing, and it has to provide light (preferably buildable) coverage. Lucky for you, all of the products on this list tick those boxes. Ahead, we've rounded up the best tinted moisturizers with SPF that will not only make your skin gorgeous but will also keep your skin gorgeous with sun protection. Sorry in advance if these make you never want to pick up your favorite foundation again.
Overview
What to Look For in Tinted Moisturizers With SPF
If you're looking for adequate sun protection, it's best to use a traditional sunscreen (with broad-spectrum protection and an SPF of at least 30 or higher), rather than relying solely on a tinted moisturizer with SPF. That being said, think of the products on this list as an additional means of sun protection with all of the benefits of a tinted moisturizer.
Here's what else to consider when looking for a tinted moisturizer with SPF.
Tinted moisturizers tend to have a myriad of skin-loving ingredients, which means they pull double duty as makeup and skincare. As for what ingredients to look for, Dondero recommends being on the lookout for hyaluronic acid and niacinamide. "Any face tints with hyaluronic acid and niacinamide are a great find because it's going to add extra skincare benefits like plumping the skin, smoothing texture, and adding extra hydration," she explains.
Additionally, both Dondero and pro makeup artist Cat Mignano opt for tinted moisturizers that only uses clean ingredients, meaning they are formulated without any phthalates, parabens, formaldehydes, sulfates, and other ingredients that may be harmful to you or the environment.
Tinted moisturizers with SPF also have a range of different finishes, which can give you a different look depending on your skin type. If you have dry or combination skin, you may want to opt for a tinted moisturizer with a glowy, radiant, or dewy finish. "I love any skin tints that have a glowy finish, because the glow will blur texture on the skin," adds Dondero. On the other hand, if you have oily skin, go with a matte finish to help keep oil at bay. And if you're not a fan of the glowy or matte look, you can't go wrong with a tinted moisturizer with a natural, skin-like finish.
The Best Tinted Moisturizers With SPF
Best Overall Tinted Moisturizer With SPF
Laura Mercier Tinted Moisturizer Natural Skin Perfector SPF 30
The beloved Laura Mercier Tinted Moisturizer is the OG of tinted moisturizers. This editor-beloved, makeup artist-approved, SPF 30-infused moisturizer cloaks your complexion with a glowy, sheer tint and a healthy dose of hydration. Lots of sodium hyaluronate is floating around in this formula, which will keep rough patches away and smooth fine, dry lines. It's also packed with macadamia and kukui seed oils to ensure skin looks and feels moisturized for up to 24 hours.
Pros: Lightweight; Offered in 20 shades.
Cons: Coverage fades throughout the day.
Best Splurgeworthy Tinted Moisturizer With SPF
NARS Pure Radiant Tinted Moisturizer SPF 30
Another oldie but a goodie, Dondero says this cult-favorite tinted moisturizer is a "must-have." Thanks to its mineral-rich seawater and kopara combo, your skin will feel softer and smoother than a baby's bottom. If you have a few dark spots or discoloration, you'll also be happy to know that it's powered by vitamin C, which helps to brighten those spots over time. Additionally, Dondero says, "It gives a beautiful skin-like finish and feels light on the skin."
Pros: Pro-approved; Buildable coverage; Lightweight; Brightening.
Cons: May not be suitable for oily skin.
Best Budget Tinted Moisturizer With SPF
Maybelline Dream Fresh BB Cream SPF 30
At the drugstore, it doesn't get much better than this Maybelline BB cream. The formula has been around for ages, yet is still a favorite. You won't find any oils or heavy ingredients in this water-gel formula. It will freshen up your face with a photogenic, SPF-protected glow you can build up with depending on how much coverage you're looking for. If you're a fan of multi-tasking makeup, this one has eight (!!) different benefits from blurring, protecting, smoothing, and hydrating.
Pros: Under $10; Brightening; Blurring; Oil-free; Lightweight.
Cons: Limited shade range.
Best Tinted Moisturizer With SPF for Mature Skin
Neutrogena Healthy Skin Anti-Aging Perfector SPF 20
Oh, retinol, and all of the powerful things it can do for skin! This $14 drugstore gem's formulation is no f-ing joke: retinol, SPF 20, and a sheer veil of coverage, which is clinically proven to erase the look of fine lines and keep the texture of your skin in tip-top shape. For those with mature skin, this tinted moisturizer will pull double duty by providing a light, even layer of coverage while working to reduce fine lines and wrinkles. Over 10,000 Amazon shoppers love this product and left 5-star reviews, so you know it's a real winner.
Pros: Under $15; Anti-aging; Lightweight; Applies smoothly.
Cons: Under-30 SPF; Limited shade range.
Best Tinted Moisturizer With SPF for Sensitive Skin
CeraVe Tinted Sunscreen SPF 30
Technically speaking, this is more of a tinted sunscreen, but if your sensitive skin can't handle heavy moisturizers or foundations, this will be right up your alley. Your finicky skin will love this mineral-based formula that combines SPF 30 with essential ceramides to soothe irritation and protect it from environmental aggressors. The formula also contains niacinamide to help soothe the skin. Dermatologists love CereVe for their no-fuss formulas, so you can count on this to protect you from UV rays and provide a nice glow.
Pros: Great for sensitive skin; Non-comedogenic; Lightweight; Does not leave a white cast; Developed with dermatologists.
Cons: Only comes in one shade.
Best Buildable Tinted Moisturizer With SPF
Tower 28 Beauty SunnyDays SPF 30 Tinted Sunscreen Foundation
Tower28's tinted sunscreen sold out pretty much the moment it launched, so if you can get ahold of your shade, do so—and fast. The blendable, buildable formula is easy to wear on all skin types (even sensitive skin), and the built-in mineral SPF 30 protects with the best of them. This is a favorite of Mignano's and the makeup artist has personally gone through multiple tubes. She says it makes your skin look "flawless," adding, "I love it because it is just as lightweight and hydrating as a tinted moisturizer, but you get a light-medium buildable coverage out of it."
Pros: Pro-approved; Buildable light-to-medium coverage; Great for sensitive skin; Protects against blue light pollution.
Cons: Texture is a little thick.
Best Glowy Tinted Moisturizer With SPF
Supergoop! Glowscreen SPF 40 Sunscreen with Hyaluronic Acid + Niacinamide
Who better to make SPF makeup than a beloved sunscreen brand? Again, this one falls more into the tinted sunscreen category, but it has a few moisturizing ingredients (hyaluronic acid, for one) my skin loves, plus there's been plenty of times I've left the house with just this sheer, glowy tint on. Dondero says this is her personal favorite tinted moisturizer and never leaves the house without it. "I use it on all of my clients, and it is an essential step in my makeup routine," she adds. "I love this product so much that it reminds me to apply my sunscreen daily!"
Pros: Protects from blue-light damage; Can work as a makeup primer; Leaves an instant glow.
Cons: Coverage is on the sheer side;
Best Clean Tinted Moisturizer with SPF
ILIA Super Serum Skin Tint SPF 40
When Ilia dropped this super-lightweight formula, editors raved over its satiny, dewy finish. And it doesn't just look pretty: squalane, niacinamide, and hyaluronic acid hydrate, plump, and calm the skin, while an impressive SPF 40 stops UV light from harming the complexion. This one also gets the pro stamp of approval from Dondero, who says, "It never fails to leave the skin feeling plump, dewy, and hydrated." Boasting an impressive 30 shades, there's a good chance you'll find your exact match, and it doesn't hurt that this product is completely clean.
Pros: Pro-approved; Lightweight; Vegan; Improves the look of blemishes, redness, and uneven tone over time; Offered in 30 shades.
Cons: Has a strong smell; Packaging could be improved.
Best Full-Coverage Tinted Moisturizer With SPF
IT Cosmetics CC+ Cream SPF 50+
If you want no-BS coverage that will camouflage all of your problem areas like a magic marker, this is for you. Offering major sun protection with SPF 50, this stuff is also made with a special anti-aging serum full of hydrolyzed collagen, peptides, niacin, hyaluronic acid, vitamins, and antioxidants, to shrink your pores and reduce signs of aging. Somehow, this little tube has all of the benefits of a full-coverage foundation, moisturizer, anti-aging serum, and sunscreen and we're left in awe.
Pros: Offered in over 20 shades; Anti-aging; A little goes a long way; Long-wearing; Blends smoothly.
Cons: May feel heavy on skin.
Best Natural Finish Tinted Moisturizer With SPF
Lancôme Skin Feels Good Hydrating Tinted Moisturizer SPF 23
Hydration is key when it comes to a smooth, bouncy canvas for makeup, and this moisturizing option glides on without chalkiness for radiant protection. Basically, this is a moisturizer, light-coverage foundation, and sunscreen all in one, meaning it's the perfect option for lazy-girl morning routines. Just like the name suggests, skin feels good thanks to moringa seed and hyaluronic acid and looks just as good with a radiant, "your-skin-but-better" look.
Pros: Lightweight; Buildable; Applies smoothly.
Cons: Limited shade range; Under-30 SPF.
Best Tinted Moisturizer with SPF for Fine Lines
Estee Lauder Futurist Hydra Rescue Moisturizing Makeup SPF 45
If wrinkles or fine lines are your concern, it's ideal to find a formula that won't sink in and emphasize them. Estee Lauder's classic smoothes and covers them, adds hydration to plump the skin and reduce their appearance, and has a pretty off-matte finish, to boot. If you're a fan of slightly more coverage, this one has got your back with medium-to-full, buildable coverage. It also boasts SPF 45 protection, which is higher than average for a tinted moisturizer.
Pros: Great for mature skin; Offers medium, buildable coverage; Soothes skin; Long-wearing; Offered in 20 shades.
Cons: May feel heavy.
Best Tinted Moisturizer With SPF for Oily Skin
Tarte BB Tinted Treatment 12-Hour Primer SPF 30
Secure the ultimate no-makeup makeup glow with this in-between lightweight to medium coverage BB cream. While it protects your skin with SPF 30, it'll also blur your pores, cover imperfections, and boost your skin's radiance thanks to its brightening effect. If you have oily skin, this one will keep shininess at bay thanks to its matte finish. Bonus: It doubles as a primer if you're looking to double-up on SPF underneath your foundation.
Pros: Buildable; Lightweight; Blurring; Brightening; Long-wearing.
Cons: May not be suitable for dry skin.
Best Lightweight Tinted Moisturizer with SPF
BAREMINERALS Complexion Rescue Tinted Moisturizer SPF 30
The texture of this oil-free tinted gel cream feels super-soothing to the skin, which is ideal for a two-in-one that offers skincare and makeup benefits. Plus, it's extra creamy and blendable, so it won't take much work at all to apply. Just think about how hydrated your skin will feel thanks to squalene and mineral electrolytes, which are two star ingredients in the moisture category. I'm personally a huge fan of this pick as it provides just the right amount of coverage to even out my skin without feeling heavy.
Pros: Lightwei