The Everything SPF Guide: What You Need to Know About Sunscreen
We've got you covered (literally).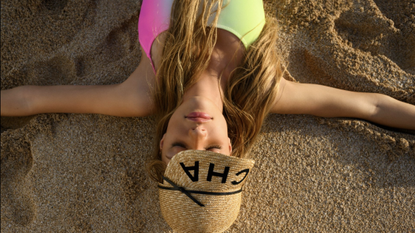 (Image credit: ROBERT NETHERY)
You've been told to wear SPF, oh, about a billion times. But then you hear that the FDA is rethinking sunscreen regulations and some states are banning ingredients, and everyone seems afraid of chemicals. So, what's the truth? We got answers from experts who are above the politicking and hype.
How does sunscreen actually work?
There are 14 common sunscreen ingredients available in the United States, and they fall into two groups. Zinc oxide and titanium dioxide, often referred to as "natural," "mineral," or "physical" sunscreens, are the ones that sit on the surface of your skin and reflect UV light. The other 12, including oxybenzone, avobenzone, and octisalate, are typically called "chemical" sunscreens, and they sink into your skin's top layer and absorb the sun's rays before they can cause damage.
"If you put 10 dermatologists in a room and gave us a choice, we'd all pick the physical blocker," says Dr. Dendy Engelman, assistant clinical professor of dermatology at Albert Einstein School of Medicine–Montefiore Hospital in New York City. "They're more effective, safer for everyone—including babies—and work instantly, whereas you need to wait 15 to 30 minutes for chemical sunscreens to start protecting your skin." The problem? Some products with zinc oxide and titanium dioxide "can feel chalky and leave a white cast on the skin," says Engelman. In general, chemical sunscreens tend to be more translucent and feel better on skin. Test the options and decide for yourself.
Chemical sunscreens wouldn't be available if they weren't safe, right?
The better question: Chemical sunscreens wouldn't be available if they weren't believed to be safe, right? Then the easy answer would be: Right. The U.S. Food and Drug Administration regulates which sunscreen ingredients are legal to use in this country, and if research points to a problem with a previously approved sunscreen and the ingredient in question is proven unsafe, the FDA will ban it. But that process of finding proof takes time and, often, more research.
"About every seven years, the FDA releases a proposal asking the scientific community for feedback on its sunscreen guidelines," explains Dr. Steven Q. Wang, director of dermatologic surgery and dermatology at the Memorial Sloan Kettering Cancer Center in Basking Ridge, New Jersey. In February, the agency released its most recent proposal, which basically deemed zinc oxide and titanium dioxide safe but requested "more data to support the safety of the remaining 12 UV filters on the market," says Wang.
Here's an example the report gives to demonstrate why more research is needed: In studies done on rats exposed to oxybenzone—in higher levels than would be found in topical sunscreens—the ingredient contributed to fertility issues and endocrine-system disruptions. But this doesn't mean that "FDA Findings Suggest Chemical Sunscreens Are Not Safe," as you may have read in this and other exclamatory headlines online; the agency needs more research on the chemicals in question, and they may eventually be OK'd. If you want to be extra cautious in the meantime, go with a mineral version, like Aveeno Positively Mineral Sensitive Skin Sunscreen SPF 50.
Will my sunscreen destroy the ocean?
Some ingredients aren't good for marine life. "When they wash off the skin and into water, oxybenzone and octinoxate can cause irreversible harm to the ocean's natural resources, particularly coral," says chemist David Andrews, a senior scientist with the Environmental Working Group. "The chemicals have been shown to bleach and kill coral even at low concentrations, and that impacts the larger ecosystem." In fact, Hawaii and Key West, Florida, are banning oxybenzone and octinoxate starting in January 2021.
When you're in the ocean, mineral sunscreens are a better option, but even they're not in the clear. When exposed to UV light, certain types of titanium dioxide and zinc oxide nanoparticles may create by-products that can damage living cells, according to research published in the journals PLOS One and Environmental Toxicology and Chemistry. Your best option? Wear a full-coverage swimsuit or rash guard to cut down on the sunscreen you need to use, and protect exposed areas with a mineral SPF that doesn't contain nanoparticles, such as Stream2Sea Sunscreen for Body SPF 30.
I'm fair-skinned. Should I wear the highest SPF possible?
Pretty much. The FDA's February proposal suggests capping sunscreen labels at SPF 60+. The reason it suggests a limit? "There's concern that seeing a label with a high SPF number gives people a false sense of security, and then they don't reapply," says Engelman. Or that you'll use less of the product than you're supposed to. In fact, a study published in Acta Dermato-Venereologica found that people received only 40 percent of the promised protection with a typical (read: imperfect) application of SPF 50. But bigger numbers do equal better protection. In a Journal of the American Academy of Dermatology study, skiers wearing SPF 100 suffered less damage than those wearing SPF 50. With that in mind, most dermatologists still say go big. Neutrogena Ultra Sheer Dry-Touch Sunscreen SPF 100+ offers the highest level of protection currently available.

If I have dark skin, do I really need to wear sunscreen?
Yes, especially if you want to avoid photodamage, like sun spots and wrinkles. But skin cancer from sun exposure is less of a concern for those with dark skin: Melanoma is 20 times more common in white people than black people, according to the American Cancer Society. "Melanin offers some innate protection from the sun," explains Engelman. "That doesn't mean you should throw caution to the wind and never wear sunscreen. But do you need to wear SPF 100 every day? Probably not." Luckily, there are plenty of new formulas designed to be invisible on dark skin, like Black Girl Sunscreen SPF 30 and Urban Skin Rx DermShield All Day Sun Protection Mattifying Moisturizer SPF 30.
If I have light skin, will a base tan protect me?
Even though the pre-SPF ancestors of light-skinned people probably had "base tans" (doubt they called it that), which would help prevent the burns associated with increased cancer risk, their lifestyles were completely different than ours. Ancient women weren't exactly working in an office all day, then trying to play catch-up on their tans before vacations in St. Barts. Remember, "melanin production—a.k.a. a tan—is your body's response to DNA damage. Sun protection is always your best line of defense," says Wang. And tanning beds are still off-limits: Tanning-bed users are 20 percent more likely to develop skin cancer than those who never went tanning, reports a BMJ study.
4 SPF Products You Need to Try
Don't I need some exposure in order to get vitamin D?
This is complicated. The standard answer you'll get from most doctors: Always wear sunscreen, and get your vitamin D from a supplement instead. Yes, a supplement, not food. "It's almost impossible to get enough vitamin D from your diet, even if you eat wild-caught salmon every day," says Dr. Michael F. Holick, professor of medicine, physiology, and biophysics at Boston University School of Medicine and author of The Vitamin D Solution. (Yes, it needs to be wild-caught; takeout sushi doesn't count.)
That said, recent research suggests there are some unique benefits to sun exposure. For example, a Swedish study found that women who spend time in the sun live up to two years longer than those who spend the most time indoors (and it's not necessarily because they're more active or weigh less; the study tried to adjust for that). And other research shows that exposure to UVA light lowers blood pressure. If you want to reap the potential health benefits of sun exposure but limit your risk of skin cancer, Holick says to apply sunscreen on your face ("I never recommend exposing your face to direct sunlight") and then allow unprotected limbs to get sun for about half the amount of time it would normally cause your skin to turn pink, if it ever does. (Download the free DMinder app for specific suggestions based on your skin color and location.) In the sun any longer than that? Slather on the SPF.
If I apply makeup with SPF every day, is that enough protection for my face?
No. You're not applying it as heavily or over as large an area as sunscreen needs to be applied. Instead, consider those types of products a bonus, especially when they're designed for spots you might typically avoid or miss when you're applying regular sunscreen. For example, Supergoop! Shimmershades are cream eyeshadows with SPF 30—a great option if you don't want to rub regular sunscreen on your eyelids.
This story originally appeared in the June 2019 issue of Marie Claire.
RELATED STORY
Celebrity news, beauty, fashion advice, and fascinating features, delivered straight to your inbox!
Kiera Carter has a decade's worth of experience covering fitness, health, and lifestyle topics for national magazines and websites. In a past life, she was the executive digital editor of Shape and has held staff positions at Fit Pregnancy, Natural Health, Prevention, and Men's Health. Her work has been published by Marie Claire, Cosmopolitan, Travel + Leisure, and more. She spends her free time boxing, traveling, and watching any movie or show with a strong female lead. She is currently based in New York.