What Does Winter Smell Like?
We visit Harry Slatkin, founder of a home fragrance empire, as he sniffs his way through Hong Kong, nailing down the scent of winter '07/'08.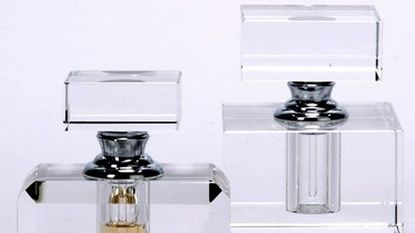 (Image credit: Archives)
Marie Claire Newsletter
Celebrity news, beauty, fashion advice, and fascinating features, delivered straight to your inbox!
Thank you for signing up to Marie Claire. You will receive a verification email shortly.
There was a problem. Please refresh the page and try again.
Harry Slatkin raises his nose in the air — just slightly — closes his eyes, and takes a short, sharp sniff.
"What is that?" he asks no one in particular, wafting a scented paper swatch in front of his face.
"It's a mildew-y house smell," he decides. "No, it's like a dentist's office."
Slatkin picks up another swatch, waves it, twitches, and then declares: "I can smell the fireplace, here, and I've got the feeling that people are about to come over." He smiles softly to himself. "It's got that happy holiday feeling. I'm still in the living room but I want to go into the kitchen and smell fresh apple pie."
Check out our Fragrance Finder Tool to find your signature scent.
Slatkin, president of home design of Limited Brands, Inc., is looking for the next holiday scent in his hit home fragrance series, toplined by his Slatkin & Co. candles (an operation that turns over an estimated $5 billion a year). We caught him in Hong Kong, home of the fragrance houses that hold the ingredients he'll eventually parse together into a home scent he calls Winter. Because, apparently, winter has a certain fragrance and it can be captured in a candle.
The essential starting point for fragrance is mood, says Slatkin. Odors don't get filtered through your intellect; they go directly from your nose to the part of your brain that processes emotion. So even before you know whether you're smelling cardamom or cleaning fluid, you're feeling something. It's a phenomenon that hasn't escaped savvy marketers. Hotels and retailers are creating "brandscents" — special aromas piped into their locations to help you feel at ease, spend more time there, or even like the merchandise more. Slatkin doesn't have that large of an agenda with these home fragrances: He just wants his scent to be so evocative and of the moment that it influences people to take it home with them this holiday season.
The scented swatches are given individually and then grouped together "bit by bit, like adding all the notes until it becomes a symphony," says Slatkin. "But sometimes it turns out like cat's urine."
"What we are looking for here is a fragrance that people can smell and immediately think of home," says Slatkin. That's very different from a personal scent, intended to be a bit more cloying so it lasts on the skin.
The Mane team has scoured the world for new scents from plants, flowers, and oils and for new combinations of existing essences. The ingredients for any given fragrance can be extensive. One they have presented to Slatkin begins at the "top," with pomelo, cranberry, blood orange oil, and mandarin Italian oil. The "middle" consists of pine needles ("If you close your eyes you can actually see the color of the wood when you are smelling it," says Slatkin), red currant, and clove bud oil. The "dry" takes us through white cedar wood, oak moss, and musk.
Slatkin stops every few minutes to smell his sleeve — one way perfumers clear the senses during a testing session is to smell their own scent — and then continues.
"You know, sometimes if the scent is really right, you can smell it on your taste buds," he says.
By the time they leave the room, they've assembled fragrant paper bouquets that evoke the mood Slatkin imagines for Winter. There's a lot on the line, as the Christmas season accounts for about five-eighths of Limited Brands' yearly turnover. Next will be the production, the packaging, the marketing, the merchandising. You create your vision, he says. "Then, you pray for magic."
This year, the mood is Winter. Slatkin describes it as having a Nordic twist — a feeling of glamorous people skiing, plus a warm and inviting, fire-roaring atmosphere. He has a whole team of people who can translate moody snapshots like that into scent terms and bring him the raw ingredients.
In Slatkin's expansive hotel room overlooking the harbor from Tsim Sha Tsui to Hong Kong Island, perfumer Laurent Le Lorec of the fragrance house Mane Fragrances and Flavours Co., Ltd., begins to hand out scent samples according to their evaporation time. First, there is the "top note" scent, which is supposed to last a few minutes, then the "middle note" (between a few minutes and an hour), then the dry note (an hour or more).
Celebrity news, beauty, fashion advice, and fascinating features, delivered straight to your inbox!