This Drugstore Product Regrew a Woman's Thinning Hair in 6 Weeks and the Pics Are Unreal
My reaction: 😱.
If you have thinning hair or naturally fine hair, you know how frustrating it can be to feel like your hair is slipping away little by little every day, and there's nothing you can do about it. At least, not without experimenting with a cocktail of products, seeing a few doctors, and pretty much living life as a guinea pig until you find something that works for you.
So when one 27-year-old woman on Reddit claimed to have pretty much regrown her hair in only six weeks—with the before-and-after photos to prove it—the internet naturally freaked out. "If you're a woman experiencing hair loss, I totally sympathize with you, as it left me in tears for nights on end," wrote user garnet0. "I only told a select few people, and even then they couldn't relate, so [I felt] I had no one. I hated going to the hairdresser, and I couldn't leave the house without applying hair fibers. It was awful."
So after seeing her doctor and getting a clean bill of health, she turned to the internet for answers, and discovered the drugstore product that effectively overhauled her hair game in just a month and a half: Regaine. Or, as we know it in America, Rogaine.
Yeah, yeah, I know—you've heard of Rogaine, and this isn't new, and what gives, and blah, blah. But have you actually tried Rogaine? Or have you just lived a quiet life of denial, refusing to try an infomercial-seeming product that's always been geared toward men? If you're anything like my friend, who is struggling with premature hair loss and won't accept it, then I'm guessing it's the latter.
But there's a reason why it's the first product that comes to mind when you think of hair loss: That shit works! Like really, truly works, thanks to its active ingredient of minoxidil, which is the only evidence-based topical treatment that currently works. And yes, they even have a women's version that's been clinically tested on the scalps of women, so if you don't believe the before-and-after photo on Reddit, you can at least believe in the science.
Generally, you won't see major results for three months, so don't expect miracles after six weeks, like this woman on Reddit. But still—if you're frustrated with your thinning hair and have tried all of the DIYs (which, heads up, really won't work), then give Rogaine a try. And then please come back and post your photos so we can delight in your results, too.
Celebrity news, beauty, fashion advice, and fascinating features, delivered straight to your inbox!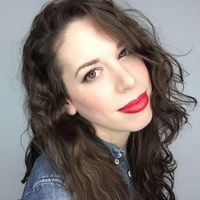 Chloe Metzger is the deputy beauty director at Cosmopolitan, overseeing the editorial content and growth strategy of the hair, makeup, and skin space on digital, while also obsessively writing about the best hair products for every hair type (curly girl here; whattup), and the skincare routines that really, truly work (follow her on Instagram to see behind-the-scenes pics of that magazine life). She brings nearly a decade of writing and editing expertise, and her work has appeared in Allure, Health, Fitness, Marie Claire, StyleCaster, and Parents. She also has an unhealthy adoration for Tom Hanks and would like to please meet him one day, if you could arrange that. Thanks.