Hot, Hot, Hot (and Easy) Holiday Makeup
We asked über-designer Tom Ford for a few seduction-guaranteed beauty tips. Here, his seven hottest hints.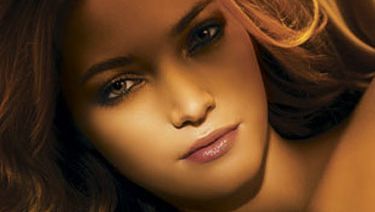 (Image credit: Greg Delves)
Where there's heat, there's...Tom Ford. First, the über-designer ignited the fashion world with his clothing collections for Gucci and Yves Saint Laurent; now he's set the beauty industry ablaze with the introduction of a 14-item cosmetics line called Tom Ford Estée Lauder Collection. Based on his track record, the man clearly knows from sexy, so we asked him for a few seduction-guaranteed beauty tips. On the following pages, his seven hottest hints.
LIPS
"Go for 24-karat-gold lips."
According to Hollywood lore, Marlene Dietrich demanded that makeup artist Max Factor sprinkle real gold dust into her hair to make it appear as if it were gleaming on film. Wearing golden makeup can have the same impact on your features when viewed in sultry, low lighting. So to offset a come-hither gaze and give your mouth a flirty finish, layer on translucent gold lipstick.
Tip: If gold lipstick alone doesn't "pop" enough for you, layer it over your everyday lip color to give it added dimension.
SCENT & SENSUALITY
"Spray on a dark, musky, warm scent."
This type of aroma is like comfort food: irresistible. Ford's favorite? Tom Ford Estée Lauder Youth Dew Amber Nude, natch.

Also try: Thierry Mugler Alien and Versace Crystal Noir.
Tip: Musky scents can come on strong, so spritz from the backs of your knees up, since heat, which diffuses scent, rises.
"Swathe yourself in sensuality."
Ford suggests surrounding yourself in silk, satin and velvet this time of year. To make your body equally soft and to eradicate all traces of dryness, slather on an "extreme" body cream, formulated with ingredients that keep you hydrated around the clock.

Try: Curél Continuous Comfort Moisturizing Lotion and St. Ives 24 Hour Moisture Advanced Therapy Lotion.

Tip: Silicone, the active ingredient in hair serum, is responsible for making strands extra-silky - in a pinch, you can use it to lube up your limbs, too.
EYES & SKIN
"Try a strong, dramatic eye."

Nothing garners attention like a smoky gaze. "I'm constantly drawn to this look," says Ford (it was a staple of his runway shows).

Tip: If dark shadows overwhelm your eyes, try this modern take on smoke and use a pinch of glitter to create a smudgy effect instead.
"Make the most of your skin."

To kick your look up that final, festive notch, luminescent skin is a must, says Ford. The new collection features a Face Gloss ("my favorite product") that you can use anywhere you want a bit of sheen: "cheeks, lips and down your nose" (as shown on model). But don't stop there ‑- to light up your body anywhere skin is apt to show, smooth on a shimmer lotion like Delux Beauty Liquid Bronze bronzing lotion for face and body.
CREATE AN EXPERIENCE
"Make putting on your makeup an experience, not an afterthought."

Allotting a bit of extra time for pre-party primping can get you into a sexier state of mind - and keep you from looking like you just threw your makeup on last-minute, explains Ford.

To do: Plan out what makeup you intend to wear well in advance of a bash, much like you would your outfit. On the day of the event, cleanse and moisturize before applying your makeup and be sure to sweep on setting powder to give your look staying power. And don't forget to toss a shimmer powder into your bag for touch-ups.
NAILS
"Get nude - nails."

Play up your tips with a sheer, slightly shimmery polish, which will whisper "sexy" rather than scream it. So, what about fire-engine red? Ford favors nudes worn on short, round tips, but we think red evokes a bit of old-fashioned elegance - and that's sexy, too.