Exclusive: Kerry Washington Just Dropped Her First Makeup Collection
And it's all under $13.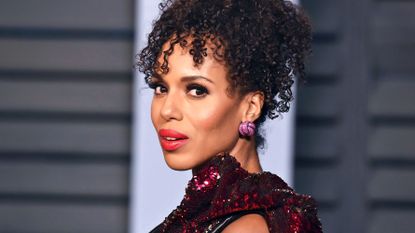 (Image credit: Getty Images)
Oh, Kerry Washington—how do I love thee? Let me count the ways. I love thee for being the incredibly powerful and badass Olivia Pope in Scandal, and I love thee for being an incredibly powerful and badass woman in real life.
I love thee for advocating for equality and normalization, and I love thee for advocating for women to embrace their natural beauty. And now, I also love thee for creating an affordable makeup collection that I actually want to wear, as opposed to a collection that I buy and use once every eight months.
Yes, queen Kerry Washington collaborated with Neutrogena (she's a skincare spokesperson for the brand) to create two simple, yet truly excellent, palettes for your eyes and your cheeks that take the guesswork out of makeup. "The beauty industry can feel so intimidating and complicated," she says to MarieClaire.com, "so I wanted to create a palette that would be an easy, go-to toolkit that you can use no matter where you are, and no matter what you're doing."
And it's this goal that led Washington to develop the pared-down palettes, which have all the basics, and none of the fluff. The Essential Cheek Palette (a cool $10), for example, includes three powders—a matte terracotta bronzer, a matte coral blush, and an iridescent champagne highlighter—while the Essential Eye Palette ($13) has five matte brown shadows, ranging from light taupe to dark chocolate. That's it. No glitter-packed lipsticks you'll use once on Halloween, or turquoise eyeshadows that you, uh, definitely want to try one day. Maybe.
And that's a good thing, because makeup should feel accessible to everyone, even if the first time you picked up a blush brush was last week. "These palettes are user-friendly, so you can feel flirty and elegant and all of your best qualities without a lot of work," says Washington. "Neutrogena really is about bringing the best version of yourself forward, both when you're wearing makeup and when you're taking it off."
Lest you think Washington just slapped her name on some palettes and called it day, rest assured that she was involved in the entire process. "I want to make sure the products actually work, so I've been there since the start, from research and development, to marketing, to meeting with consumers," she says. "I would wear the foundation for ten- or twelve-hour days to see, okay, does it really hold up? And the same with the eyeshadows—they all have in a built-in primer, so they're made to last, but yet I was still testing them."
And sure, these palette shades are limited, Washington acknowledges, so "not every color is going to look good on everyone." But they should still be fully versatile. "Obviously, I'm a woman of color, so I want to be able to use it, too, but I also wanted everyone to be able to find a few shades they can use in each palette, even if it's your three best friends of three different races."

But hey, considering I use exactly three shades in my current eyeshadow palette and just the blush in my current cheek palette, having fewer options actually sounds pretty nice. Also, let's be honest, we're all going to buy whatever Kerry Washington (i.e. Chenille from Save the Last Dance, the movie of my heart) puts her name on.
Thankfully, we don't have to wait too long, because both palettes are available for purchase today in Ulta stores and on Ulta.com. Happy shopping!
Chloe Metzger is the deputy beauty director at Cosmopolitan, overseeing the editorial content and growth strategy of the hair, makeup, and skin space on digital, while also obsessively writing about the best hair products for every hair type (curly girl here; whattup), and the skincare routines that really, truly work (follow her on Instagram to see behind-the-scenes pics of that magazine life). She brings nearly a decade of writing and editing expertise, and her work has appeared in Allure, Health, Fitness, Marie Claire, StyleCaster, and Parents. She also has an unhealthy adoration for Tom Hanks and would like to please meet him one day, if you could arrange that. Thanks.