This Beauty Vlogger Just Recreated Meghan Markle's Wedding Day Makeup
This is actually insane to see.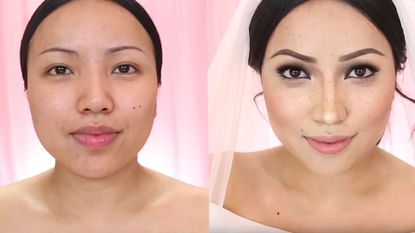 (Image credit: @dope2111)
If you've spent every waking moment since the royal wedding (opens in new tab) thinking about Meghan Markle's perfectly subtle makeup (opens in new tab), you're not alone. Ever since the now-Duchess of Sussex walked down the aisle, the beauty world—and yours truly—has been obsessed with recreating her dewy skin and smoky eyes.
And although Kensington Palace has been quiet on the exact products Meghan used for her wedding-day makeup, that hasn't stopped beauty vloggers from trying to recreate the exact look on themselves. Case in point: Promise Tamang (opens in new tab), a human chameleon who has previously transformed her face into Cardi B (opens in new tab) and Gigi Hadid (opens in new tab), just dropped a spot-on recreation of Meghan's wedding day, uh, face.
In the YouTube tutorial (opens in new tab), which has already racked up 350k views after just four days, Tamang walks viewers through the lengthy and insanely cool transformation. The biggest difference? Other than applying faux-freckles to her nose, forehead, and chin with an eyebrow pencil (she used the cult-favorite NYX Cosmetics (opens in new tab) pencil to create the freckles), Tamang also used a bit of Ben Nye's Nose and Scar Wax (opens in new tab) to help the tip of her nose look more like Meghan's.
After a few dozen layers of foundation, eyeshadow, lipstick, wax, and bronzer, Tamang's final look is basically just Meghan's face, which is insanely impressive, considering I couldn't even pull of a similar-looking freckle, let alone a full bone-structure transformation.
Check out the video in full, below, and prepare to spend five minutes convincing yourself that no, that is not actually Meghan Markle.
RELATED STORY
Ruby was the beauty editor at Cosmopolitan, where she covered beauty across print and digital. Her work has appeared on The Zoe Report, Fashionista, and StyleCaster. Follow her on Instagram.